Deadlines seem far enough away in theory, but in the end, there never seems to be enough time. Days before I have to hit 'send' for the next finished book or the latest edits, you'll find me invisibly tied to a chair in front of my computer. But food can't come in second or third place behind coffee or the next full can of my favorite energy drink. Here are a few of my favorite go-to foods that keep me from face planting into my keyboard.
Pancakes
In college, my friends and I would wake up late after a night out and make pancakes. The fluffier the better, and they had to be round or one of my friends wouldn't eat them. Hey, she was a loveable culinary major with perfectionist issues, but the habit stuck along with enjoying pancakes at any time of the day. One of my favorite Fluffy Pancake recipes can be found at the Taste of Home website.
Buddha Bowl
I ordered this salad at a local restaurant. I loved it so much, I started making it at home. It's so easy.
Roasted garbanzo beans, hummus, grape or cherry tomatoes, quinoa or couscous with pine nuts, arugula or fresh spring mix along with cucumber and avocado.
Steak
When my schedule is hectic, I crave a good steak. I usually prefer one fresh from the grill, (medium-well, please), but if you're feeding me, I'm flexible. I discovered a recipe for Brown Butter-basted Steak that's become one of my favorites.
Cupcakes
Vanilla or chocolate with extra frosting, of course!
Fast Food Favorites
When I'm really pressed for time, pizza or chicken lo mein from the local spot will keep me going.
Are you hungry after reading this? What are you craving? Let's eat!
Enter to Win a $10 Amazon Gift Card HERE:  http://www.rafflecopter.com/rafl/display/4cf78adb834/
Natalie Winters thought she'd married the man of her dreams…but her marriage ended way too soon in a nightmarish divorce. She even has to share custody of the dog! The stress is killing her, so she decides to take a night off and attend the Breakup Bash—a private party for women celebrating their breakups—with her friends.
Former executive security specialist turned bartender Rome Collier is drawn to the woman easily trading sexy banter with him. And if she wants the "Do Me" condoms she accidentally throws across the counter at him, she'll have to claim them…personally. Their flirtation turns into so much more, and every scintillating night they spend together is better than the last.
Strong, protective…and hot, Rome is everything Natalie ever wanted in a man. All she has to do is convince him he's more than a rebound.
Romance Contemporary | Romance Erotica Sensual [Entangled Brazen, On Sale: August 12, 2019, e-Book, ISBN: 9781640637832 / eISBN: 9781640637832]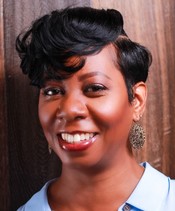 Steamy, Sexy, Flirty Reads
Nina Crespo lives in Florida where she indulges in her favorite passions — the beach, kick boxing, a good glass of wine, date night with her own real-life hero and dancing.
Her lifelong addiction to romance began in her teens while on a "borrowing spree" in her older sister's bedroom where she discovered her first romance novel and became lost in the world of happily ever after.
Curiosity about people and places, including what's beyond the stars, fuels her writer's imagination. This wellspring of inspiration allows Nina to create sensual contemporary and paranormal stories, which she hopes will feed your own addiction for true love and romance.