Last fall, the leaves started turning gold and brilliant red. The birds sang as they migrated South, and I was forty-thousand words into creating, The Bewildered Bride. Everything was wonderful. Peace and love seemed to be everywhere. Then, the words stopped.
Nothing. Not a jot. Not even an extended ellipse.
I'm not one to panic, but for a writer to have their characters who had been happily chatting with you to go silent—that's a Danger-Danger-Will-Robinson moment.
After a long sigh, several hazelnut lattes, prayer, and begging my muse, I closed up my laptop. I shut my eyes and listened. My heroine of The Bewildered Bride, Ruth Croome Wilke, had something to say, and it wasn't the story on the page.
Her voice, I had suppressed. I'd convinced myself it didn't matter. She would be happy in the end. When her story became tough and gutting, I stopped listening to her.
I didn't want to face her truth. I wanted her to bottle up her pain.
I was hypocrite, and why would someone who's been through so much want to waste her energy on someone who discounted the power of her voice.
Ruth had been talking to me the whole time, but I was telling the safe story, the one that I thought would be my readers would love and expect.
But this wasn't Ruth's voice.
I remembered listening to Sarah MacLean talk about dumping an entire novel because she couldn't birth another Alpha-Jerk Duke into the world. A whole novel. I was fortunate. I was only at the half-way point.
So, I hit delete.
That was the scariest thing I'd ever done. I'm a stickler for meeting deadlines. Dumping forty thousand words and starting over meant lots of late nights, lots of latte, lots of trusting this brave woman, would trust me to tell her truth.
I'd heard someone comment that an author needs to write scared, to put out one's best work forward. I'm still not convinced that this is the best path, but I'm so pleased that I did. I fall in love with every book I write. The last one is always my best work, but I can truly say I am so pleased with the way The Bewildered Bride shaped up into a story that is gripping, and fresh, and authentically Ruth's voice.
Every writer has a choice. What makes it onto the page, what doesn't. What tense, what point of view, what verbs show up on the page—is all in the writer's hands. I'm proud of the choices I made to show all of Ruth: her struggles, her bravery, and her victory. I hope you join me in this journey, Ruth's journey, where she rediscovers her voice, owns her truth, and maybe, just maybe, finds a renewed love for the man who was her most dangerous wish.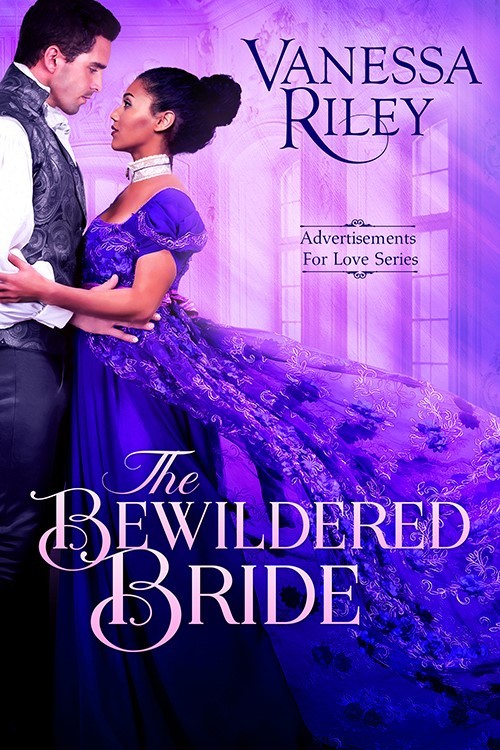 Ruth Croome, a Blackamoor heiress, was supposed to get married in a gorgeous wedding gown, made from her father's exquisite fabrics. Instead, they eloped to Gretna Green and upon returning, their carriage was beset by highwaymen and she witnessed the murder of her new husband. Now, four years later, with a child, she wants to move on with her life. A marriage of convenience will do. Ruth already had a love for the ages.
Adam Wilky is really the heir to the Wycliff barony—which he never told Ruth. Too much danger. So many secrets. When he was nearly beaten to death and sold into impressment, he thought Ruth had died, too. Ready for revenge, he finally returns and discovers Ruth alive—with a son who could only be his—and she is furious to discover he lied to her. Now it'll take more than remembered passion if he hopes to win his reluctant wife back…
Romance Historical [Entangled Amara, On Sale: August 12, 2019, e-Book, ISBN: 9781640638471 / eISBN: 9781640638471]

An emotional tale of hope…
Vanessa Riley writes Regency and Historical Romances of dazzling multi-culture communities with powerful persons of color. Vanessa writes for historical romance readers who admire and acquire books that showcase women who find joy in sweeping kisses and strong sisterhoods. Even in the darkness, she promises to give you laughs and to show you how light always prevails and how love always, always wins. Vanessa juggles mothering a teen, cooking for her military-man husband, and speaking at women's and STEM events. She's known for her sweeping romances and humorous delivery of poignant truths. You can catch her writing from the comfort of her southern porch with a cup of Earl Grey tea.