I got my first job at eleven, working at a doggy daycare, and I've been more-or-less continuously employed since then. Now, at age 34, my full work history is long and weird: server, gas station attendant, construction worker, theater set builder, house cleaner, bookseller, landscaper, bike mechanic, teacher, freelance writer, and editor. A lot of this work brought me joy, particularly when I was lucky enough to have great coworkers, or supervisors who invested in their teams. I've also seen firsthand the ways employers can exploit, belittle, and manipulate their workers.
I poured years of frustration into my novella, FINNA. FINNA begins in an enormous homegoods store where, thanks to the uniquely awful corporate layout, reality has a tendency to tear doorways into other worlds. When an elderly customer wanders into a wormhole in a furniture showroom, the task of tracking her down falls to Jules and Ava, the workers with the least seniority. (There used to be a specialized division that handled these cases, but they were cut during the Recession.) Navigating a series of hostile, alien worlds would be hard enough, but Ava and Jules broke up three days ago.
Before you ask: no, there's no overtime (unless they spend more than 80 hours in a world in a single pay period), definitely no hazard pay (despite the carnivorous furniture and a mob of violent sales associates), and no actual reward beyond the satisfaction of helping a customer (and not getting fired). After all, the job description includes "other duties as required," right?
I didn't have to dig very far for inspiration for Ava's and Jules's story. Sick of the endless cycle of leaving one terrible job only to get stuck in an equally bad one, I started pushing back. I organized a union at one job in 2014, and became a leader and activist in another from 2016-2019. Labor activism gave me a vocabulary and framework to understand worker exploitation in some of its newest incarnations. Those experiences directly fed into FINNA when I was writing it.
Some of Jules's experiences as a nonbinary, queer worker are directly inspired by my own. Customers at a bookstore I worked at regularly asked me probing, personal questions about my gender and appearance. A supervisor blatantly refused to use my pronouns, referring to me by name multiple times in a single sentence just to avoid them. Some of my managers ignored sexual or race-based harassment, or addressed it in mind-bogglingly ineffective "sensitivity trainings" that were just as terrible as the behavior they were supposed to prevent.
Other employers were extremely cavalier about worker health safety; as a nineteen-year-old working solo overnight shifts at a gas station, I was told that the robbery alarm didn't actually work and was given a baseball bat instead. A coworker with no training nearly amputated her thumb at another job. And most safety issues were addressed through ridiculously outdated corporate training videos — which incidentally inspired one of my favorite scenes in FINNA.
The video began with a click and a whir. Static flickered in lines across the screen, then cleared, but the color was still slightly off, oversaturated and alien.
 Yellow letters traveled across the screen, marquee style: Maskhål och du. Below it, in subtitles, "WORMHOLES AND YOU."
While FINNA became a place to express my frustrations and rage, it's also a story about realizing that other worlds and ways of being are possible. So many of us feel trapped; in our jobs, in political systems that don't serve us, in depression or anxiety. The universe contains so much more than we might believe possible at first. I could not, for a long time, imagine myself as a labor organizer; that I could confront people with power over me, or advocate for myself or my fellow workers. I never imagined that I was brave enough to make a stand until, suddenly, I was.
In the end, FINNA is a weirdly hopeful book. One character, an old woman who's well-versed in traveling the multiverse, tells Ava something she loved about traveling by wormhole:
It showed me that there were infinite possibilities… [Before], I worried over every decision, doubted whether I was brave or smart or strong enough to pull my mission off and protect my crew. I could remind myself that somewhere in the multiverse of possibility, there existed a world where I was all of those things. Maybe it was the world that I already lived in.
 The world is often scary, and sometimes it's hard to imagine that things will ever be better. But we live in a world of possibility, and the doorways to other futures are there–if we're brave enough to go through them.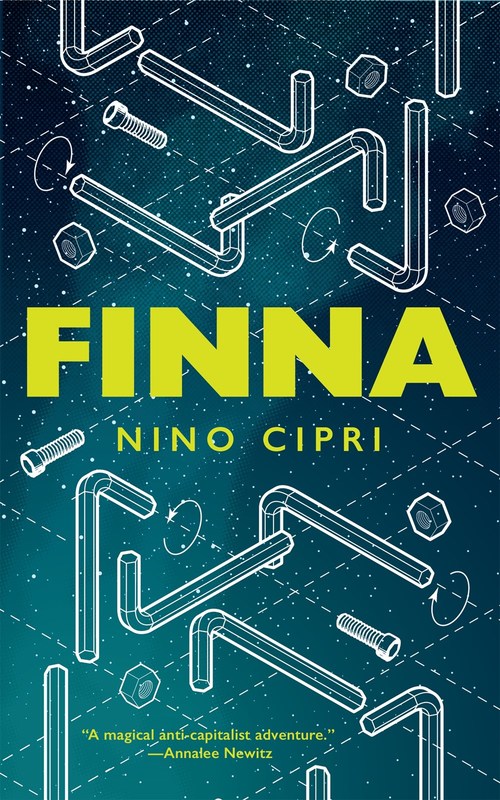 Nino Cipri's Finna is a rambunctious, touching story that blends all the horrors the multiverse has to offer with the everyday awfulness of low-wage work. It explores queer relationships and queer feelings, capitalism and accountability, labor and love, all with a bouncing sense of humor and a commitment to the strange.
When an elderly customer at a Swedish big box furniture store — but not that one — slips through a portal to another dimension, it's up to two minimum-wage employees to track her across the multiverse and protect their company's bottom line. Multi-dimensional swashbuckling would be hard enough, but those two unfortunate souls broke up a week ago.
To find the missing granny, Ava and Jules will brave carnivorous furniture, swarms of identical furniture spokespeople, and the deep resentment simmering between them. Can friendship blossom from the ashes of their relationship? In infinite dimensions, all things are possible.
Science Fiction | LGBTQ Science Fiction [Tor.com, On Sale: February 25, 2020, Trade Size / e-Book, ISBN: 9781250245731 / eISBN: 9781250245724]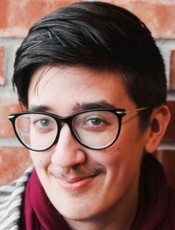 Nino Cipri is a queer and genderqueer writer living in Chicago. Nino is a graduate of the 2014 Clarion Writers' Workshop, which they attended with the help of an Illinois Arts Council Professional Development grant. Their writing has been published in Tor.com, Fireside Fiction, Betwixt, Daily Science Fiction, In The Fray, Autostraddle, and Gozamos.
A multidisciplinary artist, Nino has also written plays, screenplays, and radio features; performed as a dancer, actor, and puppeteer; and worked as a backstage theater tech. Nino has also worked as a farmhand, bike mechanic, barista, mail clerk, dishwasher, bookseller, and gas station attendant. One time, an angry person called Nino a verbal terrorist, which has since made a great T-shirt slogan.