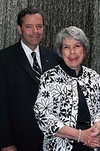 New York Times bestselling writing duo, Charles Todd, will be speak at the National World War I Museum on Tuesday, September 20th at 7 PM. The event will be broadcasted online live from the museum.
Charles Todd will discuss how investing in research has made possible two outstanding series with two individually unique characters. Both Ian Rutledge, a Scotland Yard Inspector who has returned from fighting and suffers from shellshock, and Bess Crawford, a young nurse serving in The Great War, offer readers a chance to revisit a pivotal event of the Twentieth Century. Sometimes it is fiction that makes a period more accessible to the casual reader and yet offers a student of the era a new perspective.
The New York Times Book Review wrote, "the tragic sweep of Charles Todd's historical mysteries grows more expansive with each successive novel in his stunning series." Through complex characterization and writing that is "…graceful and evocative of bygone times and places," (Miami Herald) Todd skillfully examines the human psyche and "raises disturbing issues of war and peace that still confront us today" (Orlando Sentinel).
Reviews for their most recent novel, A BITTER TRUTH, are just as stellar:
ASSOCIATED PRESS: "A Bitter Truth" is a thoughtful mystery with an excellent plot, well-drawn characters and wonderful atmosphere."
WASHINGTON TIMES: "Perhaps the saddest truth of war is that it corrodes all it touches. In "A Bitter Truth," Charles Todd's theme is war, and as is the case in his earlier novels, plot is sublimated to historic events, in this case those of World War I."
RICHMOND TIMES-DISPATCH: "With their innate sympathy, they construct the novel with a well-envisaged plot, a deep sense of time and place and characters drawn with care and compassion."
I know you'll enjoy this informative discussion by the authors of "one of the best historical series being written today." (Washington Post Book World)