I love October. The summer heat is mostly gone. I no longer have to be up by 6:00am to take the dogs for a walk. The new TV season has started. I've been back at work for about 6 weeks, so everything has settled into a routine. I work in academia so I get to take some time off in the summer, something for which I am very appreciative. I must say, though, the transition back can be a little rough. "Meetings? I have to go to meetings? Really?" fades to "So, when's the next meeting?" by October. The resentment I feel over the fact that work seriously cuts into my reading time has also eased by now. In the summer I like to beat the heat by lying in bed and reading. By October, I've relearned how to prioritize my reading, since I'm lucky to get time to read over lunch or before going to sleep.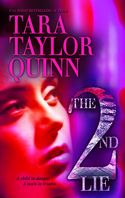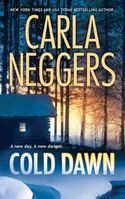 I made a point to take a sneak peak at two of this month's new releases. THE 2nd LIE is the second book in The Chapman Files by Tara Taylor Quinn. The lynch pin of the series is psychologist Kelly Chapman, whose cases form the basis for each story. In THE 2nd LIE, Kelly is contacted by a mother concerned about her 14-year-old, Maggie Winston, who seems to have developed a romantic interest in an older man. Sharing her concern, Kelly asks her friend, Deputy Samantha Jones, to help. Sam is dealing with her own issues–a concern about a growing meth problem no one else seems to share, and sorting out her relationship with Kyle, her former fiancé and current lover. Ms. Quinn deftly handles the complex issue of how meth can infiltrate a small town. Her characters are engaging, and the relationships are believable. Look for the release of the THE 3rd SECRET in November.
I also took a peek at COLD DAWN by Carla Neggers which continues the story of the Cameron family, as seen in COLD RIVER and COLD PURSUIT. In the latest book to take place in Black Falls, Vermont, Rose Cameron gets two surprises in one day. First, she finds a dead body in a shack, only to find out it's a man with whom she had a contentious relationship. In that moment, who should turn up but Nick Martini; a friend of her brothers with whom she had a one night stand (or so she thought). Nick, on the other hand, is interested in more than one night but has to convince Rose she wants the same thing. COLD DAWN is well written, and I really liked the characters. Ms. Negger's seamlessly provides important background information from the earlier books. However, I think reading the first books in the series before this one is important. I had some difficulty keeping the characters straight and felt I was missing a lot of the nuance. I plan to go back and read the first books in the series, and come back to COLD DAWN, I think it's worth the time and effort.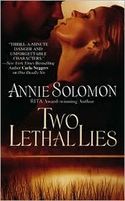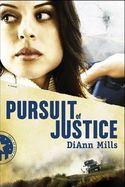 Now, a rundown of some of the other new releases. TWO LETHAL LIES, by Annie Solomon, tells the story of Mitch Turner who went on the run when his daughter was born because he has concealed a truth so dangerous, its discovery could jeopardize both their lives. Now he finds himself a suspect in a series of murders, and his daughter has gone missing. His only help comes in the form of Neesy Brown, a woman who believes in him and vows to help Mitch find his missing child.
PURSUIT OF JUSTICE, by DiAnn Mills, starts with the legend of the Spider Rock treasure which has lured people to West Texas with promises of unimaginable wealth but has so far only resulted in three deaths. FBI Special Agent Bella Jordan is sent out to investigate the murders, only to discover that the prime suspect is someone from her past, a past she's tried desperately to forget.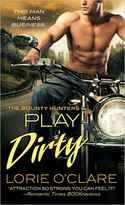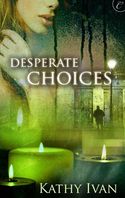 DESPERATE CHOICES, by Kathy Ivan, is romantic suspense with a little paranormal element thrown in. Psychic Theresa Crawford's former beau, Max Lamoreaux, walks into her New Orleans New Age shop, looking for her help. He is a private investigator looking for his missing godson. The police think he's a runaway, but Max suspects he's in danger. He may be skeptical of Theresa's abilities, but her clues may be what it takes to save Tommy.
PLAY DIRTY is the first book in Lorie O'Clare's Bounty Hunters series. Sexy bounty hunter Greg King hasn't gotten over his estranged wife, Haley. What he doesn't know is that she was forced to leave him and enter the witness protection program after putting a vicious criminal behind bars. When she finds herself in trouble again, she breaks her silence and turns to the one person she knows she can trust… her husband.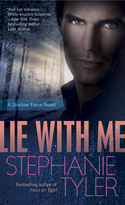 I just downloaded my copy of LIE WITH ME by Stephanie Tyler. I'll be posting a review and will let you know in the comments section when it's available. At this point, I can tell you it's the first in the Shadow Force Series. Framed for a double murder, Delta Force operative Cameron Moore is given a new lease on life by the CIA—provided he pays them back by doing their black ops dirty work. But now Cam is ready to renegotiate the deal, and he thinks he's found the perfect bargaining chip: Skylar Slavin, bestselling author of espionage thrillers and the daughter of the CIA man who saved Cam from a prison sentence.
On a related note, Dee Davis, will is our guest author for the October meeting of the Fort Worth chapter of the DFW Tea book club. I am rapidly making my way through her A-TAC series, DESPERATE DEEDS, DANGEROUS DESIRES, and DARK DECEPTIONS. I'll let you know what Ms. Davis has say.
Any questions you would like me to ask Dee Davis? What do you like about October? How much reading time can you squeeze into a day?
Happy reading!
Maria