October is this time of Halloween–supernaturals abound, even if they are the pretend kind asking for candy. This month Urban Fantasy reads just may make you think twice come this October- the next time you go to your mechanic, ask yourself- could she be a secret vampire hunter?
MASQUES, Patricia Briggs (Ace, 9/28/2010, $7.99, Mery Thompson)
BACK IN PRINT: the debut novel by Patricia Briggs featuring Mercy Thompson. After an upbringing of proper behavior and oppressive expectations, Aralorn fled her noble birthright for a life of adventure as a mercenary spy. Her latest mission involves spying on the increasingly powerful sorcerer Geoffrey ae'Magi. But in a war against an enemy armed with the powers of illusion, how do you know who the true enemy is– or where he will strike next?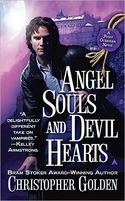 ANGELS SOULS AND DEVIL HEARTS, Christopher Golden (Ace, 9/28/2010, $7.99, Peter Octavian)
The second Peter Octavian novel in the classic urban fantasy series–reissued in a brand-new package–by the award-winning author.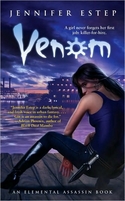 VENOM, Jennifer Estep (Pocket, 9/28/2010, $7.99, Elemental Assassin)
Gin Blanco is an assassin who can control the elements of Ice an Stone when she's not too busy running her barbecue resturant, the Pork Pit. Her current mission is to annihilate Mab Monroe, the Fire element who murdered her family. While she doesn't like having Owen Grayson knowing too much about her, at least he is on her side.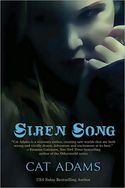 SIREN SONG, Cat Adams (TOR, October 2010, $14.99, Celia Graves #1)
From the USA Today bestselling authors, a new urban fantasy featuring the alluring half-vampire, celia Graves Nothing if not resilient, Celia Graves is slowly adjusting to being a half-human, half-vampire Abomination. But her troubles are far from over. Her best friend's murder is still unsolved, the cops are convinced she should be in jail, and her old lover, magician Bruno DeLuca, has resurfaced in her life, saying he has something important to tell her. The vampire attack that transformed Celia kicked her latent Siren abilities into high gear, and now she's been summoned to the Sirens' island to justify her existence–and possibly fight for her life–in front of the Siren Queen. Celia isn't sure she'll survive to make the trip. The demon she defeated in Blood Song hasn't exactly gone quietly–he's left Celia suffering from a powerful curse.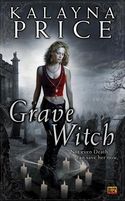 GRAVE WITCH, Kalayna Price (ROC, 10/05/2010, $6.99)
As a grave witch, Alex Craft can speak to the dead–she's even on good terms with Death himself. As a consultant for the police, she's seen a lot of dark magic, but nothing has prepared her for her latest case. When she's raising a "shade" involved in a high profile murder, it attacks her, and then someone makes an attempt on her life. Someone really doesn't want her to know what the dead have to say, and she'll have to work with mysterious homicide detective Falin Andrews to figure out why.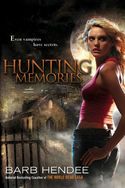 HUNTING MEMORIES, Barb Hendee (ROC, 10/05/2010, $7.99)
Vampire Eleisha Clevon has learned a way to draw blood from her victims without killing them–and she wants to share this knowledge with like-minded vampires and forge a united front against Julian Ashton, a vampire who preys on his own kind. Now, she has found a possible ally in the enigmatic Rose de Spenser–but never expects the revelations Rose has to share about Eleisha's own vampire origins.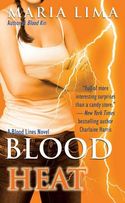 BLOOD HEAT, Maria Lima (Simon & Schuster, 10/26/2010, $7.99)
Texas is heating up- The summer heat wave that's hit Rio Seco, Texas, has even the vampires complaining, but now that Keira–the Kelly Heir–is home from Vancouver, the weather isn't the only thing too hot to handle. Keira should be setting up her court and planning the big reception at which she and her consort, vampire ruler Adam Walker, will receive the magical leaders from the local area, but pomp and circumstance just aren't Keira's thing, especially not with trouble smoldering in her domain. A werewolf couple has mysteriously gone missing from a local pack, and when Keira is asked by their leader to investigate, she finds that some dissatisfied neighbors may have been taking, well, strong action against the wer community–action that could be repeated and could involve Keira and those she loves. With the reception looming and danger fast blazing out of control, the pressure is on Keira to keep Texas safe for supernaturals. Sometimes, it's just not that great to be Heir.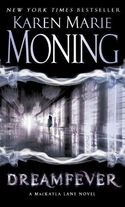 DREAMFEVER, Karen Marie Moning (Bantam, 10/26/2010, $7.99, Fever)
They may have stolen my past, but she'll never let them take her future. When the walls between Man and Fae come crashing down, freeing the insatiable, immortal Unseelie from their icy prison, MacKayla Lane is caught in a deadly trap. Captured by the Fae Lord Master, she is left with no memory of who or what she is: the only sidhe-seer alive who can track the Sinsar Dubh, a book of arcane black magic that holds the key to controlling both worlds. Clawing her way back from oblivion is only the first step Mac must take down a perilous path, from the battle-filled streets of Dublin to the treacherous politics of an ancient, secret sect, through the tangled lies of men who claim to be her allies into the illusory world of the Fae themselves, where nothing is as it seems–and Mac is forced to face a soul-shattering truth.