I've been skinny—or even average-sized—a vanishingly small proportion of my life. For a couple of decades, charitable observers might have called me chubby. In more recent years, though, chubby no longer suffices. I'm big. Fat. Plus-sized. Call it whatever you want, but I'm not the sort of woman who can simply stroll into a random store at a mall, pluck something off a rack, and expect it to fit.
I'm also not the sort of woman who shows up on the covers and in the pages of most romance novels. But growing up, that didn't stop me from searching desperately for heroines who resembled me. I hoarded the rare Silhouettes, Harlequins, and other books with plump lead characters. I didn't always love the way their weight was addressed, but I was so desperate for any fictional representation of myself that I didn't really care.
Those books reassured me that I too deserved a happily ever after. I too would find love and have lovers—ones who wouldn't simply overlook my weight, but find me beautiful. So I read and reread my stash of plus-size romances compulsively, hoping in their pages I'd find the certainty I lacked in real life.
Over time, I've pared my print book collection of thousands down to hundreds, but I still have those few novels that sustained me for so many lonely years. I've never forgotten them, and I've also never forgotten how grateful I was to their authors for giving me a version of myself on the page.
Which brings me to the present. Self-publishing has resulted in a delightful wave of plus-sized romance heroines. They even have their own category: Big Beautiful Woman (BBW) romances. I'm happily married to a man who loves me exactly the way I am. And two years ago, I became a writer myself, joining that community of women I'd idolized for so long.
At the beginning, I wasn't sure what sort of books I'd create. One thing, though, I knew for sure: Sooner or later, I was going to write a bigger heroine. In tribute to the authors who'd unknowingly given me so much, in tribute to all the other plus-sized women in the world, and in tribute to the girl I was and to the woman I am.
In my third Lovestruck Librarians book, MAYDAY, that's exactly what I did. Helen Murphy, my heroine, is a bespectacled, plus-sized redhead. And when I began to write her story, I made three main decisions about how I'd tackle the issue of her weight.
First, I wouldn't specify that weight using a number. Not what her scale read, and not the number on her dress tag. Here's why: I wanted women of all sizes to be able to see themselves in my heroine. Not just those who wear size 14 or 16, but also women like me, who wear size 26. For that same reason, I asked my publisher not to pin down Helen's size on the cover either, and they graciously agreed.
Second, I wouldn't have her diet, start a fitness plan, or lose weight for any reason during or at the end of the book. I wanted to avoid any implication that she wasn't beautiful the way she was or that she somehow needed to earn the hero's love through eating or exercising a certain way. Also, I feel like women hear enough about weight-related health issues. I didn't want to write a public service announcement about the dangers of obesity in romance novel form.
Third, I wouldn't make her weight the focus of the book or her life. I wanted a heroine who happened to be plus-sized, but whose identity would encompass so much more: her work, her friends, her love life, her hobbies, and so on. Big women lead big lives, just like thinner ones do. We have concerns other than the number on the scale, and we have ambitions beyond fitting into smaller jeans. I wanted to reflect that in my heroine.
Let me be clear: I've read wonderful romances that specify the heroine's size, that describe her weight loss or intent to get fit, or that focus on her weight as either a source of conflict or as a major topic in the book. Those are all legitimate choices, and they can result in amazing books. But that's not what I wanted to write.
In the end, I hope I did right by Helen. I hope women of all sizes enjoy reading her story. I hope if I'd read MAYDAY as a chubby teenager, I'd have recognized myself in her. And most of all, I hope the book would have given me hope that even big girls can find true love. Because we can. We do. And we deserve it.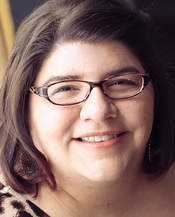 Olivia Dade grew up an undeniable nerd, prone to ignoring the world around her as she read any book she could find. Her favorite stories, though, were always romances. As an adult, she earned an M.A. in American history and worked in a variety of jobs that required her to hide her bawdy interior under a demure exterior: Colonial Williamsburg interpreter, high school teacher, academic tutor, and (of course) librarian. Finally, though, she realized the call of the hussy could no longer be denied. So now she writes contemporary romantic comedy with plenty of sex, banter, and nerdery. When not writing, she cooks alongside her husband, dabbles in photography, and tries to hide her collection of throbbing-intensive romances from her curious daughter.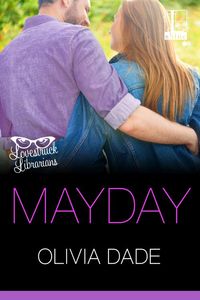 Helen Murphy loves her supportive family, her close-knit circle of friends, and her part-time job at the library. What she doesn't love: the fact that she's a thirty-six-year-old near-virgin who lives in her parents' house. Eager to move out and reclaim her independence at long last, she's determined to get the library's new Community Outreach Coordinator position. Even if that means working side-by-side with the one man she desperately wants to avoid—Niceville's ambitious mayor Wes Ramirez, who happens to be her only previous lover, and the source of her greatest humiliation…
Wes needs to make up for his disastrous one-night—actually, make that one-hour—stand with deliciously nerdy librarian Helen. As they plan the city's upcoming May Day celebrations together, he'll try to prove he can do better, in bed and out. It may take every bit of his creativity and determination, but their budding romance has already gone down in flames once . . . and he'll be damned if he'll let Helen go a second time.