Hi, Olivia! Welcome to Fresh Fiction. Please tell us about yourself and your new book, SPOILER ALERT. 
Hi! I'm Olivia Dade, a lifelong nerd and enthusiastic, pants-averse hag. I'm also a writer, and Spoiler Alert is my print debut. I'm incredibly excited about it, because the story tackles so many topics close to my heart: fandom, fanfiction, fatness, friendship, and family. It also contains a startling number of dirty geology puns, because no one stopped me! 
Put briefly, the story is about a himbo actor, Marcus, who is secretly smart and hates how his worldwide-hit TV show has gone off the rails in recent seasons. He pours his frustration into anonymous fanfiction with the help of his online BFF, April–but if anyone found out he'd been criticizing his own show so openly, his career would be over. Which is a problem, especially once he meets April in person and falls in love. . . but can't tell her they already know one another.
Spoiler Alert is a sweet-hot romcom with lots of banter and emotion and nerdery, and if you read it, I hope you absolutely love it.
The world of fandom is a relatively recent phenomenon in pop culture. What inspired you to focus on TV fandom? Are you an active part of any specific fandoms? 
Throughout my entire life, reading has been my great escape from worries and woes. About two years ago, though, I found myself almost entirely unable to lose myself in published books for the first time ever. I eventually realized it had become too hard for me to turn off the professional-author part of my brain and immerse myself in a story without analyzing it for lessons it could teach me about my own career. 
Around that time, though, I started noticing Twitter GIFs of Jaime and Brienne from Game of Thrones, and I got curious. Then I saw a post with a list of recommendations for Braime fanfiction. Unable to read anything else, I figured I'd give those stories a shot.
Honestly, as a lifelong shipper, it's a mystery to me how I didn't know about fanfic or Archive of Our Own before then. But as soon as I discovered the Braime fandom, I was hooked. Since fanfiction is entirely uncommercial, I found the whole reading experience much less fraught than with traditionally published books, and I basically read nothing but fanfic for well over a year. It was such an astounding joy to lose myself in stories again, especially since that particular fandom is blessed with so many amazing authors writing such wildly creative, funny, and/or heart-wrenching tales. 
I've dabbled in other fandoms since then, but Jaime and Brienne are my OTP, and I don't see that changing anytime soon.
In many ways, Spoiler Alert is a love letter to both fanfic and that specific fandom. Braime stans saved my sanity, and their words have brought me so much joy. I hope the book is a fitting tribute.
One of the things I love most about your books is that your heroines are plus-size, and that's it. There's no working around it, and there's usually very frank discussions about what that means to a character and her love interest. How do you approach this aspect of your characters? 
I'm a lifelong reader of romance. I'm also a lifelong fat person. And for almost four decades, I've searched for myself on the page, hoping to see a depiction of a heroine who looked like me and found love without having to lose weight or feel ashamed of her size.
To be blunt, such depictions were–and remain–few and far between. So at some point, I decided to write those sorts of heroines myself.
 Above all else, my goal is not to harm my readers. So while I discuss what it means to move through the world as a fat woman, an experience that can be uncomfortable and painful at times, I make sure that my fat characters' love interests desire and adore them exactly as they are. I also ensure that even my fat heroines who have a certain amount of vulnerability when it comes to their size do not hate themselves or their bodies. And I've done my best to show a range of experiences when it comes to fatness. Some of my heroines are entirely confident, while others aren't, and either way, they still deserve love and a happily-ever-after just as much as a thin character would.
Both April, a geologist by day and fanfic writer/cosplayer by night, and Marcus, star of a hit fantasy TV show and secret fanfic writer (about his own show!), are hiding things about themselves, and eventually have to come to terms with their own self-acceptance. What do you hope readers learn from these characters on their journeys toward self-confidence as well as to an HEA? 
I think many of us find it difficult to accept ourselves as we are, especially when what we've become is different from what others wanted us to be. But–to me–measuring ourselves against the expectations of others is a losing proposition, always. The best we can do is define for ourselves who and what we want to be, and then work toward that instead. 
No one is perfect. But you don't have to be perfect to be loved or to love yourself, and perfection is subjective anyway. What you may find difficult to accept in yourself may be the exact reason someone else adores you.
We've interacted on Twitter a bit about Cinnamon Roll Heroes, and I was wondering if you could tell us about how you think the typical hero and/or heroine expectations have changed in contemporary romance over the years, and what you love about writing them.
I can only speak for myself here, but my tolerance for alphahole heroes has essentially become nonexistent in recent years, probably because the real-world damage caused by real-life alphaholes has been inescapable. If I wouldn't be able to forgive a hero's behavior in my actual existence, then I can't root for his happy ending in fiction anymore. But again, that's just me. I know there's a continued market for more traditionally "alpha" heroes, and I'm glad for that. Different readers take joy in different types of stories and characters, and that's how it should be.
For the foreseeable future, however, you should assume that my own heroes will be fundamentally good people who are trying their best to do the right thing, even when they make mistakes. Those are the sorts of men I want to see in the world right now, and those are the sorts of men I want to see in fiction too.
I love asking authors about their reading recs! What have you recently read that you highly recommend?
To be frank, I've still mostly been devouring fanfic in recent months. 🙂 But I have read a few published books, including many I can wholeheartedly recommend.
This may be cheating, but I love all the stories in He's Come Undone, an anthology that features tightly-wound heroes unraveled by love. Emma Barry, Adriana Herrera, Ruby Lang, and Cat Sebastian are so wildly talented, and their stories are alternately funny and steamy and gut-wrenching. I'm part of the anthology, so I'm obviously biased, but I was genuinely blown away by the talent of my friends.
Mia Sosa's The Worst Best Man is hilarious and wonderful, just like her. Jenny Holiday's A Princess for Christmas is basically the best-ever Hallmark Christmas movie with the heat dial turned deliciously higher. Denise Williams's How to Fail at Flirting is witty and warm and deals with difficult emotions with such empathy.
Rapid Fire Random Questions
Dragons or unicorns: I prefer to remain non-crispy. Unicorns!
Five people you'd invite to your book club (dead, alive, fictional, etc.!): Right now, I just want an excuse to see and talk to my best friends again, because I miss all of them terribly. So I would love to put together a book club with Therese Beharrie, Mia Sosa, Emma Barry, Kate Clayborn, and Margrethe Martin, who are some of my favorite people in the entire world.
Some of your auto-buy authors: Pretty much all the authors mentioned above, along with Joanna Bourne, Jeannie Lin, and Jayce Ellis.
Favorite flower: Poppies! (Dahlias are a close second.)
Earliest celebrity crush: I was a late bloomer, so David Duchovny as Mulder.
Random interesting fact you like to tell people: The Pacific Northwest is almost entirely unprepared for a major earthquake, which could happen anytime now! See this fascinating, horrifying, award-winning article: https://www.newyorker.com/magazine/2015/07/20/the-really-big-one
 Okay, that was depressing, and I apologize. Uh. . . did you know that Nikolaj Coster-Waldau was in the movie Wimbledon? While shirtless and very hot? Because he was. 
Hobbies you have (aside from reading and writing): Cooking. Watching reality shows where the people involved are genuinely skilled at something. Loafing. Locating spots in our apartment where my family members, who've been home for months now, can't find me. (I'm an introvert.)
Dream vacation: I would love to return to the Swiss Alps or Harbour Island in the Bahamas.
Sweet or salty snacks: As a kid: sweet. As an adult: salty, preferably pretzels.
You have a totally free afternoon – no deadlines, no obligations, no Twitter notifications!  What do you do? Read fanfic and nap, AKA Living the Dream. 🙂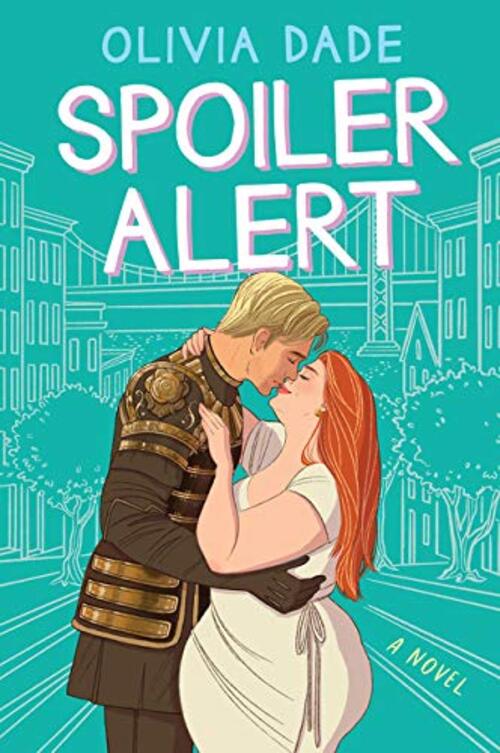 Olivia Dade bursts onto the scene in this delightfully fun romantic comedy set in the world of fanfiction, in which a devoted fan goes on an unexpected date with her celebrity crush, who's secretly posting fanfiction of his own. 
Marcus Caster-Rupp has a secret. While the world knows him as Aeneas, the star of the biggest show on TV, Gods of the Gates, he's known to fanfiction readers as Book!AeneasWouldNever, an anonymous and popular poster.  Marcus is able to get out his own frustrations with his character through his stories, especially the ones that feature the internet's favorite couple to ship, Aeneas and Lavinia. But if anyone ever found out about his online persona, he'd be fired. Immediately.
April Whittier has secrets of her own. A hardcore Lavinia fan, she's hidden her fanfiction and cosplay hobby from her "real life" for years—but not anymore. When she decides to post her latest Lavinia creation on Twitter, her photo goes viral. Trolls and supporters alike are commenting on her plus-size take, but when Marcus, one half of her OTP, sees her pic and asks her out on a date to spite her critics, she realizes life is really stranger than fanfiction.
Even though their first date is a disaster, Marcus quickly realizes that he wants much more from April than a one-time publicity stunt. And when he discovers she's actually Unapologetic Lavinia Stan, his closest fandom friend, he has one more huge secret to hide from her.
With love and Marcus's career on the line, can the two of them stop hiding once and for all, or will a match made in fandom end up prematurely cancelled?
Romance Comedy [Avon, On Sale: October 6, 2020, Paperback / e-Book, ISBN: 9780063005549 / eISBN: 9780063005556]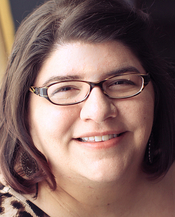 Olivia Dade grew up an undeniable nerd, prone to ignoring the world around her as she read any book she could find. Her favorite stories, though, were always romances. As an adult, she earned an M.A. in American history and worked in a variety of jobs that required her to hide her bawdy interior under a demure exterior: Colonial Williamsburg interpreter, high school teacher, academic tutor, and (of course) librarian. Finally, though, she realized the call of the hussy could no longer be denied. So now she writes contemporary romantic comedy with plenty of sex, banter, and nerdery. When not writing, she cooks alongside her husband, dabbles in photography, and tries to hide her collection of throbbing-intensive romances from her curious daughter. Visit her on the web (oliviadade.com), on Twitter (@OliviaWrites), or on Facebook (facebook.com/OliviaDade).