Instead of trying to find your perfect match in a dating app, we bring you the "Author Reader Match" where we introduce you to authors as a reader you may fall in love with. It's our great pleasure to present Olivia Drake.
Writes:  I write Regency England historical romance in the style of Lisa Kleypas, Mary Jo Putney, Kelly Bowen, Sophie Jordan, and Sarah MacLean.  THE DUKE I ONCE KNEW, a January release from St. Martin's Press, is the first in a new series, "Unlikely Duchesses," about deserving young ladies who are obliged by circumstance to seek employment in the house of a duke.  It stars Max Bryce, the Duke of Rothwell, a rake who vowed never to marry after being rejected by his first love, Abby Linton, the girl next door. Unbeknownst to him, Abby thinks he rejected her since he never replied to her letters.  When they meet again fifteen years later, Abby is governess to his sister, and his attraction to the spirited spinster poses a danger to his roguish lifestyle.  Abby, on the other hand, scorns a man of his wicked reputation – and so the sparks fly! Booklist calls THE DUKE I ONCE KNEW "a heart-melting story of forgiveness and second chances."
About my Heroine, Abby Linton of THE DUKE I ONCE KNEW
-Nurturing and caring for people is the center of my life.  But after spending almost thirty years caring for my late parents and the children of my siblings, I'm eager to make a life of my own choosing
-Looking for a sexy man with a sense of humor, a man who can thrill me with banter and charm.  A man with a deep, intense core that's hidden from the rest of the world. And if you can make me laugh, the sparks will be off the charts.
-Definitely not interested in a rogue with a wicked reputation who promised to marry me when we were teens, then went off to London and never answered my letters.
-Unless, of course, you can learn to grovel.  Oh, and make my toes curl when we kiss!
-One last thing.  What I'd truly adore as a thirtieth birthday gift is for you to finish what we started all those years ago….
What I'm looking for in my ideal reader match:
-Romantic dreamers with a big heart and a desire to be swept away by a seductive hero
-Delights in second-chance-at-love stories, especially one that involves a hot, flirtatious duke
-Likes witty banter combined with soulful emotion
-Enjoys page-turners that keep you up half the night – because finding out what happens next is way more important than sleep!
What to expect if we're compatible:
-More books in the "Unlikely Duchesses" series.  The second, MY DUKE, features an imperious duke whose ordered life is turned topsy-turvy when he meets a lively American woman.  
-If you like breathtaking romance with a dash of mystery and a sprinkle of fun, I have a large backlist of titles including the acclaimed six-book series "The Cinderella Sisterhood."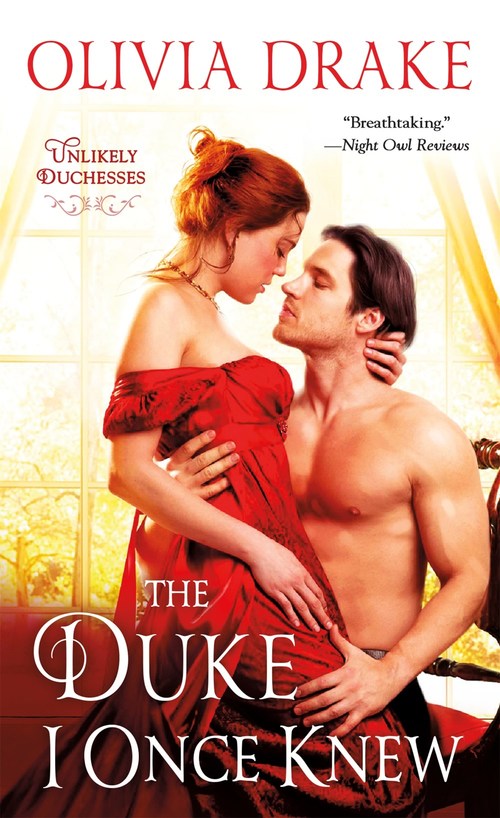 When two childhood sweethearts find themselves together after years apart, does their romance have a chance to be rekindled now that he's a duke and she's a governess? Olivia Drake's new Unlikely Duchesses series begins with The Duke I Once Knew, where first love is always the sweetest…
For years, Abigail Linton devoted herself to caring for her parents and her siblings' children. Now, eager to create a life of her own, Abby seizes upon a position as a governess on a neighboring estate. Unfortunately, her absentee employer is Maxwell Bryce, the Duke of Rothwell, the notorious rake who once broke her youthful heart. But since he hasn't set foot on his estate for fifteen years, Abby assumes she'll never have to lay eyes on him ever again.
Then, from out of nowhere, Max appears. He is stunned to come face to face with the girl next door he fell for years ago—before he went away, and she stopped writing to him… even though Abby swears that he is the one who left her without a word. Could it be that this spirited, witty spinster has won Max's heart all over again—and that they may have a second chance at love?
Romance Historical [St. Martin's Paperbacks, On Sale: December 31, 2018, Mass Market Paperback / e-Book, ISBN: 9781250174376 / eISBN: 9781250174383]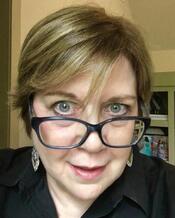 Shortly after graduating from Michigan State University with a degree in journalism, Olivia Drake sold her first novel two weeks after sending it to a publisher. She now lives in Texas in a cozy cottage with a feisty cat, a loving husband, and two wonderful daughters who still come back whenever they want a home-cooked meal.
Many of you already know Olivia as Barbara Dawson Smith, author of 24 historical romance novels. She is a New York Times bestseller and winner of numerous honors, including the Golden Heart Award and the coveted Rita Award for excellence in the historical romance genre.