Hello, Fresh Fiction! It's been so long since I've been here. And I cannot tell you how great it feels to be back!
Some of you may know me as the author of several sweet rom-coms, all contemporary settings. So then, how in the world did I end up writing an Amish romance novel? Did I go all "inspie" on my readers? (Which wouldn't be a bad thing, of course!) Nope. The real story behind why I chose this path isn't what most people expect. . .
It all goes back to my sister. She moved from Tennessee to Hershey, PA about ten years ago. I was dying to go there, of course, because that is where all the chocolate lives! I mean, talk about my mecca. 😉 The first time I went out there for a visit, we did the whole Hershey thing–which was dang awesome. (PS: I have a whole series that takes place in and around Hershey, called "Sugar City.") Anyway…what I didn't realize then, was Hershey practically butts up to Lancaster County, one of the largest Amish settlements in the country.
My sister had only been out there once, so we searched the internet and made some phone calls to make sure we followed the correct "Englisher" protocol. We didn't want to be those ugly people who tried to take pictures of things that were private to the Amish. We did our best to be respectful.
Needless to say, I completely fell in love with the charm of their little towns, the food, pastries, homemade everything, and even the friendliness of the people. To me, they weren't this mysterious, secretive people who wouldn't talk to anyone. They were warm and welcoming, very hospitable. And if you haven't had a fresh whoopie pie in Intercourse, PA, you're seriously missing out!
Fast forward to nearly ten years later. I'd written a bunch of sweet romances and other women's fiction, then I took a break to be engaged, married, and nest for a while. 🙂 Soon enough, however, I started itching to write again. The trouble was, I didn't have any cool stories in mind. I was like totally blank! One day, I called my editor just to catch up because it had been nearly three years since I'd written anything new. We chatted for a while, then she finally asked the question I was dreading. . .  "So, do you have a new book in mind?"
Ugh. I told her I had nothing–nada. My once creative mind was empty. We chatted a bit longer about this and that. Finally, after maybe holding back a moment, she asked: "Have you ever heard of Amish romances?"
Whoa, what? I didn't even realize that genre existed. Ha! Little did I know it has become one of the fastest-growing subgenres with romance readers. Ever heard of Beverly Lewis, Ophelia? Well, no. I hadn't! Yet.
Long story short (too late), my publisher already had a bit of a story in mind–which was all I needed to get going. We even came up with the title pretty early on: Never an Amish Bride. It was difficult at first, as I'd gotten out of the habit of writing every day, but soon enough, I was neck deep in all things Amish. I seriously fell in love with the people, the culture, how hard working they are, and especially how devoted they are to their families and faith.
I can't believe this book is finally in the hands of readers. It's like a dream come true, so much so that my amazing editor and I joke (as I'm currently writing The Amish Cowboy's Homecoming, the follow up to Never an Amish Bride) that single phone call was FATE!
Thanks again for having me on here, guys! Now tell me, did everyone else on the planet know about Amish romances except me? If so, why do you love it? And who is your favorite author? Until next time!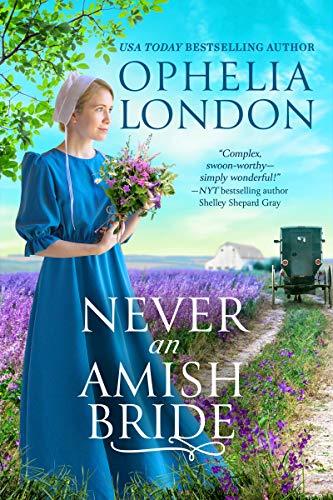 Welcome to charming Honey Brook, Pennsylvania, where bestselling author Ophelia London will bring you on a moving and unforgettable journey through faith, forgiveness, and ultimately love.
Everything changed for Esther Miller with the death of her beloved fiance, Jacob. Even years later, she still struggles with her faith and purpose in the small, tight-knit Amish village of Honey Brook–especially now that her younger sister is getting married. All she wants is to trust in the Lord to help her find peace…but peace is the last thing she gets when Lucas, Jacob's wayward older brother, returns to town.
Lucas Brenneman has been harboring a secret for years–the real reason he never returned from Rumspringa and the truth behind his brother Jacob's death. Honey Brook still calls to him, but he knows his occupation as a physician's assistant must take precedence. With sweet and beautiful Esther he finds a comfort he's never known, and he feels like anything is possible. . . even forgiveness. But she was Jacob's bride-to-be first. And if she knew the truth, would she ever truly open her heart to him?
Amish | Romance [Entangled: Amara, On Sale: June 30, 2020, Mass Market Paperback / e-Book, ISBN: 9781640639065 / eISBN: 9781640639065]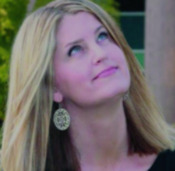 USA Today bestselling author Ophelia London was born and raised among the redwood trees in beautiful northern California. Once she was fully educated, she decided to settle in Florida, but her car broke down in Texas and she's lived in Dallas ever since. A cupcake and treadmill aficionado (obviously those things are connected), she spends her time watching arthouse movies and impossibly trashy TV, while living vicariously through the characters in the books she writes. Visit her books here, but don't call when The Vampire Diaries (or Dawson's Creek) is on.