Hey there! I'm so happy to be on your fab blog again. I just adore everyone at Fresh Fiction! 🙂 This time, I'd like to do something special and share with you the playlist for WIFE FOR THE WEEKEND. For those of you who've been following me, you know that I'm notorious for making very extensive and detailed playlists for all of my books. Sometimes, I have songs saved before I start even writing the book. Music just sets the tone for me, and can even shake me out of a scene if I'm stuck. Songs have so much emotion!
So, without further ado, I present the highlights of my WIFE FOR THE WEEKEND playlist.
For the complete Spotify list, click here
And now, happy listening!
Phew! Is it getting hot in here? To find out how that massage turns out, and to see if Jules and Dex can stop one-upping each other long enough to see if what they feel might not be fake after all…check out WIFE FOR THE WEEKEND!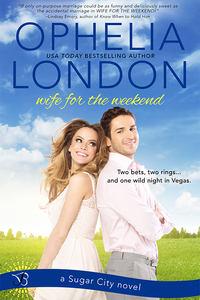 When bad weather closes the airport, free-spirited Jules Bloom finds herself stuck with the admittedly hot but total suit Dexter Elliott. One night and one large pitcher of "Vegas Sunrise" later, Jules wakes up in a hotel bed with a vicious hangover wearing nothing but a wedding ring.
Determined not to ruin his brother's wedding, Dexter strikes a deal with the frustratingly gorgeous Jules to continue their quickie marriage through the weekend. Only she keeps getting under his skin in unexpected ways.
Jules has her own reasons for staying married to Dex but they seem less important with each exaggerated touch and staged kiss. But one marriage, one major secret, and two complete opposites don't add up to a happily ever after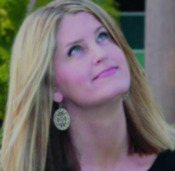 USA Today bestselling author Ophelia London was born and raised among the redwood trees in beautiful northern California. Once she was fully educated, she decided to settle in Florida, but her car broke down in Texas and she's lived in Dallas ever since. A cupcake and elliptical aficionado (obviously those things are connected), she spends her time watching arthouse movies and impossibly trashy TV, while living vicariously through the characters she writes. Ophelia is the author of the Sugar City series, including WIFE FOR THE WEEKEND and KISSING HER CRUSH; AIMEE & THE HEARTTHROB; CHALK LINES & LIPSTICK; DEFINITELY, MAYBE IN LOVE; the Abby Road series; and the Perfect Kisses series. Visit her at ophelialondon.com. But don't call when The Vampire Diaries (or Dawson's Creek) is on.