1–What's the name of your latest release? 
Wolf Untamed
2–What is it about? 
Wolf Untamed is the 11th book in the Special Wolf Alpha Team series. In this story, Officer Diego Miguel Martinez and his SWAT team of werewolves have been dealing with a city gone mad. People are behaving strangely, committing violent crimes out of the blue, without even remembering it. Is it delirium–a new drug supposedly flooding the streets–or is it something much more terrifying?
Bree Harlow is dealing with issues of her own. Her ex-husband was sent to prison and her son, Brandon, has been struggling. He's been acting out and getting into more and more trouble, and Bree has no clue what to do next. When she takes him out for breakfast at their favorite diner, hoping to get him to open up about what's wrong, the situation takes a drastic turn after someone walks into the place with a gun. As Diego and some of the other members of the SWAT team show up to help, Bree's life is sent careening down a completely unexpected path. Bree's son is definitely dealing with some big issues, just not the issues she assumed.
3–What word best describes your heroine? 
Determined.
First, her ex-husband goes crazy and kills someone, ending up in prison and leaving Bree living from paycheck to paycheck and on her own with a child to raise. Then her son Brandon gets involved with the wrong crowd and Bree has to live through the horror of sitting beside his hospital bed, praying he survives. And if that wasn't enough, she's forced to watch a madman take her son hostage, only to discover Brandon has been hiding a secret too impossible to believe. . . a secret that will bring a new man into her life, and change her whole world forever. But through it all, she keeps moving forward, refusing to let anything get her down. She's determined to have everything she deserves. Her son, happiness, and love.
4–What makes your hero irresistible? 
He strong, sexy, mysterious, a little dangerous. . . and loves kids. Oh, and he's a werewolf. Could you ask for anything more than that?
5–Who are the people your main characters turn to when they need help? 
Bree turns to her sister Beth for help when things go wrong. Beth has always been there for her, stepping up when Bree's ex-husband went to prison and when he got out looking to insert himself back into their lives.
Diego turns to his teammate–and packmate–Trey Duncan. Especially when it starts looking like Bree might be The One (aka soul mate) for him. Because none of the other werewolves in the Pack had ever had to deal with a soul mate who had a kid. How could she be his soul mate if her kid didn't like him?
6–What do you love about the setting of your book? 
This book–and the whole Special Wolf Alpha Team Series–is set in Dallas. We love this city as a backdrop for these books. There are so many different environments to use within the stories from fancy restaurants and family-friendly diners, to forests, city streets, movie theaters, nightclubs, even farmer markets. The possibilities of places to use for scenes is endless.
7–Are you a plotter (follow an outline) or a pantster (write by the seat of your pants)?
I started out being a pantster, but after I started writing with hubby (who's much more organized than I am!) I realized how much easier it is to follow an outline, especially when you're writing long series. Now, we spend the first two or three weeks of the writing process planning, filling out the characters and plotlines, making sure we know where the Easter eggs need to be placed to support the story, building the pace, and ramping the anxiety level at the perfect pitch.
8–What is an ideal writing day for you?
Starting the day with yoga, a run, or some other kind of exercise, followed by walking our fur baby, then chilling on the sectional couch with hubby, both of us writing on our laptops. We can go for hours writing together.
9–Do you listen to music while you write, need total silence, or do you have the TV on?
I listen to sports radio (shout out to the D.A. Show and Jim Rome Show) while having QVC on TV on mute. I need constant and multi-level background simulation. Sometimes I'll even add coffee shop noise on Alexa to up the intensity.
10–How do you approach research? 
Hubby handles most of that, which is a good thing because I get easily caught up in all the stuff out there on the web. Next thing I know, it's three hours later and I'm not even looking for a restaurant for the H&H to go on their first date, but instead, I'm looking at pictures of cheesecake and drooling.
I'd also rather have my husband be responsible for looking up things like "how long does it take a body to decay in the ground" or "how long can a person live in the trunk of a car in 95-degree weather" because. . . gross.
11–What is your publishing journey story? 
In 2004, I started writing for a tiny little e-publisher that paid me about $50 per chapter for stories, a chapter a week. The money wasn't very good and to make a few extra bucks, at one point I was writing under three different pen names for that same publisher. But I learned a lot about character and plot development writing for them, so it was worth it.
Over the next few years, I branched out into larger e-publishers, like Whiskey Creek Press and Liquid Silver, continuing to hone my craft and challenging myself to get better with every book I wrote. At that point, it was as much about learning how to write as it was making money. I started going to writing conferences and book signings (a big shoutout to the Lori Foster Reader Author Get Together in Ohio!), learning from other authors and from fans, too. At Lori Foster's, we had dinner with a few authors who gave us the best piece of advice we've ever gotten. Don't run around trying to figure out what other authors are getting paid to write. Instead, find a voice and style that's unique to us–something you can fall in love with–and write those books.
From that piece of advice came a commitment to a writing team effort with my husband. He's retired Army Bomb Squad and tends to be more focused on action and thriller material. So, we blended his voice and mine and came up with Her Perfect Mate, the first book in the X-OPS Series. It's a blend of steamy romance with a covert spy thriller feel and lots of action set in a paranormal world. Before we even had it done, we realized there was nothing out on the shelves quiet like what we were doing. We'd found that unique voice.
Of course, it still wasn't easy after that. I spent months trying to find an agent who would handle a book that didn't fit easily into any one genre. Being unique can be good, but it can also be scary.
But in 2012, Sourcebooks picked up the book and the books that followed in that series. They picked up Special Wolf Alpha Team shortly after that, and most recently Special Threat Assessment Team. Since then, hubby and I have published more than 20 books with Sourcebooks to go with another 20 or so that we've published ourselves.
This is truly a case of the journey being the destination since we continue to grow and develop as a writer, always trying to make the next book better than the previous one.
12–Do you have critique partners/writing groups you want to give a shout-out to? 
As I mentioned above, Hubby is my writing partner, so a great big shout-out to him! People are always asking how writing with my husband works, and I have to tell them it's the best thing ever! It was kind of rough in the beginning, as we both had strong options in which direction the plots should go, how characters should behave, and what an HEA should look like. But over the years, we've worked on the process, committed to staying with it, and have grown to the point where we pretty much know what the other person is thinking about the story without having to even talk about it. Its hard to explain how amazing it feels to have someone to work through the writing blocks with and bounce ideas off of. It makes the writing so much easier.
13–What're the most frustrating things about being an author? 
If there is one thing that gets to me, it's the whole "hours-in-the-day" thing. We simply have more stories to tell than there are hours in the day to write them. Even with the writing process that Hubby and I have down to a science, it still takes a certain number of hours to get a story from the first idea to the final turned-in product. For us, that process takes about 90 days. Sure, some of our shorter stories get done in less, but it's still a labor of love. Throw in the distractions of having to write blogs, do analysis and data scraping for promotions, cover work and other graphic design stuff, track expenses and do taxes (hate that!), sleeping (why is that necessary?), editing (and re-editing and re-re-editing) and it seems we never get the chance to put out as many books as I want.
14–What's your favorite scent?
Chocolate. I love to open a new bag and inhale! Coffee comes in a close second, but I don't handle caffeine well, so smelling it is all I can do.
15–What movie will you watch no matter what if it's on TV? 
The Lord of the Rings Trilogy. I had a chance to meet Viggo Mortenson and go all fan-girl (actually I just stared at him like a lost puppy!) and have loved the movie ever since. We have a romantic Aragon and Arwen collage print mounted over the bed, as well as all the movie poster framed in the living room, so I can get my fix in between watching the movies!
16–Do you like breakfast, lunch, or dinner best? 
Dessert! Fortunately, it's completely acceptable to have dessert for breakfast, lunch, and dinner, so I'm good!
17–What's one thing you wish you knew more about? 
Time travel. Every time I watch a show with time travel (Dr. Who, Legends of Tomorrow, Umbrella Academy, etc.), I get so baffled I end up staring at the TV like a pig looking at a Rolex. Why can't I understand this stuff?
18–What's the silliest thing you've recently done?
I've been hounding Squishable about the Plague Doctor I put on preorder months and months ago. I know it's probably strange that I want this cutie (I'm a highly decorated and confirmed germophobe by the way), but he's grown on me. I want him and I want him now! So, I keep getting on their FB page and emailing them. It must have worked because I got an email saying the cute little Plague Doctor is on a UPS truck as we speak!
19–What can readers expect from you next? 
We recently turned in ROGUE WOLF, book 12 of the Special Wolf Alpha Team Series and are currently writing Book 3 in the Special Threat Assessment Team Series, then it'll be on to Book 8 in the SEALs of Coronado Series. I'm also now writing and illustrating children's books under the name Pippa Tyler as well!
As for releases, look for the complete first "season" of Paranormal Investigations Unlimited about a ghostly serial killer in October (just in time for Halloween!); the next book in the Special Wolf Alpha Team Series, WOLF UNTAMED, in November; the next book in the SEALs of Coronado Series in Spring 2021; Book 2 in the Special Threat Assessment Team, UNDERCOVER WOLF, in May, and of course, those fun illustrated children's books!
20–How can readers reach you?
They can use the contact form on my website (https://paigetylertheauthor.com/) or email me at [email protected] They can also find me on social media on Facebook at https://www.facebook.com/PaigeTylerAuthor, Twitter at https://twitter.com/PaigeTyler, or Instagram at https://www.instagram.com/paige_tyler_author/. I love connecting with readers!
SWAT #11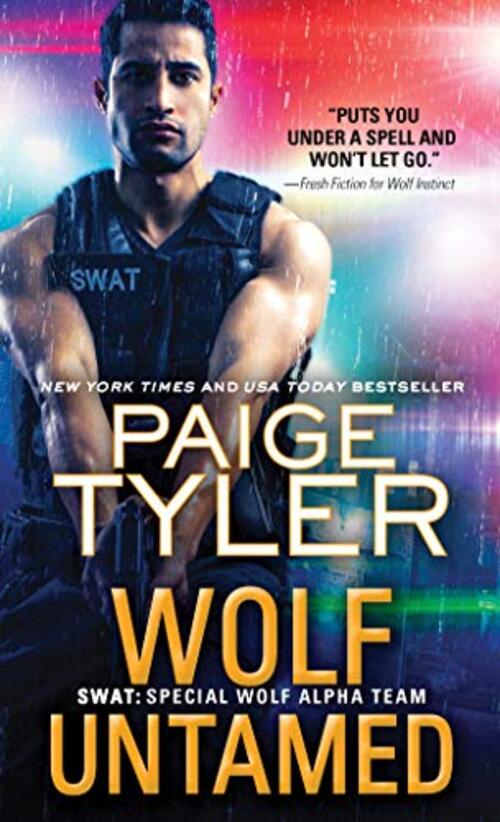 New York Times and USA Today bestselling author Paige Tyler brings you the latest in her sexy, pulse-pounding SWAT series
SWAT werewolf Diego Martinez has always had a protective side, so when he meets a newly turned teenage werewolf, and the kid's intriguing mother, he readily offers to help Brandon learn what it means to be a werewolf. He also readily falls for for Brandon's mother, Bree, and the attraction is mutual.
But as SWAT's biggest case starts to converge with Bree's family, Diego and Bree find themselves in danger they could never have imagined. It'll take everything they've got to discover the truth and keep each other safe.
SWAT (Special Wolf Alpha Team) series:
Hungry Like the Wolf
Wolf Trouble
In the Company of Wolves
To Love a Wolf
Wolf Unleashed
Wolf Hunt
Wolf Hunger
Wolf Rising
Wolf Instinct
Wolf Rebel
"SWAT is hot hot hot!"—Kerrelyn Sparks, New York Times bestselling author
"Paige Tyler's SWAT series hits all the right marks, blending steamy paranormal fantasy with modern-day realism."—Larissa Ione, New York Times bestselling author
Romance Paranormal [Sourcebooks, On Sale: November 24, 2020, Mass Market Paperback / e-Book, ISBN: 9781728205557 / eISBN: 9781728205564]
Amid chaos he finds the "One"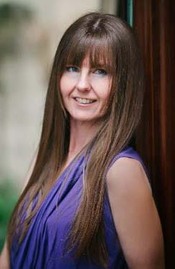 Paige Tyler is a New York Times and USA Today bestselling author of sexy, romantic fiction. She and her very own military hero (also known as her husband) live on the beautiful Florida coast with their adorable fur baby (also known as their dog). Paige graduated with a degree in education, but decided to pursue her passion and write books about hunky alpha males and the kickbutt heroines who fall in love with them.