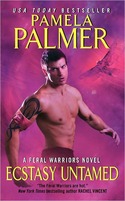 All fiction writers have imaginations, big imaginations, or we'd never come up with the stories we do. We're the ones walking around with the voices in our heads. But these big imaginations can take different forms. I think all novelists love the question 'what if?' But not every writer looks at a plane in the sky and wonders, "What if it exploded?" or "What if it just disappeared or morphed into an alien spacecraft?"
I believe that those of us who write speculative fiction (paranormal/sci-fi/fantasy) tend to have brains that serve up the strangest what-if questions. What if that dude in front of me in the check-out line were to suddenly shift into a hawk and fly through the window of the store? Or to sprout claws and fangs and start growling as if he wanted to tear someone apart? What if that teenaged girl was really an immortal over a hundred years old? What if shape-shifters and demons and mages fought battles for dominance of the earth all around us as we remained happily clueless? These are the types of questions that came to me at one point or another in the creation of my Feral Warriors shape-shifter series, in particular ECSTACY UNTAMED, book 6, which hit stores yesterday. ECSTACY UNTAMED is the story of a pair of immortals – Hawke, a hawk shifter who, due to his recent entrapment in a Daemon spirit trap, is losing control of his animal, and himself. And Faith, a darling Therian woman with a smile that lights him up inside. The trouble is, she's the intended mate of the newest Feral Warrior, Maxim.
So, where does this stuff come from? Honestly, I wish I could give you the secret. I think we're born with brains that serve up the surreal. When my son was four, he woke up one morning after a dream about a magic ring with incredible power. His detailed explanation of the workings of this ring took a solid ten minutes to tell me and made eerily logical sense. Yes, he enjoyed books and television, but he was four. I read the books to him, and was almost always nearby when the tv was on. I'd have known if he'd heard about this ring somewhere. He hadn't. That dream was entirely the creation of a four-year-old's subconscious mind. How does a brain that young come up with something that intricate, something that doesn't exist? It amazed me at the time, and it still does. The kid has no interest whatsoever in being a writer, but I'm convinced he has the imagination for it if his interests ever change.
What if I could shove my hand through my computer screen without breaking it? What if the Dupont Circle fountain in Washington, D.C. was a gate into the fairy world? What if vampires really existed? The questions come almost fast as I can type them. There's a fine line between weirdly creative and crazy, trust me. If there's a cure for the weirdness, keep it away from me! If it weren't for the strange paths my mind wanders, I wouldn't be able to tell the stories I love.
Question for you: What's the most imaginative (or the weirdest) movie you've seen recently?
In celebration of the release of ECSTACY UNTAMED, I'll send a signed copy of the first book in the Feral Warriors series, DESIRE UNTAMED, to three commenters.
To comment on Pamela Palmer's blog please click here.