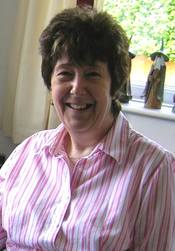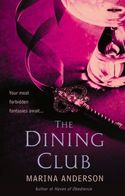 #FreakyFriday continues with this delicious excerpt from Marina Anderson's THE DINING CLUB, as part the Forever Romance Menage a Trois Release Blitz!
About THE DINING CLUB
You are invited to the Dining Club. If you pass the challenges we set, a world of pleasure awaits you.
He is everything she never wanted: brooding, secretive, rich – and far-removed from her care-free artistic lifestyle. Yet David has a power over Grace that she cannot resist, a power that comes from his darker, passionate side. And now he is ready to truly reveal himself. Inviting Grace to a weekend at the Dining Club, David offers her the opportunity to discover his deepest desires and to find pleasures far beyond her wildest imagination – but only if she is willing to play a series of sensual games. Grace faces a choice: give in to her doubts and retreat to her quiet life, or truly embrace happiness with David and win over her mesmerizing lover forever.
Excerpt of THE DINING CLUB
The subdued lighting and quiet murmur of intensely private conversations in the dining room were an arousing background to these small acts of sensuality, and Grace was thoroughly relaxed and enjoying herself when Laura, Amy's twin, arrived at the table with some cards in her hands. "The dessert choice," she explained, handing them to David.
Amy sat up very straight, her eyes on Grace. David glanced briefly at the cards, put three down on the table and passed the rest back to Laura, who then stood waiting for their order.
"Grace, these dessert choices are coded," he said quietly.
"Each of them hints at the type of trial you want this evening. Here, look at them and you'll see what I mean."
Grace's stomach tightened with fear. For a short time she'd forgotten what lay ahead, but now there was no way out. If she wanted to keep David, and after their conversation earlier she knew without a doubt that she did, then she had to go through with this. All around her other women were also looking at cards and making choices. One looked excited, but the others looked as nervous as Grace was feeling.
"Tantalizing Tiramisu, Obedient Orange Sorbet or Controlled Chocolate Delight," she read aloud.
"I think you should leave the Controlled Chocolate Delight for another month," said David quietly. "Choose from the first two."
Grace began to tremble. "I don't want either," she whispered. "I don't know what they mean. I don't think I can do this."
"Then you simply refuse the dessert, my darling, but of course you know what that will mean for us."
"I'm scared; doesn't that matter to you?"
"Don't be scared. You don't have to choose anything, you know that. If none of them appeal to you, then all you have to do is tell Laura. There's no pressure on you, Gracie, it's only that . . ."
Trembling, Grace looked at him, and saw the regret in his eyes. She wanted to go on, to take the final step into the unknown, but the descriptions on the cards didn't give her enough of a clue for her to dare to choose anything with any confidence.
"The tiramisu should be nice," murmured Amy, leaning close to Grace so that no one near could hear. "Choose that. You'll be fine."
As Grace hesitated, Amber came to their table. "Is there a problem?" she asked.
Looking up, Grace saw that Amber had guessed what was happening and was enjoying it. She also noticed that Amber had rested one hand possessively on David's left shoulder. "No, I'm spoilt for choice, that's all," she said brightly. "I think I'll go for the Tantalizing Tiramisu. It sounds fascinating."
Laura wrote it down and went away and Amy smiled and touched Grace's arm encouragingly while Amber merely nodded before walking off. All around them groups of three were getting up from their tables and making their way out of the dining room.
"Well done," said David. With a sigh of relief he pushed back his chair. "We're in the study for dessert tonight aren't we, Amy?"
Amy nodded.
"Aren't you coming too?" asked Grace.
"No, I'm hardly ever involved at a guest's first trial. My skills are for the higher tables. Good luck though," she added more quietly, "and try to enjoy it. It's one of the best
choices you can get." With that, Amy hurried off to join another group.
Grace felt bereft as she watched her go. Now she knew that whatever lay ahead she had to cope with it on her own, because she was certain that no one else was going to help her in any way at all.
Silently David guided Grace out of the dining room, down the hallway and along a short corridor. He then opened a concealed door and she stepped inside.
"Hello," said Amber, getting up from a chair to greet her. "Do come in. Andrew and I are both so pleased you chose the tiramisu."
Grace took a step backwards, feeling her heart racing and aware that the palms of her hands were damp with fear, but David was standing behind her, and before she could say anything he'd locked the study door and dropped the key into a jar on a high shelf.
"Welcome to your first trial, my darling," he murmured. "I'm sure we're all going to have a wonderful time."
Don't forget to enter the Menage a Trois giveaway!