I was in my 40s before I realized the role I was meant to play in my large family of six sisters.
My parents had two sets of children. The first three girls were born in the 1950s, then, ten years later, the second set of three girls appeared on the scene. I was the baby of the first set. It was a surprise to all, especially me, when it turned out that, instead of being jealous of the three new babies in the house, I took their birth as a sudden and joyful opportunity to have "real" babies to play with instead of the fake ones that appeared every Christmas under the tree. Instead of being the "baby" of the family, I morphed into the mother figure for the younger set, a caregiving role I loved.
Fast forward numerous years, when my mother was diagnosed with ovarian cancer. I became her caregiver. I'll never forget when the doctor called my dad and me into his office to discuss my mother's prognosis. Once I understood all the chemotherapy and radiation that Mom would need to undergo during her battle against this dreaded disease (while my father was still working full-time as an Oakland firefighter), I knew what I wanted to do. I would be by at my mother's side every single time she needed to go to the oncologist or for a chemotherapy or radiation treatment. No one should have to go through this horrifying process without someone sitting right next to them every single day.
As for the four sisters' mother in my new novel, MENDING FENCES, my mom fought the cancer battle—and lost. That was when I realized that life was too short. I wanted—needed—to place my relationship with my mother in a book in an effort to memorialize her, to show how important it is to have a close relationship with your mother and how important she was to me. So I wrote MENDING FENCES, my June 19 women's fiction novel from Ravenswood Publishing.
I remember those early days of writing this book. I didn't want to make MENDING FENCES seem as if it was a sad and depressing story. It's anything but that. Yes, it begins with the girls' mother's funeral, but their shared farewell to their mom leads the reader into a poignant story about the relationships among the four sisters and their father, and how the changes they make in their lives stirs up trouble among them. The reader gets to know Sharon, the peacemaker, and Helen, the rebel youngest sister. These two live and work on the family's Friesian horse ranch in Northern California with their father. Then there's Patti, the caregiver, and Kathy, the insecure creative one. Patti and Kathy live in the San Diego area of Southern California.
MENDING FENCES occupies a special place in my heart because of the close relationship my "book Patti" has had with her mother, as I did with mine. But it also explores a theme I subconsciously chose to address (but didn't realize it until I wrote "the end"). MENDING FENCES deals with four sisters who love each other but sometimes don't get along because of their differences—hello, my family! And this story shows that we all play roles in our families—and sometimes we break out of our roles as we grow, mature and learn who we are and what makes us happy.
Example: I bought a four-year-old Friesian horse, Maximus, in 2004. My husband, two children and I went to Black Sterling Friesians in Sonoma, California, just to "look" at the horses. Luckily, we brought our checkbook! We drove away from the ranch with a receipt for my magnificent Maximus. Born in Leeuwarden, Netherlands, he'd only been in the States for a couple of weeks and was the most beautiful horse I'd ever seen. My big boy is black, with "feathers" covering his feet up to his knees like the Clydesdales in the Budweiser commercials. His tail reaches the ground, and he has a long and regal neck.
My purchase of Maximus surprised the heck out of my family and friends. They were happy for me—I don't mean to imply they weren't. But they just didn't see the long-time caregiver of the family indulging herself in a pursuit that would send her for long, solitary rides into the forests near Maximus' stable. Too, I became somewhat of an "athlete." (Trust me—riding and caring for a magnificent horse like Maximus, who needs frequent exercise, definitely fits within the definition of athlete.) Again, a surprise for my family.
In my new book, the sisters have a lot to learn about one another! And a lot of fences to mend to become a close family again.
I hope you enjoy MENDING FENCES, which is available in print and eBook on Amazon and BarnesandNoble.com. You can read the first three chapters on www.PatriciaYagerDelagrange.com.
When have you surprised your family by doing something that didn't mesh with the role in your family? And what was your family's reaction?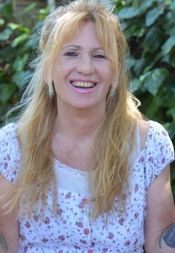 Fascinated by broken-hearted couples and atypical families, Patricia Yager Delagrange weaves engaging tales of men and women who create cohesive families where love reigns supreme. She sprinkles her books with intriguing characters who struggle to find balance in life after tragedy. Whether an unwed teenager, desperate widow, abandoned father, or a couple who stray from their marital vows, her characters form relationships impacted by their desire to create a family.
Born and raised in the San Francisco Bay Area, Patricia attended St. Mary's College in Moraga, California, where she studied Psychology and Spanish. She spent her junior year abroad at the University of Madrid then transferred to UC Santa Barbara where she received her B.A. in Spanish. She went on to get a Master's degree in Education at Oregon State University.
Patricia lives with her husband and two children in Alameda, across the bay from San Francisco, along with two very large chocolate labs named Annabella and Jack, and a rescue terrier mix, Shay Dog. Oh, and she also takes care of her daughter's guinea pig, Lucifer. When she's not writing or spending time with her family, Patricia enjoys riding her Friesian horse Maximus, who lives in the Oakland hills with a million dollar view.