In this excerpt, Danny tries to convince Prescott to take a closer look at the town's mid-century architecture.
Danny
Before we walk out of the shop, Prescott stops to put on a pair of leather gloves that are so tight each finger needs to wriggle in on its own until he uses the opposite hand to yank the taut creamy leather down on to his hand in one fell swoop. The leather scene has never really been my turn-on of choice but something about seeing his skin covered in the supple gloves make me think I should revisit that situation.
"Well, shall we go?" he asks, holding the door open. "We shouldn't keep the shop closed too long."
There's still snow on the ground, but the sidewalks are clear enough for us to walk side by side. The air is cold and clear. We walk a few blocks past Bridge Street until we're standing in front of the First Bank of Bucks.
"Isn't it wonderful?" I ask, admiring the gorgeous mid-century marvel. Four tall windows make up the facade. They are uninterrupted by adornment—pure open glass that reflects the snowy street. Between each massive window is a stone and cement pillar. Each one creates a simple but perfect rectangle. A flat straight roof sweeps from the center of the windows out beyond the building creating the entrance awning and drive-thru window. It looks like something from an episode of The Jetsons or a pavilion at a World's Fair from the last century. It's a vision of the future that never was, straight from the sixties. I adore everything about the look and feel of the structure. Modern. Exaggerated. Hopeful.
"Wonderful is not the word I would use," Prescott says.
I smack him gently on the shoulder. "I know you're just saying that to make me mad. You can't possibly be blind to the beauty of this building." He tilts his head from side to side and his bangs flop in such a cute boyish way that I almost have to look away.
"Aesthetics are only one piece of it. I'm not against mid-century design. I suppose I just don't get it. It seems so random. That movement never embraced all that came before it. It didn't just rebel against the Beaux-Arts. It ignored it."
No matter what I say, Prescott finds a way to disagree or criticize. It's exasperating but I want him to see what I see for once so I work harder to convince him instead of argue. "But that's the idea. The buildings are about the future. They say we can create the world we want and not be the result of what came before. We can be free to be whatever we want."
He looks carefully at the building again and I watch him thinking. "I guess I never thought of it that way." The words creep out in a momentary surrender.
"See that steel girder that holds up that roof over the drive-through?" I say pointing. "It's not adorned with sculptures of pretty birds or painted to look like a Greek statue or covering up anything. It is what it is and that's enough."
"But your stuff in the store. It's covered in color and texture and pattern."
"Right but no one has told me that stuff is supposed to be beautiful. I collect what I love because it makes me happy. It brings me joy. Do things in your collection bring you joy?" I ask him because I truly want to know. Prescott takes a few seconds to answer.
"Yes, they do. But not for the same reasons. I like knowing the history of each piece and understanding where it fits in." He looks at me very seriously for a second as if he is sizing me up and figuring out if he wants to go deeper. "Were you teased much as a kid? You know, for being gay?"
I'm surprised by his directness about something so personal but my gut reaction is an honest one. Mercilessly, I want to say. I want to tell him about having to change boarding schools because of bullies and how I would do anything to re-direct their aggression. Instead I say, "Yeah, I was. It sucked." I'm being truthful but not overly candid. I wonder where he's going with this line of questioning.
"Me too. But when I started studying antiques and learning about them, it gave me an expertise. I think a lot of gay men become experts in things because it gives them a sense of power and control that they might not feel in other parts of their lives. That's how it was for me. Knowing the provenance and art historical background of something makes me feel safe because it makes me feel in control. I guess that sounds silly."
"Not really," I say, thinking about how I always had an ability to make people laugh and how I used that in the same way he's describing. If I could make the bullies laugh it made me feel in control and that made me feel safe.
"Excuse me," a woman wearing an orange safety vest says as she places stakes in the ground in front of the bank. "You're standing where I need to put my next marker."
We both politely move on impulse. "What are these markers for?" I ask even though it's pretty clear they aren't just decoration.
"Demolition." She says the word as if it does not signify catastrophe.
"They cannot tear this bank down," I say as if plucking the markers from the ground might stop it.
She looks at me like I'm on her last nerve. "You think I have a say in what happens? I got a job to do so they know where to plan the explosion." She continues down the road toward the corner, putting markers every few steps of the way. Prescott turns his attention from the bank to the woman. She puts down a stake and then walks a few feet but when she gets to the edge of the bank she continues.
"What's she doing?" Prescott says with a sense of urgency.
"I guess she's marking the places where they'll start the demolition. That's what she said." It's not like him to be so obtuse.
"No, I mean she is well past the bank now. She is in front of," he swallows hard, "the Yardley House." He can barely get the words out of his mouth. I look over at the building next to the bank and even though I've seen it a thousand times, seeing it through Prescott's eyes in this moment I understand it in a different way. It's classically proportioned, elegantly designed and although a bit genteel in its demeanor, it does have some charming details when you look closer.
Come to think of it, so does Prescott.
© Philip William Stover, Carina Adores, 2020. Reprinted with permission from the publisher.
Seasons of New Hope #2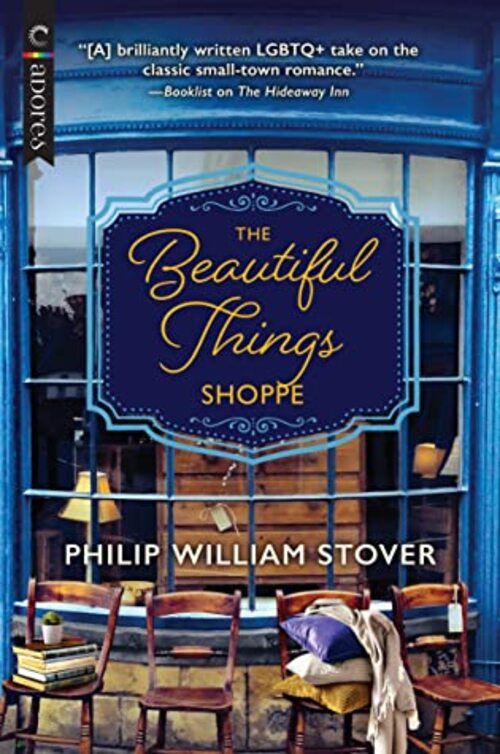 Their collections may clash but their hearts are a perfect match.
Moving to eclectic New Hope, Pennsylvania, and running The Beautiful Things Shoppe is a dream come true for elegant and reserved fine arts dealer Prescott J. Henderson. He never agreed to share the space with Danny Roman, an easygoing extrovert who collects retro toys and colorful knickknacks.
And yet here they are, trapped together in the quaint shop as they scramble to open in time for New Hope's charming Winter Festival.
Danny has spent years leading with his heart instead of his head. The Beautiful Things Shoppe is his chance to ground himself and build something permanent and joyful. The last thing he needs is an uptight snob who doesn't appreciate his whimsy occupying half his shop.
It's only when two of New Hope's historic landmarks—each as different as Danny and Prescott—are threatened that a tentative alliance forms. And with it, the first blush of romance. Suddenly, running The Beautiful Things Shoppe together doesn't seem so bad…until Danny's secret threatens to ruin it all.
Carina Adores is home to highly romantic contemporary love stories where LGBTQ+ characters find their happily-ever-afters.
A new Carina Adores title is available each month:
The Hideaway Inn by Philip William Stover
The Girl Next Door by Chelsea M. Cameron
Just Like That by Cole McCade
Hairpin Curves by Elia Winters
The Love Study by Kris Ripper
The Secret Ingredient by KD Fisher
Just Like This by Cole McCade
Teddy Spenser Isn't Looking for Love by Kim Fielding
Our Level Best by Roan Parrish
J-Curve by Hudson Lin
The Hate Project by Kris Ripper
Romance Contemporary | Romance LGBTQ [Carina Adores, On Sale: January 26, 2021, e-Book, ISBN: 9781335940889 / ]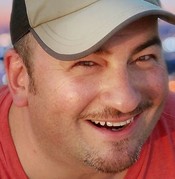 Philip William Stover splits his time between Bucks County, Pennsylvania, and New York City. He has an MFA in writing and is a clinical professor at New York University.
As a freelance journalist, his essays and reviews have appeared in Newsday, the Forward, the Tony Awards, the Atlanta Journal-Constitution, the Houston Chronicle, the Milwaukee Journal Sentinel, and other national publications. For many years he ghosted for an international best-selling women's fiction author. He has published multiple middle-grade novels for Simon & Schuster and was the American Theater critic for About.com.
He grew up tearing the covers off the romance novels he devoured so he wouldn't get teased at school. Now he enjoys traveling the world with his husband of over twenty years and would never consider defacing any of the books he loves.