1–What's the name of your latest release?
2–What's it about?
It's an answer to the question: what would happen if a good girl snapped?
3–What word best describes your main character?
Flawed.
4–What makes your story relatable?
Most of us have had one really terrible breakup where, in our darker moments, we've toyed with the idea of revenge. Most of us, however, don't actually go through with it. Not so for Taylor Bishop! And so, through her we get to live vicariously…
5–Who are the people your main character turns to when they need help?
One of the key themes of The Sunday Girl is how abusive relationships isolate us and make it almost impossible to ask for help. But when Taylor does reach out, it's to her best friend, her mother and, briefly, the police.
6–What do you love about the setting of your book.
Well it's set in London, and London is a second home for me.
7–Are you a plotter (follow an outline) or a pantster (write by the seat of your pants)?
I'm a hybrid. I go in with an outline knowing how it begins, a couple of things that happen in the middle, and the end. But the way I get from point A to B is 90% pants-ing and 10% banging my head against the desk.
8–What is the ideal writing day for you?
One where I wake up, make coffee, nobody makes any noise so I can focus, the words flow and my characters surprise me (in a good way).
9–Do you listen to music while you write, need total silence, or do you have the TV on?
Hmmm, well when at home I need total silence. But I wrote most of The Sunday Girl at a diner in London, and so there was definitely ambient noise there.
10–How do you approach research?
I am entirely method with my research. If a book is set in London, I go there, I spray myself in the character's perfume, I walk their route to work, I talk to people in their industry, I watch their TV shows, I eat their food; basically I do anything I can to get into their heads.
11-What is your publishing journey story?
Mine is one of those stories where one day, after a lot of effort, all the stars seemingly lined up. I'd finished writing the Sunday girl and sent it out to a bunch of agents, who'd all written back with nice variations on 'not right for me'. I was absolutely losing hope. But then one day soon after New Years', I posted a photo to Instagram. In the caption I stated that I was going to wake up early every day that year to write. Someone I barely knew at the time asked to read the first chapter of my book, she passed it onto her friend who worked for a major publisher and (a lot of work later) that was that.
12–Do you have critique partners/writing groups you want to give a shout-out to?
I wish I had a writing group!!! But alas, no.
13–What are the most frustrating things about being an author?
The waiting. There is a lot of waiting.
14–What is your favourite scent?
Hmmm…. To wear, it is currently Fleur Narcotique but in general, 100% it is coffee.
15–What movie will you watch no matter what if it's on TV?
Dirty Dancing or Withnail & I. I cannot choose. Sorry.
16–Do you like breakfast, lunch or dinner best?
Breakfast, but eaten really, really late.
17–What's the one thing you wish you knew more about?
I want to know all the things! But if there was one thing, I'd like to know everything there is to know about forensics.
18–What's the silliest thing you've done recently.
I was soaking something in a cup of vinegar to clean it, forgot that was what I was doing, thought it was water and took a big gulp. That was fun.
19–What can readers expect from you next.
Well, I'm currently working on my third book, it's a psychological thriller based in Paris. But my second one has already been written. That one is also based in London and will most probably come out in the states next.
20–How can readers reach you?
Via Instagram DM or Facebook.
Any woman who's ever been involved with a bad, bad man and been dumped will understand what it feels like to be broken, broken-hearted, and bent on revenge.
Taylor Bishop is hurt, angry, and wants to destroy Angus Hollingsworth in the way he destroyed her: 'Insidiously. Irreparably. Like a puzzle he'd slowly dissembled, stolen a couple of pieces from, and then discarded, knowing that nobody would ever be able to put it back together ever again.'
So Taylor consults The Art of War and makes a plan. Then she takes the next irrevocable step – one that will change her life forever.
Things start to spiral out of her control – and The Sunday Girl becomes impossible to put down. It's a tale of love gone wrong. . . and revenge done right.
Women's Fiction Psychological [Sourcebooks Landmark, On Sale: May 5, 2020, Hardcover / e-Book, ISBN: 9781728210858 / eISBN: 9781728210858]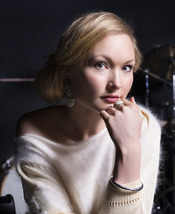 Pip Drysdale is a writer, actor, and musician who grew up in Africa and Australia. At 20 she moved to New York to study acting, worked in indie films and off-off-Broadway theatre, started writing songs and made four records. After graduating with a BA in English, Pip moved to London where she dated some interesting men and played shows across Europe. Her first novel, The Sunday Girl, was a best seller. The Strangers We Know is her next book and she is working on a third.