Why did you decide to write your mystery series in the Hamptons and not a fictional location like many authors do?
I love the Hamptons, especially Montauk, because it has it all: celebs, sandy beaches, fabulous restaurants and a rich history. Each book in my Hamptons Home and Garden Mystery series takes place in one specific Hamptons town–or should I say each murder. In book one, BETTER HOMES AND CORPSES, the murder takes place at the fictional Seacliff estate in East Hampton. Book two, HEARSE AND GARDENS, takes place in Montauk. In my third book, the mystery takes place in Sag Harbor. The setting for book four will be either Bridgehampton or Southampton, I can't decide which. My protagonist, Meg Barrett lives in Montauk.
What is it about Montauk that you love?
I live on Long Island and Montauk has always been my favorite getaway spot. I may be prejudiced, but I think Montauk is one of the most beautiful spots in America. When I first vacationed in Montauk and climbed to the top of the Montauk Point Lighthouse (commissioned by George Washington) that sits on a rocky cliff next to the Atlantic on easternmost point of Long Island, I was sold. The list of Montauk's attributes goes on and on and I try to share its and the rest of the Hamptons unique ambiance and cultural calendar-of-events with my readers. I especially love Montauk in the off-season.
Why did you decide to give your main character, who is fairly young, a hearing loss?
My daughter has a hearing loss, wears hearing aids, and reads lips. She's an amazing young woman who never lets her hearing loss hold her back from anything–a trait I've given Meg, along with the added perk that Meg can tell what the bad guys are saying from a distance.
Are you an interior decorator like your main character?
No, but I am a home and garden magazine-aholic, HGTV addict, and an antiques and collectibles dealer and writer. My main character's job, decorating local Hamptons cottages with her "finds," is my dream career, especially if I could swing living in an oceanfront cottage in Montauk!
Can you give us a quick synopsis of your second Home and Garden Mystery, HEARSE AND GARDENS?
HEARSE AND GARDENS has to do with a skeleton and a missing Andy Warhol painting of a can of Aqua Net hairspray. In the early 1970s, Andy Warhol owned a compound in Montauk. I've created a similar compound, along with a mansion full of murder suspects. The Hamptons has been the home of many prolific bohemian pop art and abstract expressionists, including Willem De Kooning, Jackson Pollock, and Roy Lichtenstein. And of course, I've included recipes, decorating, and gardening tips, along with a touch of romance.
Can you share something that your readers might not know about you?
I was actually an extra in a television episode of Royal Pains, which takes place in the Hamptons. It was a scene on the grounds of a fabulous mansion where a fictional Red Hat Society garden party was in full swing. I wore a fabulous large-brim hat with a stunning gold honey bee brooch pinned to an elaborate red satin ribboned bow. All I had to do was hold a flute of champagne (sparkling cider) and schmooze (lip-sync) with the other Red-HATers. Unfortunately, when viewing the garden party episode, all you see is my red hat and right arm. Oh well, it was fun getting to dress up, eat in a big white tent with the stars–something to scratch off my bucket list!
If you had a goal for your readers, what would it be?
To have FUN, maybe learn a few things they didn't know, feel satisfied with the solution to the mystery, and hopefully, never guess "whodunit"!!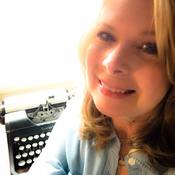 Kathleen Bridge started her writing career working at the Michigan State University News in East Lansing, Michigan.
Bridge is the author and photographer of an antiques reference guide, Lithographed Paper Toys, Books, and Games, a member of Sisters in Crime, Mystery Writers of America, and has taught creative writing classes at THE Bryant Library in Roslyn, New York.
She is also an antiques and vintage dealer in Long Island, New York, and A Home and Garden Magazine-aholic.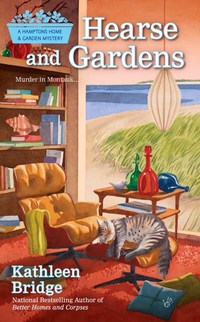 A Hamptons interior designer deals with skeletons in the closet in the new mystery from the national bestelling author of Better Homes and Corpses.
To keep her mind off the legal battle over the oceanfront cottage she's trying to buy, Meg agrees to help her friend inventory and clear out furniture from the massive Montauk estate of wealthy art broker Harrison Falks. But the job takes a terrifying turn when Meg discovers a skeleton in a hidden room in one of the estate's many bungalows. The remains turn out to be those of Harrison's son, who went missing nearly twenty years ago—along with one of his father's Warhol paintings.
As Meg delves into the Hamptons' pop art past, she gets drawn into the sketchy goings-on and family drama at the estate. But when Meg makes no bones about solving the crime, she just might become the subject of the killer's next installation.
INCLUDES RECIPES AND DECORATING TIPS