R.C. Alvarez here, the paranormal romance writing team of Storm Navarro and Jolie de la Cruz!
Picking a location for the setting of our book was not a difficult choice. We chose what we knew best: Texas.
Growing up here, we've seen all sorts of people and creatures. Big and small. Loud and quiet. A certain respect for others and nature is bred into you.
Everybody knows Texas is sweet small towns and rich southern culture, but it's also wild landscapes and even wilder animals. From salamanders, frogs, and toads to all the different kind of birds. You can hardly drive down a winding back road without spotting a deer or two any time of the year. Cows and horses and sheep are cute in their pastures, but don't let the quaintness fool you. In the wide expanse of Texas wilderness, there can be dangerous things too. Scorpions, wild hogs, large spiders, venomous snakes, coyotes, bobcats, and mysterious mountain lions. There even used to be wolves that roamed the arid lands of West Texas before they were nearly wiped out about 50 years ago.
Neither of us has ever seen a wolf in person or a mountain lion for that matter. For the most part, the Texas cougar prefers to go unseen and unbothered and are typically very good at remaining that way. So, if you ever do spot one, there must be a pretty good reason for it to be out and about. They're known to hurt humans when feeling threatened or their hunting instincts are triggered by certain behaviors like running away or staying too still (acting like easy prey). Loud noises, big motions, anything to make one seem larger, helps to convince the cougar to retreat. And it never hurts to have a stick or rock to send a clear message.
Now coyotes are hardly human killers. You are more likely to be bitten by one if you're saving one of your own animals from a coyote attack, or maybe if they're rabid. The most we have personally ever interacted with coyotes is the song of their little howls in the night.
However, it's not even coyotes you should be wary of most in the Lone Star State. The natural Texas predator most often recorded in fatal attacks is the poisonous snake.
Fortunately, neither of us have ever been bitten. But!…Recently, we went on a retreat with a good friend of ours out in the valleys of the Texas hill country. We had a lovely view of the clear, fresh spring water of the Frio River and it was nearly heaven on earth.
One morning, we were cleaning up after breakfast in the kitchen of our cabin when our friend went out to check the box with all the electrical switches and the next thing we know, she's screaming! Something about a snake. A very big snake.
We immediately think she's been bitten and rush outside to grab her and go. But she was just fine. Just severely spooked. Because, believe it or not, she had stepped right over the biggest male rattlesnake we had ever seen. He had about 12 segments in his rattle and his head was fatter than my two thumbs pressed together. He was just all coiled there in the grass, soaking up the early rays of sunshine after a long chilly night of sleep.
We backed away. Very far. And left him alone until we were able to find someone who could help remove the big guy.
The kindest thing to do in these circumstances is to find someone with more experience with the wildlife who can relocate the animal. You can prevent snakes by purchasing a specific fence or just constantly maintaining your yard to make it less appealing for them to hide in.
In our book, the most dangerous things the characters have to deal with are demons, but animals are never an issue. Just a cuddly hedgehog and a grouchy fallen angel. Interested in more Texas atmosphere? Check out our upcoming release, Unchained Desire, out May 27th!
Rapture Book 1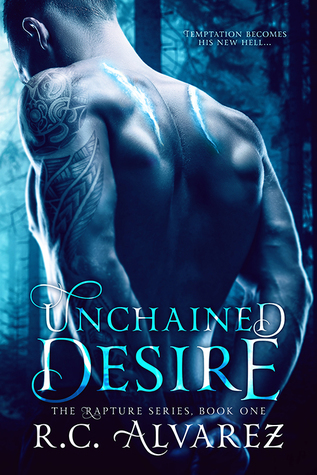 Chained to a demon queen for hundreds of years, fallen angel Ramiel has given up on his brothers and sisters—and humanity. He has seven days away from hell to replenish his power and that's all he cares about—right up until his meeting with the much too innocent Kyria. He fell for that act before and it landed him in hell, he won't be making that mistake again.
To save her sick father, Kyria knows she must find Ramiel. He's dark, brooding and everything Kyria should be scared of, but the haunted look in his eyes makes her think there's more to him. The tattoos and chains don't frighten her either, but the connection she has with him does. When strange creatures attack her, Ramiel steps in to protect her.
Ramiel believes he's reluctantly helping Kyria, but what neither of them knows is that she may be the one to save them all…
Romance Paranormal [Entangled: Amara, On Sale: May 27, 2019, e-Book, ISBN: 9781640638143 / ]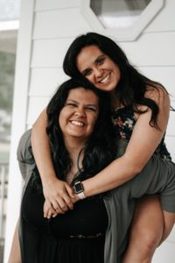 The Paranormal Romance writing team of Storm Navarro and Jolie de la Cruz spend their days delving into myth and madness and coating it with romance. Texas born and raised, both authors have a penchant for strong men and wild rides.