I don't just write and read historical romance, I'm a passionate defender of the subgenre. Although trappings of the past can be fun (Candlelight! Carriages! Architectural grandeur! Bodices and bustles!), what intrigues me most about writing historcials is the very thing most often criticized—that the society was stuffy, restricted, and in dire need of change.
For instance, in nineteenth-century England, married women, by law, were not separate entities from their husbands. Men controlled the money, the legal system, and access to education. In such a world, love itself—powerful, unpredictable, capable of smashing social and economic barriers, and, ultimately, bringing those 'in command' to their knees—was a radical threat to the social order. Women who chose to flout norms faced very real economic/social consequences, yet history sparkles with them. Armed with wit, intelligence, and creativity, they forged their own way.
I'm inspired by the unconventional women who took charge of their destinies despite the forces stacked against them. Lady Clarissa Laithe, the heroine of my latest book, Heart's Desire, undergoes a transformation and becomes such a lady. As the story begins, she is someone who has done what she was told and fulfilled the expectations around her, but a confrontation with an aristocratic bully shatters what's left of that mold and she decides that she is going to be the only force in charge of her life.
Moultonbury had framed his request for a smile as if it were but a trifle. The old Clarissa would have immediately obeyed.
The old Clarissa almost always smiled.
She smiled to encourage. Smiled to placate. Smiled to please. Her smile had been a shield, more than a sign of true pleasure.
And how terribly petty was Moultonbury to make a weapon of something so innocent, useful, conciliatory, and voluntary as a smile?
She made her decision. If she did not wish to smile, she would not.
Not for Moultonbury.
Not for anyone.
Insulted by Clarissa's audacity, Moultonbury attempts to goad his friends into ruining Clarissa's reputation. Lord Markham, however, steps in to 'save' her honor—not realizing she has embraced independence and has no desire to be saved. Markham is experienced, he's handsome, he's totally at ease with his body and, soon, Markham has Lady Clarissa wondering what it would be like to take charge in the bedroom the same way she's taken charge of her life.
"I want to become a woman of experience." Again, she placed her hand on his chest. His pulse beat against her fingers making all of this more real. More exciting. "What better man could I choose to lift my ignorance than Hearts?"
He hummed with uncertainty. "Rayne would kill me if I bedded you."
Rayne? "Rayne doesn't have to know."
She spidered her fingers upward beneath his cravat. She loosened the knot, just as she'd been wanting to do all night long.
He made a funny, strangled sound.
She stilled. "Do you object?"
He sent her a look she could not decipher. "What is happening?"
"Seduction." She glanced through her lashes. "I intend to bed you, not the other way around."
His eyes turned drowsy. "I…I've never seen this side of you."
"Neither have I…and I like this side of me." She lowered her voice. "I think you do, too."
If, like me, you love stories about women discovering their power, I think you'll enjoy Heart's Desire. Happy reading!
Lords of Chance Book 2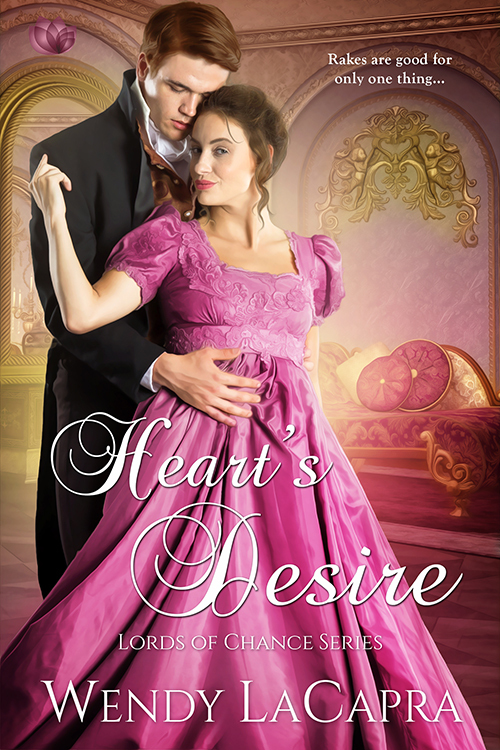 Lady Clarissa has decided to live life on her terms. After the end of a
ten-year betrothal, she wants nothing to do with marriage or the men
of the ton. Least of all her friend's brother, the very charming Lord
Markham, or Hearts, as many ladies call the oh-so-handsome earl.
Markham pursues relationships with no ties that bind. Acting the rake
leaves everyone satisfied…until he overhears a wager that could lead to
Clarissa's ruin. He can't help but step in and claim she's his intended
bride.
Clarissa is appalled. She did not need to be saved. Reluctantly, she
agrees to the fake courtship, if only to experience what the rakish
Markham can offer. But when lust becomes love, Clarissa must make up
her own terms and bet it all on Hearts.
Each book in the Lords of Chance series is STANDALONE:
* Scandal in Spades
* Heart's Desire
Romance Historical [Entangled: Scandalous, On Sale: May 13, 2019, e-Book, ISBN: 9781097207534 / ]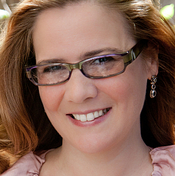 Wendy LaCapra has been reading romance since she sneaked into the adult section at the library and discovered Victoria Holt & Jane Aiken Hodge. From that point on, she dreamed of creating fictional worlds with as much richness, intrigue and passion as she found within those books. Her stories have placed in several contests, including the a 2012 Golden Heart®. She lives in NYC with her husband and loves to hear from readers.