Forget the gorgeous blonds or the pictures you see in the fashion magazines (they're all too skinny anyway), what you as a guy should really be looking for is a reincarnated witch. The pros far outweigh the cons (although the cons list is a little scary, but only if you're unfaithful, see point #5 below.)
In Thirst: Blood of my Blood, Kira soon discovers she has roamed this earth before, and her best friend, Brenda, was her right-hand gal. But the key focus in the story is Kira's relationship with Cory. Cory doesn't run when he discovers she's a reincarnated witch. When you see the Pros list, neither would you.
1. They're Experts at Foreign Language Studies
This depends on where the witch was raised initially. But a witch remembers the languages she has spoken before. Imagine how useful that would be in a French restaurant. No more ordering icky snails when you thought it was a rib-eye steak, or Macarons thinking it has something to do with pasta (it doesn't.) Pain au chocolat is not a new method of cocoa torture, and Madeleine does not mean you'll get a new waitress…called Madeleine.
You might think a problem arises when the witch speaks a language that no longer exists, except when she starts teaching you that language. Then you can both make fun of other people right in front of them, and they won't even know what you're saying. Just make sure you smile at each other while you're doing it. This way they'll think you're exchanging romantic titbits that you'd be embarrassed to share in front of them.
A word of warning: If you choose this latter, make sure your reincarnated witch is the only one in the room, otherwise you might fall prey to point #4 below. No one enjoys a witch fight, they can be lethal.
2. They Don't Need Therapy
Witch Depression is usually dealt with best in a circle of stones under the moonlight, casting a spell and calling on the sangyani (spirits) to aid her with magic. Not only is it more cost effective to find a bunch of stones to make a circle with in the woods, it's also a whole lot more exciting to be out in the fresh air than in a stuffy office where a guy asks you questions that don't really make sense anyway, witch or not.
3. You'll Save on Your Own Therapy Costs
Stones. Moonlight. Spell. Remember that.
4. The Whole "Shooting Lightning from the Fingertips" Thing
Sure, a guy might want to be the macho man and save his girl. But if a witch can shoot lightning from her fingertips, isn't that just cooler? Put your machoness and fists aside, and just call your reincarnated witch when you're in trouble. If you treat her right, she'll have your back.
5. They're One-Man Gals
Your reincarnated witch is usually a one-man gal. She's faithful to the end of her days, and even if she doesn't initially remember you, she'll quickly fall in love with you if you've been together before.
A word of caution: Be good to your witch. When her memory does come back to her (which it always does, given time) she'll remember everything. If you were bad to her once (even if it was six hundred years ago), you're in trouble…forever.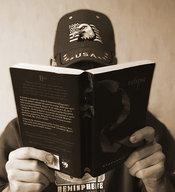 R P Channing started writing three years ago, but never published anything even after churning out over a million words of fiction. Thirst: Blood of my Blood is the first book he dared to publish. When asked why, he said, "Because it's the first thing I wrote that my wife actually enjoyed reading." When not hammering away (most literally) at his keyboard, he can be found buried in a book, reading anything from romance to horror to young adult to non-fiction to comedy.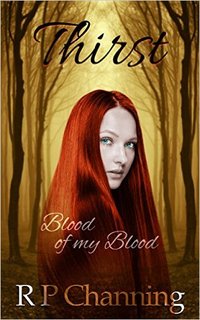 Blood of my blood
STANDALONE NOVEL. NO CLIFFHANGER.
Kira Sutherland
After a near fatal accident (and getting cheated on by her 'boyfriend'), and beating up the lead cheerleader (with whom the boyfriend cheated…), and being labeled as having 'issues' in her school because she, uhm, sees ghosts, Kira is left with two choices:
1. Continue her 'therapy' (where she's told the ghost is a hallucination and also gets her legs ogled too often…)
Or
2. Go to Starkfield Academy, a boarding school for "Crazies and Convicts" (as the social media sites call them.)
She chooses the latter…
Cory Rand
Cory Rand has not had an easy life. His mother died in a car accident when he was twelve, and so did his mother's best friend…sort of. You see, Janice made a promise to take care of Cory just before she died, and so she lingers. Undead. A ghost that watches out for him.
Brought up in an abusive home, Cory quickly falls into a life of disreputable behavior. After his third offense (which was prompted by a girl, as usual – he has a weakness) he's left with two choices:
1. Be tried as an adult and share a cell with a guy named Bubba (he thinks…)
Or
2. Go to Starkfield Academy, which Cory is pretty sure is run by vampires. But, hey, at least he'll get an education.
He chooses the latter…
It's at Starkfield that Kira meets Cory Rand, a boy with an insatiable Rage who sees ghosts, too. As well as other things, other things from his past, things that confuse him, things like fire and witches and demons.
Things he's always ignored.
Until now.