Life has a way of compressing time and making resolutions hard to accomplish, well, at least I'm back to working out with a trainer, and so, I feel I'm getting one thing done right. But my reading has become mostly things I need to read, not always what I want to read. Doesn't make sense, does it?
When I spend time in the hospital with my husband — in for surgery, successful — I always read a vampire book. Isn't that ridiculous? But hey, it got me through a few strokes and one heart attack, so I think of it as my "good-luck, all will be well" genre to read while waiting for results. Unfortunately, the one I picked this time, was okay, but didn't capture my attention to the degree it needed. Or as my daughter is so fond of saying, lots of boring bits in the middle.
I tried for two days to get past more than chapter five, but finally gave up after doing the skip, read, skim, skip, read, check out the last paragraph, go back and read some more. The sad part is the book is the beginning of a series, and yeah, I know, it is supposed to set up the world, so lots of exposition but sorry, it really bored me. And honestly, it lost me in chapter one, not a very good sign!
Digging down into Minerva, yes, I name my purses, so sue me, I had two back-ups to choose from. Neither were vamps, but since he'd made it safely to his hospital room, I figured we were going to be fine. The allergic reaction to morphine was just a wee stumbling block of discomfort, not life-threatening. So, my choices were narrowed down to a straight historical (no sex, no mystery, just the facts in a readable narrative) or a historical mystery. Hmmm, what a choice.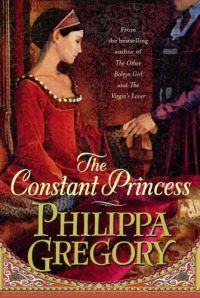 Even though the Tudor period isn't necessarily my favorite time period to read in, Phillippa Gregory has snagged my attention repeatedly with her tales of the Tudor women, and the story of Katherine of Aragon in THE CONSTANT PRINCESS is no exception. Handled with intelligence and detailed against the rich tapestry of the period, Katherine's story is told with all the bumps, highs and lows. I felt a real empathy for the little rich girl. And her life story, from age five till the marriage fell apart with the intrusion of Anne Boleyn, unfolded for a nice 400 pages so it kept me occupied for a whole afternoon when my patient slept.
Then we came home and bedrest is most stressful on the caretaker, especially one who is juggling work and caring for a still loved one. Especially a man who is not convinced bed rest actually means staying in a bed; that no lifting does not mean holding back an 85 pound dog straining to go nip the UPS delivery person; or, carrying around a 8 pound laptop is just dandy. After all, there is only so much Seinfeld you can watch. But in between, I did find time to read the latest romantic suspense by Jayne Ann Krentz.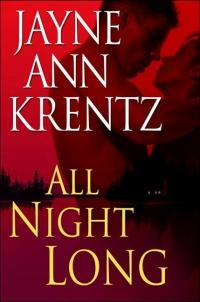 In ALL NIGHT LONG we're back in northern California, back with the "bruised" ex-Marine matched against an independent female on a mission who butts heads but manages him without breaking into a sweat. The family values that were a hallmark of earlier Krentz books are back in the front again, while the vegetarians, spiritual mysticism isn't seen. I'm sure it is still lurking in the background. Although I do miss the "lessons" I must also admit I really enjoyed reading a new book from an old favorite. It's like spending time with your friend you haven't seen for awhile and you both have lots to catch up on.
Luke and Irene's conversation was lively and real, nothing forced here. The characters were finely drawn, even those with only one scene were full-bodied, no caricatures or cardboard cutouts littering the background. The mystery was a pleasant addition. I do wonder why the book wasn't, "Good Night, Irene" but I assume that would have been too much.
I zoomed through my first read, then got to savor it again after discussing it over my own leisurely lunch with a reader friend. I've got to say, it was worth the wait. Definitely a keeper.
And speaking of keepers, I'm looking forward to our first tea of 2006. It'll be fun to catch up on holiday readings, reading presents and what's coming up for the rest of the year! I'll even try another vampire soon.