The past few weeks have been super busy, wouldn't you say? For me, it feels like months have passed. For example, I can't remember what I did last week. Not a very good trait to have, but you know what they say, time does fly…. I started marking time by big events or random oddities throughout the day. Do any of you have this problem? For some, this method of remembering works best; but, for someone like me it is definitely a trend that needs to be fixed. HAHA School specifically requires me to have an organized mind; not a spacey one, which happens often when my calendar is blank.
To put it bluntly, August was super exciting for me! I have many great memories and news to tell you!
In the beginning of the month my sister celebrated her 15th birthday. In the Mexican culture, we plan huge parties called Quinceaneras. It's basically a party that symbolizes my sister growing up into a woman and leaving her childhood behind, kind of like one of those Sweet Sixteen parties you see on MTV. Well the planning was hectic, expensive, and very last minute. As you can expect, our tempers were awful and many tears were shed. But, in the end, all the last minute planning was worth it. The party was a big success, my sister had fun, and we had, surprisingly, no problems. Overall, I've decided to never plan a party like that ever again. LOL I'm going to pay an event planner to do my wedding, whenever that pops up…
Ironically, the weekend after, I was in a wedding as my best friend's Maid of Honor. I was ecstatic to have been picked for this title and worked my hinny off to make sure my friend had the wedding of her dreams! This party, unlike my sister's, had many set-backs and last minute issues; but, we prevailed and conquered! The wedding was fun, the party even better and I got to meet people who lived all over the United States. Many asked me to visit!
Towards the end of the month, it was time to get ready for school!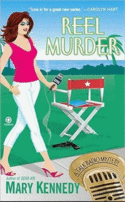 Win a set of Mary Kennedy's Talk Radio Mysteries
Back-to-school supply shopping is a BIG weakness of mine. I had so much fun during tax-free weekend buying folders, dividers, notebooks, pens, and found this new zip-lock folder thing. It's definitely this year's new item. It helps keep your papers safe in the rain and it's enclosed so nothing ever falls out! Genius! The first day of school was actually pretty tame for my standards. I used to be an RA (Resident Assistant) in the dorms, so the concept of free time is foreign. I'm still trying to get used to only having classes and meetings up on campus now, before driving back home. Now, there's no reason to stay in Denton. My smile is definitely wider.
Now, for the really big news…
If you didn't already know, this past summer I worked with Fresh Fiction as their first "Intern." Funnily enough, Sara and Gwen waited until my last day as their intern to tell me that I did a really great job; I thought I would be leaving them forever, and before I could cry, they offered me a position to stay with the company! YAY!
I am now Fresh Fiction's official "Assistant" and I'm here to stay! Well…for as long as I can. LOL
I hope everyone else had a great August just as I did! Have a happy Sunday!
Don't forget to rest tomorrow, it is Labor Day for a reason…
Becky : )
Fresh Fiction Assistant
Join us at Readers 'n 'ritas November 12-14, 2010! with Sherrilyn Kenyon and more guests
See you on the Twitter (@beckytalks)
PS: Special contest this weekend — win a set of signed Talk Radio Mysteries from Mary Kennedy! Just comment!