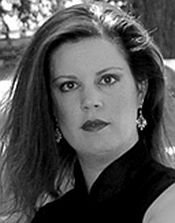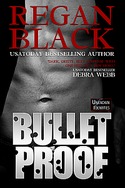 Thinking of military heroes brings to mind characters in their physical prime (who doesn't love a sizzling six-pack?), who aren't afraid to jump into the fray and do the right thing despite the personal cost. As a paranormal and romantic suspense author, knowing service men and women have faced things most of us have not, it's intriguing to peek behind the curtain and explore how those experiences change their world view and personal priorities.
John Noble, the hero of BULLETPROOF, is one of those dark, bad boy types. He's a former soldier with a mysterious past. He's sexy and scarred – inside and out. On a mission protecting an ambitious reporter working a career-defining story, John has his hands full saving Amelia Bennett from the powerful people who want her dead while plotting his escape from the shadow agency he is tired of serving.
As an Army wife, military heroes are near and dear to me and they show up in nearly all of my books in one way or another. It's not just a ploy to prove to my husband that I've actually listened to his many stories from training and deployments (though it certainly helps). Writing military heroes is a small way to honor my husband – he's my personal hero – along with all of the men and women who serve our military.
In BULLETPROOF and the rest of my books, I strive to show military heroes as men and women of integrity and uncommon determination. Naturally, readers often ask me why, if I'm such a fan, do I put so many of my military heroes through the wringer as survivors of sketchy research programs and shady testing scenarios.
John Noble would say, "Chicks dig scars." That's vintage John Noble, a man of few words offering up a concise answer. Scars imply a dangerous history and an intrinsic strength without saying a word, don't they?
But really, for me as the author, it's about showing how my characters juggle and overcome the various risk and reward choices life throws at us – the physical and emotional – to find that perfect balance of heart, courage, and love. Men and women in the armed services along with military families, just by the nature of their service, know first-hand the truest definition of sacrifice as well as the sweetest rewards that wait on the other side of each challenge.
You can read excerpts of BULLETPROOF and keep up with the new releases in this series at my website . Be sure to stop by my Facebook fan page or catch me on twitter @ReganBlack to stay up to date with the day to day fun.
What do you like best about military heroes, the abs, the attitude, or something else? (Don't you love it when there's no such thing as a wrong answer?)
Comment to win a signed BULLETPROOF tote bag and a $10 Amazon gift card.
To comment on Regan Black's blog please click here.