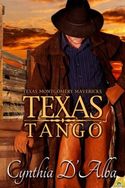 Hi All! Cynthia D'Alba here. Thanks to the Fresh Fiction gang for having me here today to celebrate the release of the second book in the Texas Montgomery Mavericks series, TEXAS TANGO. For the first time in my writing, I put a teenager into my story. GULP. That did certainly stretch my imagination. I have no children. I haven't been around a teenager in a long time. Heck, I haven't been a teenager in a long time. However, I had a lot of fun with Noah, my fourteen-year-old.
TEXAS TANGO is the story of a widower Travis Montgomery (who has no children) and Caroline Graham, a transient doctor who moves around fulfilling short term contracts. Noah is her younger brother but she doesn't really know him. She was eighteen when he was born and off at college. Their parents are Christian missionaries who have spent the majority of their time in foreign lands. Caroline was raised by her grandmother, Mamie, as was Noah. Now their primary parent figure, their grandmother Mamie, is close to death. Noah is concerned about her and what's going to happen to him. In a nutshell, he is an angry teen. Here's the first introduction to Noah:
Caroline turned, expecting to see Travis standing in the door. He wasn't. Her heart skipped. Where was he?
"Over here, Judge Bridges," Travis's deep voice drawled from the corner.
Caroline shut her eyes briefly as the fear that he'd left crumbled. She drew in a quick breath and turned in the direction of Travis's voice. She'd been so nervous all day. She hadn't really looked at him. Dressed in a dark suit with his boot tips glistening under the room's florescent lights, he looked more handsome than she'd ever seen him. He smiled when she turned. "Be right back," she said to Mamie and crossed the room to where Travis stood talking with her brother, Noah.
"Hi, Noah. You have really grown."
"Yeah," he snarled. "People do that when you don't see them very often."
Travis's head snapped toward Noah. "Now, son, I'm sure you don't mean to speak to your sister on her wedding day in that tone of voice. I think you owe her an apology."
Caroline touched his arm. The muscles were tight with tension. "It's okay, Travis. I'm sure he didn't mean it." Travis had always had his parents, had known his parents loved and wanted him. He couldn't understand what it was like to be dumped on your grandmother's porch to be raised, whether she wanted the task or not. She understood though. Noah deserved a break. He sure hadn't had one in his short fourteen years.
Travis looked at her. "No. It's not." He turned back to Noah. "Don't you have something to say, son?"
I thought a lot about Noah. He's scared about his future. He hates that he'll be shuffled off to lived with his uncle and aunt. He doesn't really know his parents since he's been living with Mamie since he was five. The option to move to wherever his parents are currently preaching isn't even a option, as far as he's concerned. There's so much uncertainty. I decided that if I were in his shoes, I'd be mad and angry, a total jerk.
On the other hand, the adults in the story have to understand the emotional mess Noah is but they can't allow him too much rope. It's a delicate balancing act.
I loved Noah so much. I remember the teenage angst from the period of my life (and I wouldn't go back for anything!)
What to read the opening of Texas Tango? Click here.
Curious about the book blurb for TEXAS TANGO?
Texas Montgomery Mavericks, Book 2
Dr. Caroline Graham is happy with her nomadic lifestyle fulfilling short-term medical contracts. No emotional commitments, no disappointments. She's always the one to walk away, never the one left behind. But now her great-uncle is gone and her grandmother is on her deathbed, more concerned about Caroline's lack of a husband than her own demise. What's the harm in a little white lie? If a wedding will give her grandmother peace, then a wedding she shall have.
Travis Montgomery has one dream left—to build the ranch he and his wife planned before he lost her to cancer. There's just one thing standing between him and the last bit of acreage he needs—a last living heir who has one traveling foot out the door…and an unusual request that challenges his determination to never again place his heart at risk. The land he wants in exchange for a faux marriage. Everyone wins. Until things start to snowball…and the hearts they stand to lose are their own.
TEXAS TANGO is available at your favorite online bookstore Amazon | Samhain | Barnes & Noble | Kobo
First time you've met me? Here's a little more about Cynthia D'Alba: I was born and raised in a small Arkansas town. After being gone for a number of years, I'm thrilled to be making my home back in Arkansas living in a vine-covered cottage on the banks of an eight-thousand acre lake. I started writing on a challenge from my husband in 2006 and discovered having imaginary sex with lots of hunky men was fun.
My first book, TEXAS TWO STEP, released in 2012 to outstanding reviews, was a Samhain Publishing best seller. The second book in the Texas Montgomery Mavericks series, TEXAS TANGO, released November 5, 2013, again from Samhain Publishing. In February, 2014, Texas Fandango, a Novella in the Texas Montgomery Series will be released by Samhain Publishing. I am currently at work on book 3 of the Texas Montgomery Mavericks series (Texas Twist).
I love love love to hear from readers and there are lots of ways to find me. Online, you can find me most days at my website or my group blog.
Follow me at Facebook, Twitter, Google +, Goodreads or Pinterest. or email me at cynthia@cynthiadalba.com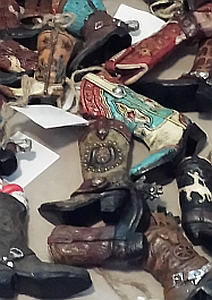 To send me snail mail, write to: Cynthia D'Alba PO Box 2116 Hot Springs, AR 71914
Tell me either about your teenage years or if you have a teenager in your life now, how's that going for you.
In the spirit of Christmas sneaking up on us, We'll pick among the comments for someone to take home a western-themed ornament. Here's just a sample…
Plus, I doing a jewelry-themed For my TEXAS TANGO Jewelry-Themed Rafflecopter Giveaway.
Also check out my personal blog for other places you can enter!
AND I have freebies for the asking! But when it's gone, it's gone. Pens, jar openers, postcards, bookmarks, trading cards…just go by my contact page and send me a note.
Thanks for coming by! Be sure to leave a comment for a chance to win one of the Christmas ornaments!
You can also go to Facebook for more giveaways from Cynthia.
To comment on Cynthia D'Alba's blog please click here.