Hello, Fresh Fiction readers! This is my first time on the Fresh Fiction blog, and I'm super excited to be here. I'm celebrating the release of TRIPLE SCORE, but it's a bit bittersweet, as it's the final book in my Art of Seduction series and my final book for Harlequin Blaze.
I've loved writing for Blaze. I like the sexual tension. I like the heat when that tension explodes. But most of all, I like the snappy dialogue.
Yep, dialogue's my jam. I live for lively banter, witty repartee, the perfect parting remark. My idol is Aaron Sorkin, who wrote masterpieces like TV's West Wing and Newsroom and movies Moneyball and The American President. His dialogue sparkles. It's musical, reflective, funny, smart. Like this gem from The Social Network:
Lawyer: Mr. Zuckerberg, do I have your full attention?

Mark Zuckerberg: No.

Lawyer: Do you think I deserve it?

Mark Zuckerberg: What?

Lawyer: Do you think I deserve your full attention?

Mark Zuckerberg: I had to swear an oath before we began this deposition, and I don't want to perjure myself, so I have a legal obligation to say no.

Lawyer: Okay – no. You don't think I deserve your attention.

Mark Zuckerberg: I think if your clients want to sit on my shoulders and call themselves tall, they have the right to give it a try – but there's no requirement that I enjoy sitting here listening to people lie. You have part of my attention – you have the minimum amount. The rest of my attention is back at the offices of Facebook, where my colleagues and I are doing things that no one in this room, including and especially your clients, are intellectually or creatively capable of doing. [pause] Did I adequately answer your condescending question?
Brilliant, right? So I thought I'd share with you five lessons I learned on writing dialogue from the great Mr. Sorkin:
Dialogue isn't conversation. Conversation is boring. It's the mundane, inane stuff we talk about every day. Dialogue either moves the plot forward or reveals something important about the characters.
Realistic is different from real. This kind of goes along with the first point. In real life, our speech is filled with "ums" and "ers" and false starts and stops. That doesn't mean you can't use some for emphasis, like to show a character is nervous or hesitant. Just use them sparingly, and for good reason. And my personal pet peeve: writers who avoid using contractions in dialogue. That's how we speak, folks. Use 'em.
Think about who's talking. Men speak differently from women (usually less, sexist, I know, but true nonetheless). Cowboys speak different from CEOs, 20-somethings differently from 60-somethings. If you're writing a character type that's new to you, go hang out where you'd find similar folks. Listen to them. Or if you can't do that, go on line, watch some YouTube videos. There's a wealth of information on the world wide web.
Write the spoken words first, then worry about the actions and tags. I find my dialogue flows more realistically when I write it first like a script or a screenplay, just the dialogue. Then I go back and add in actions or tags to help identify who's talking. And where I can, I like to use actions rather than tags to keep things moving and show how my characters are feeling rather than tell.
Read it aloud. Again, like a script or a screenplay, read the dialogue bits out loud. You'll be surprised how quickly you can spot the sections that don't trip over the tongue the right way.
That's just five quick points. I could wax on forever about the lessons Mr. Sorkin has taught me. Fortunately for you, I won't. But I've got to admit that I get a little thrill whenever a reviewer praises my "witty, intelligent" banter because I know it means I'm that tiniest bit closer to emulating the master.
GIVEAWAY: What author's dialogue makes you smile? One commenter will get a copy of TRIPLE TIME, the second book in the Art of Seduction series.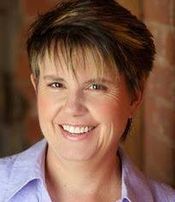 Regina Kyle knew she was destined to be an author when she won a writing contest at age ten with a touching tale about a squirrel and a nut pie. By day, she writes dry legal briefs, representing the state in criminal appeals. At night, she writes steamy romance with heart and humor.
A lover of all things theatrical, Regina lives on the Connecticut coast with her husband, teenage daughter and two melodramatic cats. When she's not writing, she's most likely singing, reading, cooking or watching bad reality television. She's a member of Romance Writers of America and of her local RWA chapter.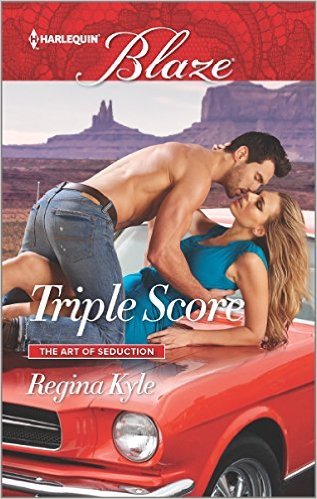 Knowing the score…
Prima ballerina Noelle Nelson needs to recover from her injury and return to the stage. She won't consider failure…or be distracted by baseball's resident bad boy, Jace Monroe. His tattoos, wicked smile and deliciously athletic body might drive her crazy, but a media frenzy is the last thing this good girl needs.
Jace is sick with fear that his own injury will never heal, but he's not about to let anyone notice, especially the gorgeous blonde dancer he loves to infuriate. He's pushing himself past his physical capacity, putting his future at risk. Still, when it comes to making a play for Noelle, Jace is in scoring position—and he's not going to back down!
Romance Erotica Sensual | Romance Contemporary [Harlequin Blaze, On Sale: July 19, 2016, Paperback / e-Book, ISBN: 9780373799107 / eISBN: 9781488000317]
The Art of Seduction