All right, let's talk first loves. No, I don't mean that sexy bad boy from school. I'm talking about the paper kind. Those first, unforgettable books that were your introduction–your gateway drug, if you will–into the wonderful world of Romance.
Was it that illicit stash of Harlequins you discovered at your grandma's house? The dog-eared bodice-ripper you reluctantly started because it was the only book in the vacation rental that wasn't by Stephen King? Whatever it was, it changed your life for the better.
I was, I admit, a latecomer to romance. I'd studied 'Serious, Proper Literature' at University–which generally meant books written by men. I'd read everything from Chaucer to James Joyce, Shakespeare to Kafka. And I'd noticed how few of the women in those 'classics' ever achieved success or received any pleasure. If they did, they were usually punished, or ended up dead.
I clung, ever hopeful, to the sparsest of romantic threads, but ended up shouting at my paperbacks instead; "Forget the train station, Anna Karenina! Run off with Vronsky and bloody well live happily ever after." "Step away from the poison, Madame Bovary, he's not worth it!"
Don't even get me started on Tess of the D'Urbervilles. If these books were supposed to speak to the human condition, to teach and inspire, where was the romance? The love? Weren't they as much a part of being human as suffering and loss?
Even the Romantic Poets like Shelley and Keats had far too much languishing and not enough action for my taste. Where was the kissing? The flirting? The sex? I wanted books where the women got what they deserved and didn't die of consumption, guilt, or simply boredom.
Wuthering Heights had the requisite passion and intensity, but no happy ending. Pride and Prejudice had excellent banter, but not enough kissing. I wanted Jean M Auel's Earth's Children series to be less about Ayla discovering fire and more of her getting it on with whatever-his-name-was in a cave. I wanted the cool adventures of The Three Musketeers and The Count Of Monte Cristo, but with women in them, doing stuff. Being more than just pretty, sidelined extras. Being clever. And badass, and triumphant. I wanted more sweeping, romantic swoony-ness, like that kiss in the Italian meadow in E.M. Forster's A Room With a View. More snark-filled, flirting-as-fighting between Beatrice and Benedict in Much Ado About Nothing.
Georgette Heyer left me wanting; I adored the wit, but the sexiest thing in those was the hero clutching his snuff-box to show how overwrought he was. TV and film teased me with far-too-brief glimpses of Han and Leia snarking, or Indiana Jones and Marian Ravenwood being flirty.
And then, one day, quite by accident, I discovered Historical Romance. At a train station, ahead of an hour-long commute, I grabbed a random book in the store. It didn't look like a romance; I thought it was historical fiction. It was Ransom by Julie Garwood. After two pages, I was hooked, and my world had shifted forever. Here was a book that combined all the 'best bits' I'd been searching for! There was a whole genre of the stuff I want to read!
After that earth-shattering revelation, I was unstoppable. I devoured Laura Kinsale, Judith McNaught, Johanna Lindsey, Catherine Coulter, Kathleen Woodiwiss. I binged on sexy, scandalous contemporaries like Jilly Cooper and Jackie Collins. And I came to another shocking conclusion. Romance wasn't "trash," as I'd been told. Romance wasn't shameful. It was well-written, active rebellion. Even better, it was pleasurable rebellion. Here was a genre where love and interpersonal relationships were central to the story and triumphed. Women ended up victorious. Not dead. Not shamed. Not a cautionary tale.
I genuinely believe that books, and especially romance books, are as vital to the world as medicine. While doctors patch up the body and help it heal, books are needed to patch up the soul. They inspire the reader to hang on, to make a change, to hope for better things. They bring delight and joy. Romance novels are a promise. A guarantee of a thrilling journey that will end with the characters (and hopefully the reader, too) in a better place. And in these unprecedented, uncertain times, that's something we can all appreciate.
I love introducing newbies to Romance; I want their first time to be as enjoyable as mine. There's a romance for every mood, for every trope. Want to laugh? Read Janet Evanovich or Susan Elizabeth Phillips. Want dark, sexy vampires? Read J.R Ward's Black Dagger Brotherhood. Want funny, enemies-to-lovers in a historical setting? Try Loretta Chase's Lord Of Scoundrels or Connie Brockway's As You Desire. Want gorgeous, angsty prose and unusual heroines? Go for Laura Kinsale. Snarky enemies-to-lovers, but in a modern office block? Read Sally Thorne's The Hating Game. I could go on and on. My bookshelf is groaning.
Do you remember the first book that made you fall in love with the genre? Is there a book you always recommend to those new to Romance? Let me know what it is. My bookshelf might be groaning, but there's always room for one more. . .
Happy reading!
Love, Kate.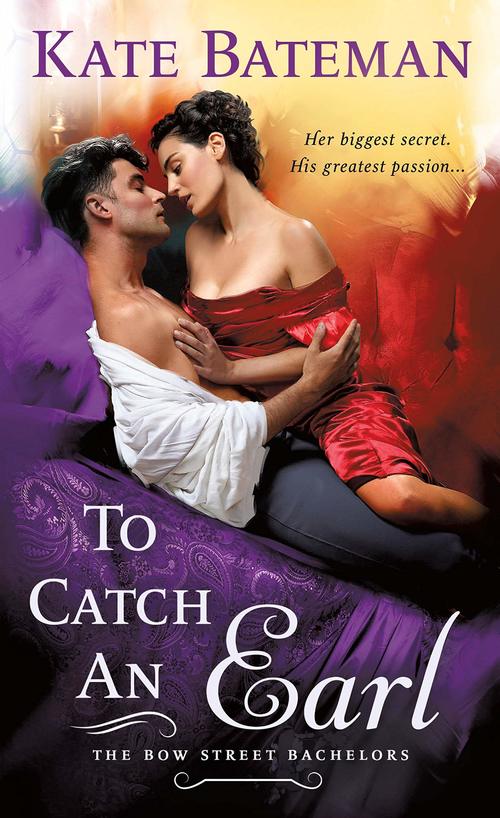 Kate Bateman's To Catch an Earl continues her historical Regency Romance Bow Street Bachelors series.
Working undercover for London's first official police force, the Bow Street Bachelors have an obligation to serve the city's best interests—even while they're falling for the city's most alluring women…
SHE KNOWS HOW TO STEAL A KISS.
Alex Harland, Earl of Melton and dedicated rake, never pictured himself as an agent of inquiry. But the thrill of investigation is a challenge he now embraces. When he's asked to pursue the Nightjar, a notorious thief who is reclaiming France's crown jewels, the case throws him into the path of the beautiful and equally elusive Emmy Danvers, reminding him of the only puzzle he's never solved: the identity of the mysterious woman who once stole a kiss from him—and left him wanting so much more…
WILL HE SURRENDER HIS HEART?
The daughter of a thief, Emmy learned long ago how to keep her secrets safeguarded—and, as the notorious Nightjar, her love for Alex Harland is one of them. With the determined earl hot on her trail—and making her hot under the collar—Emmy has no choice but to keep her distance. But when a moment's danger threatens Emmy's life as well as her name, will Alex finally discover that he's followed every clue…to true love?
Romance Historical [St. Martin's Paperbacks, On Sale: June 30, 2020, Mass Market Paperback / e-Book, ISBN: 9781250306111 / eISBN: 9781250306128]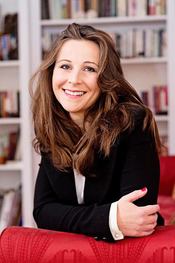 Kate Bateman, (also writing as K. C. Bateman), is the #1 bestselling author of Regency, Victorian, and Renaissance historical romances, including the Secrets & Spies series: To Steal a Heart, A Raven's Heart and A Counterfeit Heart. All her books feature her favorite feisty, intelligent heroines (badasses in bodices!), wickedly inappropriate banter, and sexy, snarky heroes you want to both strangle and kiss. Kate wrote her first historical romance in response to a $1 bet with her husband who rashly claimed she'd 'never finish the thing.' She gleefully proved him wrong. When not traveling to exotic locations 'for research', she leads a not-so-secret double life as a fine art appraiser and on-screen antiques expert for several TV shows in the UK, each of which has up to 2.5 million viewers. She splits her time between Illinois and her native England, and writes despite three inexhaustible children and that number-loving husband who still owes her that dollar.