It has taken twelve books but I think Georgie is finally learning to stand up for herself. When we first met her in HER ROYAL SPYNESS she was stuck in dreary Scottish Castle Rannoch, supposed to make a good match with one of those "half-lunatic, buck-toothed, chinless, spineless and utterly awful princes who still seem to litter Europe." The family had singled out Prince Siegfried of Rumania as a potential spouse. It is this that pushes Georgie into her first real rebellion. She bolts from Castle Rannoch down to London to make her own way in life. There is no way she is going to marry a man she and her friends call Fish-face. And how lucky that decision was. At later meetings he makes it clear to her that if they marry she only has to produce the heir and he will never trouble her again. No thank you, Georgie says.
And as the books progress it seems she has a chap of her own in mind. Not royal, not even English. An Irish rogue, living a shady life. But irresistibly handsome and oh so naughty. Then it turns out he is the son of a lord, and his shady doings are working undercover for the British government. And he seems to have given up his wicked ways once he proposed to her. So in the upcoming book FOUR FUNERALS AND MAYBE A WEDDING, Georgie is actually looking forward to the big day. She knows exactly what she wants: a simple ceremony in a quiet country church with just a few friends and immediate family.
The only hitch is that immediate family included King George V and Queen Mary. And the queen has other ideas. She suggests that the little princesses, Elizabeth and Margaret, would like to be bridesmaids and then that protocol demands that Georgie invite her more distant relatives from among the crowned heads of Europe. Oh, and the ceremony should be in a cathedral. Poor Georgie: will she have the spunk to tell Queen Mary thank you, but no thank you? Will she get the dream wedding she wants or will it turn into something more like Prince Harry and Meghan Markle's? And given that things seem to happen to Georgie, will she even survive until the ceremony? You'll just have to read the book to find out!
Rhys Bowen is the New York Times bestselling author of the Royal Spyness mysteries. FOUR FUNERALS AND MAYBE A WEDDING was published on August 7th.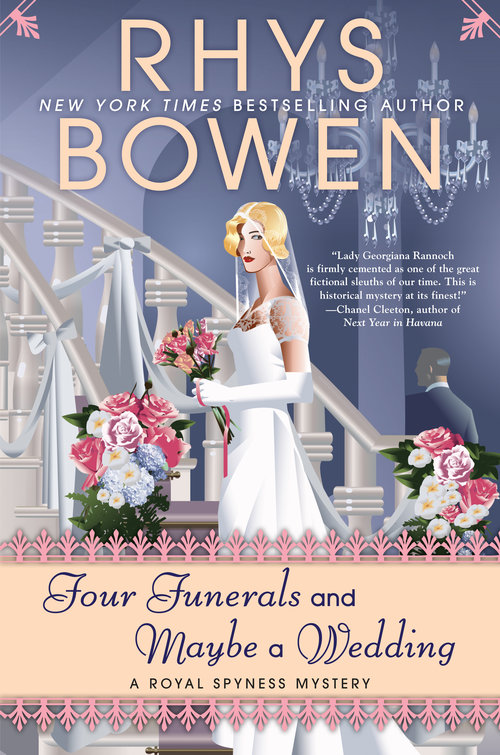 In the days leading up to her wedding to Darcy O'Mara, Lady Georgiana Rannoch takes on the responsibilities of a grand estate, but proving she can run a household just may be the death of her in the new Royal Spyness Mystery from the New York Times bestselling author of On Her Majesty's Frightfully Secret Service.
If only Darcy and I had eloped! What I thought would be a simple wedding has been transformed into a grand affair, thanks to the attendance of the queen, who has offered up the princesses as bridesmaids. Silly me! I thought that withdrawing from the royal line of succession would simplify my life. But before Darcy and I tie the knot in front of queen and country, we have to find a place to live as man and wife…
House hunting turns out to be a pretty grim affair. Just as we start to lose hope, my globetrotting godfather offers us his fully staffed country estate. Mistress of Eynsleigh I shall be! With Darcy off in parts unknown, I head to Eynsleigh alone, only to have my hopes dashed. The grounds are in disarray and the small staff is suspiciously incompetent. Not to mention the gas tap leak in my bedroom, which I can only imagine was an attempt on my life. Something rotten is afoot–and bringing the place up to snuff may put me six feet under before I even get a chance to walk down the aisle…
Mystery Historical [Berkley Prime Crime, On Sale: August 7, 2018, Hardcover / e-Book, ISBN: 9780425283523 / eISBN: 9780698410268]

A comedy of manners creates mystery in 1930s England

Utterly delightful, engrossing, and writing to die for!