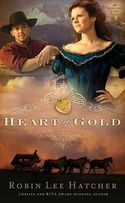 Bestselling author Robin Lee Hatcher knows it truly takes a heart of gold to provide loving care to those who need it. That's why, to celebrate the Valentine's Day release of her new book, HEART OF GOLD, she's sponsoring a national contest that recognizes caregivers—professional and volunteer—for all they do.
"Being a caregiver is a difficult job, so I'm excited for this opportunity to recognize and thank those who give so generously and lovingly of themselves," said Hatcher, who knows from firsthand experience what sacrifices a caregiver makes.
Hatcher cared for her ailing mother, as well as relied on a family member for her own care after suffering a fall in 2010.
The idea for Hatcher's contest came from the pages of HEART OF GOLD, her 35th novel. In the inspirational romance from publisher Thomas Nelson, a southern belle uprooted from Virginia during the Civil War is transplanted to the rough- and-tumble, gold rush town of Grand Coeur in Idaho Territory. There she finds her greatest satisfaction serving as a volunteer caregiver to the ill and injured—and conveys a strong message about accepting others.
The Christy Award-winning novelist invites anyone who has a special caregiver in their life to nominate that individual for the grand prize, a gold heart necklace worth approximately $200.
"Whether they're someone you know, are related to, work with or who provides you or a loved one with care, here's your chance to tell the world just how wonderful that person is," she said.
Those wishing to nominate a caregiver need only send an email, with "Heart of Gold Nominee" in the subject line, to [email protected], explaining why, in 75 words of less, they think their nominee deserves to be recognized. Deadline for nominations is March 31, 2012.
Everyone who enters a caregiver for consideration will receive an acknowledgement email to provide the nominee. All nominees will be honored on a special recognition page on www.RobinLeeHatcher.com. Some nomination letters, at Hatcher's discretion, will be posted in entirety, in part or synopsized on the author's Facebook page and website.
From the 10 entries Hatcher selects as semi-finalists, five will become finalists, and one will be named grand prizewinner. All 10 semi-finalists will receive a copy of HEART OF GOLD. Each finalist will be awarded a framed certificate of recognition, and the grand prizewinner will receive the gold necklace.
Winners will be announced on Hatcher's Facebook page and website by April 16.
Learn more about the contest, Robin Lee Hatcher and Heart of Gold at www.RobinLeeHatcher.com.