We all have a tendency to read books that are safe and similar to things we've enjoyed before. Going outside our comfort zone can be surprisingly exciting. And a good shake-up of our usual reading habits helps keep us from getting into a dreaded apathetic slump.
A truly bonkers sci-fi romance is healthy for every insatiable reader. Extraterrestrials, spaceships, and alien planets here we come!
Here are some of the signs that you're ready for a total shake-up of your romance reading and are ripe for an out-of-this world sci-fi romance.
The last ten books you've read have all been in the same subgenre.
It's amazing when we get on a roll of a whole bunch of books that are similar and we dependably know we'll love. But watch out! If we read the same types of books all the time, sooner or later, we're going to get burned out by our tried and true. So! Before that happens, a sci-fi romance can spice up your reading. After your wild ride is over, you can return to your regular reads refreshed and rejuvenated and still loving your fav authors and genre.
You're in a reading slump
Oh no… if this is where you are, the dreaded slump, I'm so sorry. There's nothing worse than picking up book after book that you usually love and not being interested in any of them. When the world of books is looking bleak and just isn't attractive and you're desperate to read SOMETHING, anything that will catch your interest, sci-fi romance is here for you. You're ready to go on a spaceship ride with some sexy aliens on a trip to the stars. Your regular reading will be waiting for you when you get back.
You've read so much contemporary lately that you're just dying for a trip out of this world.
When the contemporary world of fiction is starting to feel a little dry and predictable and no matter how inventive or imaginative the stories and the characters, the setting just seems like something you've read too many time, sci-fi romance can help. A good sci-fi romance will have familiar romance tropes and the kinds of love stories we rely on in a contemporary but with a different setting and surprising elements that you can never get in a book set on earth.
Your daily life is a bit too tame for you lately.
If your day to day life is starting to feel like the same old, same old, and you're dying for a vacation that is just not going to happen, take a trip to another planet… on the pages of a book, of course. Go meet some aliens who aren't from this world. (Preferably some sexy heroes.) And discover some worlds that are nothing like this one. It just might make you glad for your cozy regular life.
All these rumors of UFOs and all this talk of Mars has your imagination running to wild extraterrestrial places.

If the rumors of UFO sighting in the news has tickled your imagination, there's a whole genre of romance authors who've had the same thoughts! If the findings on Mars, the talk of life on other planets has you thinking, maybe we're not alone in the universe, it's a good time to pick up some books where, yes, there are other beings out there. And get some sexy love stories included on the way.
Planet of Desire #3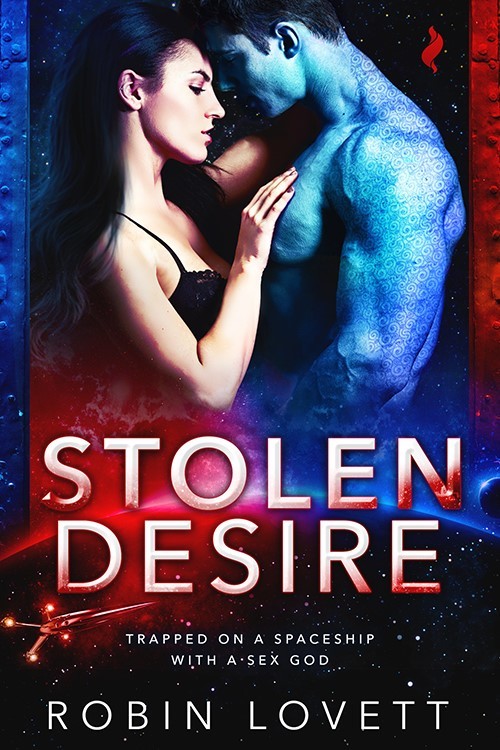 Koviye
My people call me the Sex God, but I, Koviye of the Fellamana, am so much more. I read their every desire and satisfy them with a mere touch of my hands. I'm sworn to share my powers, and this thing humans call monogamy is biologically impossible for me, or so I thought until I met the human, Jenie, Lieutenant General in the rebellion against our mutual enemy determined to destroy us. Now, as though Jenie has some power over me, I cannot think of touching anyone but her.
Jenie
I've dreamt of Koviye every night since I landed on this sex planet where every breath I take is an aphrodisiac to my blood. I am not fully human, I am part alien, and the planet has awakened my body's instinct to find a mate. The next person I have sex with I will form an attachment for life, which is impossible for the Sex God. I have a rebellion to lead. Mating a polyamorous alien would ruin me. I can never have him, no matter how much I burn for him.
But I need his help. My best friend was taken prisoner by our enemies, the Ten Systems, and the only person with a ship fast enough to save her is Koviye. And all those dreams I've been having about him aren't just dreams, he tells me. They're real. He can dream walk, so if I can't have him while I'm awake, at least I can have him in my dreams—as if that will ever be enough.
Each book in the Planet of Desire series is STANDALONE:
* Toxic Desire
* Captive Desire
* Stolen Desire
Erotica | Science Fiction Romance | Romance Science Fiction [Entangled, On Sale: July 15, 2019, e-Book, ISBN: 9781640637573 / ]
ROBIN LOVETT enjoys writing romance to avoid the more unsavory things in life, like day jobs, housework, and personal demons. To feed her coffee and chocolate addictions, she can frequently be found overdosing on mochas. When not writing with her cat, she's busy embracing untamable curly hair and adventuring in the outdoors with her husband