I open the door. The guy is tall—probably six foot one or two—and fit, like a runner. He's clean-shaven and good-looking. "Hello," I say.
"Hi. I'm Zack Bradley." His eyes are like little pieces of sky, and a dimple winks in his jaw as he smiles. The smile transforms him from attractive to devastating. "Are you Brooke Adams?"
Chill bumps chase up my arms, and it's not cold outside. He looks familiar, but his name doesn't ring any bells.
"Uh, no. She's not here right now." For some reason, I can't bring myself to say, She's dead.
His smile fades into disappointment. "Can you tell me when she'll be back?"
"Not, um, really. Is there something I can help you with?" I realize I sound like a clerk at a shoe store. I smile and stretch out my hand. "I'm her best friend, Quinn Langston."
"Nice to meet you." He takes my hand, and my palm is encased in warmth. More goose bumps instantly prickle up my neck. It's definitely a sign of something, but I don't know what.
"Her phone doesn't seem to be working," he says.
Miss Margaret has Brooke's cell phone. I'm not sure if she's already suspended service or just turned it off.
"The number I have is a landline," he continues, "and I thought maybe she doesn't use it anymore."
I nod. Like many New Orleans residents post­–Hurricane Katrina, both Brooke and I keep landlines because they'll work in emergencies, but neither of us keeps the ringer on.
"Could you give me her cell number?"
The request makes me wary. If Brooke wanted this man to have her number, she would have given it to him herself. "I'm sorry. I, uh, don't feel at liberty to do that."
"Okay." He reaches into his pocket, pulls out a business card, and hands it to me. Zack Bradley, Attorney at Law, I read. The firm's address is downtown New Orleans.
"Would you please ask her to call me?" he asks.
I frown at the card. "Is Brooke involved in some kind of legal matter?"
"Not exactly."
I realize I'm coming off as nosy, but I can't seem to help it. "Are you trying to serve her with a summons or something? I mean, I don't want to pry, but it's weird that you came to her house, especially since you don't seem to know her."
He flashes that dimple again. "We connected online."
"On a dating site?" Brooke and I looked a lot alike, so it's not all that surprising that someone who'd only seen a photo of her might initially confuse us. What's surprising is that Brooke would trawl the online dating pool without telling me—especially after her last experience. In the middle of dinner at Brennan's, a couple had greeted her date and asked about his wife and children. Turned out the guy was married and looking for a little side action.
"Not a dating site." He shifts his weight from one Nike-clad foot to the other, as if uneasy. "It was a site about her child."
"Lily?"
"That's her name?" His gaze intensifies.
The goose bumps on my arms shimmy down my legs.
Something strange and portentous is going on here. It reminds me of a night in Atlanta, when I was walking back to my car on a nearly deserted street and I became aware of footsteps behind me. I glanced over my shoulder and saw a man about half a block away. He started walking faster, gaining on me, and I broke into a run. I ducked into a convenience store, where I spent twenty minutes pretending I couldn't decide which bottle of water to buy.
I feel the exact same sense of alarm now. I start to close the door. "Well, it was nice meeting you."
"Wait." He steps forward. He doesn't put his foot in the door or reach for it or anything, but I jump backward as if he had. "Maybe you can help me after all. The online site I mentioned—it's a donor registry."
Donor. The word pours over me like a cooler full of ice. I suddenly realize why he looks familiar. His eyes are just like Lily's. My heart batters wildly against my ribs.
"Lily tried to contact me," he says. "I—I thought it would be best to talk to her mother first, but I couldn't reach her by phone, so . . ." He holds out his arms, his palms up. "Here I am."
My brain tries to absorb this information. This is Lily's father. The father of . . . Oh my God in heaven! My hand reflexively covers my belly.
I know there are a million things I should be thinking about, but like a wet circuit board, my brain is shorting out. It takes all of my faculties to just address the actual words he said: Lily tried to contact me. "That's—that's impossible," I stutter.
"What do you mean?"
"Lily's three. She can't read yet."
He stares at me. "She's just three? Then how . . . who . . . ?"
"It was me," Miss Margaret says behind me. "I reached out to you on Lily's behalf."
From SHE GETS THAT FROM ME by Robin Wells, published by Berkley, an imprint of The Penguin Group, a division of Penguin Random House, LLC.  Copyright © 2020 by Robin Wells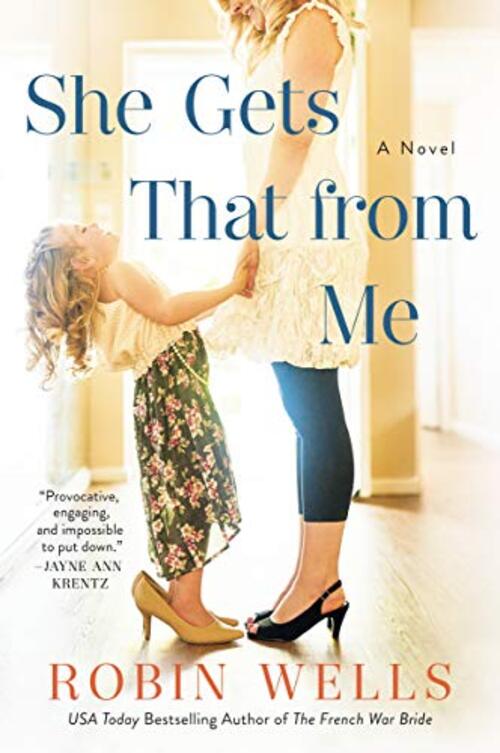 Quinn never expected that her best friend's courageous decision to be a single mother by choice would end up transforming her own life in this poignant novel from USA Today bestselling author Robin Wells.
 
When Quinn Langston's best friend unexpectedly passes away, Quinn embraces Brooke's three-year-old daughter Lily and elderly grandmother Margaret as the family she's always wanted.  She'll do whatever it takes to help them heal, but she didn't anticipate Lily's biological father would be part of the plan. Margaret is old-fashioned, though, and she has no compunction about finding a way to reach Lily's dad, a sperm donor. After all, he's a blood relative, and she believes family should raise family.
Zack Bradley doesn't know what to expect when he finds out he has a child. Sperm donors don't usually get to meet their…well, he's not sure what to call Lily yet, but he's certain he wants to get to know her. There's just one of problem: he's about to move to Seattle with his wife, Jessica, who's undergone multiple infertility treatments, desperately wants a family of her own and can't stand the idea of Zack playing daddy to another woman's child.
Together, they'll all learn that the human heart is infinitely expandable and there are many different roads to family.
Women's Fiction Contemporary | Fiction [Berkley, On Sale: September 22, 2020, Trade Size / e-Book, ISBN: 9781984802002 / eISBN: 9781984802019]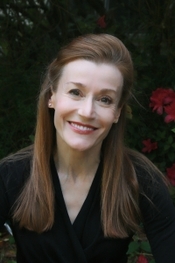 When Robin sold her first romance novel in 1995, her family celebrated at Chinese restaurant. Robin's fortune cookie read, "Romance moves you in a new direction."
And it certainly has! Robin Wells has since written fourteen critically acclaimed novels that have been translated into more than a dozen languages. Her books have won two National Readers' Choice Awards, the Golden Heart Award and the Award of Excellence, and have been listed on Waldenbooks' Top Ten Bestseller List.
Robin believes that love and laughter are two of life's most delicious treats, and she thinks they're best when served together. "I try to write the kind of stories I love to read—stories about people you can root for, stories filled with warmth and humor and passion," she says.
Robin loves, laughs and lives just outside New Orleans with her husband, her two young daughters and a dog named Winnie the Poohdle.