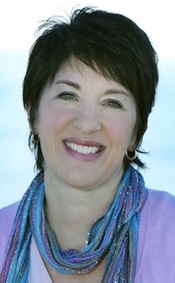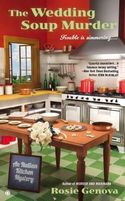 The title alone should tell you that Book #2 in the Italian Kitchen Mysteries, THE WEDDING SOUP MURDER, features a wedding. And that um, other thing that tends to be front and center in cozy mysteries. (Oh, but there's also soup—did I mention the soup?) However, I did have the good taste to wait until after the reception to kill off my unfortunate victim, the snobby president of the Belmont Beach Country Club.
Weddings are, of course, traditionally joyous occasions, but they are so often rife with drama that I found it—if you'll pardon the expression—a delicious premise to use one as the inciting incident in the novel. Think about the possibilities: a spoiled bridezilla, a felonious father of the bride, two sparring chefs in a hot kitchen, and a micro-managing club president who gets under everyone's skin. Throw in an Italian bride and a Scots-Irish groom, and you have a tasty recipe for cozy chaos.
As my main character and sleuth, Victoria Rienzi, wryly observes during the reception:
On my way to the kitchen I was arrested by a series of whining groans, a cacophony so loud and dissonant I wanted to clap my hands over my ears. As I approached the ballroom, I spied the source of the noise—not a bunch of cats in heat, but six guys in kilts tuning up their bagpipes. The sound clashed wildly with the wedding band's version of the Godfather theme blaring from inside the doors. From my vantage point, I could see the cultural split in the room, with all the short, dark people on one side and the large, fair people on the other. My mother will love this one, I thought, and Nonna will make gloomy predictions for the bride who marries outside her tribe.
Between the soup course and the final chords of the tarantella, Vic overhears some damning information and has run-ins with a number of suspects as well as the victim herself. And even before the last grains of rice are swept from the pavement, she finds herself once again in the middle of a murder investigation.
So if you love a wedding, I hope you'll say "I do" to THE WEDDING SOUP MURDER, in which (almost) everyone gets to live happily ever after!