Danielle: Welcome to Fresh Fiction, Ruby! Congrats on your debut release, HOT COPY. What made you decided to tackle a workplace romance? 
Ruby: Thank you! Very excited to be here!
Well, mostly I wanted to write a desk sex scene…
But more seriously, I wanted to take a swing at existing power dynamics and I also think that workplaces are a common setting for a lot of real-life romance. Combine all of that together and Hot Copy was the final product!
Corrine has a reputation for being ruthless and "icy," but she feels like she is doing what needs to get done to make it to the top. Of course, this all comes with its own consequences as a result. What do you think readers will relate to in Corrine? How does Corrine have to grapple with the decisions she's made to further her career? 
Corrine is an egg. She's hard on the outside (she has to be) but soft on the inside (like a lot of us are) and I think that a lot of people are familiar with having to put forward a hard outer shell in order to protect our more vulnerable selves, whether that be in a corporate setting, in certain social circles, or even with family.  
To an extent, she sticks her head in the sand about it all. She talks a lot about wanting to be recognized for the work and believes that if she just keeps pushing through one day she will be. Of course, as readers (and just as human beings with life experience) we know that probably isn't going to happen.
Wesley is, honestly, a good guy. He's also been through a lot in his life, but still finds ways to stay positive… he even finds a way to connect with Corrine and she has the power to make his work life terrible! What are some of your favorite things about Wesley? 
My favourite thing about Wesley is how he wears his heart on his sleeve. Not just in the sense that he demonstrates his feelings for Corrine in an obvious way but that he demonstrates how he's feeling. He's very honest. He shows people who he is, unabashedly. And even though he knows he's not perfect, he is quietly and proud of who he is, too.
Also his socks. I love his socks.
How did you find the right balance between Corrine and Wesley's working relationship, as well as their personal relationship? 
It was all about communication and consent. I don't think that any relationship can thrive without those things but in their case specifically, the characters needed to be able to speak freely about their feelings without fear of retribution. At a time when important conversations about workplace harassment and power dynamics are happening, it was really important to me that the balance was struck and I hope that comes through in the book.
Romance tropes abound in HOT COPY—workplace romance, grumpy/sunshine, forced-proximity, older heroine/younger hero, etc. What's your favorite romance trope to write? And to read? 
I am trash for enemies to lovers. Reading it, writing it, I don't care, I just love it. You can sell me on almost* any book as long as it has some kind of E2L element. One of the first romances I ever consumed was the 2005 adaptation of Pride and Prejudice and I think the antagonism between Lizzie and Mr. Darcy imprinted itself on me and never left.
*cross-aisle romances are maybe the only E2L I wouldn't pick up without learning more about the premise and characters first.
At times, HOT COPY read like watching a rom-com movie! What are some of your favorite romantic comedies to watch? 
WOW! That is one of the best things I've ever heard about HOT COPY! Thank you!
When I first started to answer this question I thought I wasn't actually a big rom-com fan! I LOVE action/adventure movies (for example, the Fast and the Furious franchise is my ride or die). But the more I thought about it the more I realized I am a rom-com fan because these came to mind:
10 Things I Hate About You
Set It Up
Lovebirds
You've Got Mail
and this might be a romcom/adventure crossover but The Mummy AND The Mummy 2.  
I often find that authors give the best book recs! What have you read lately that you recommend? 
TAKE A HINT, DANI BROWN by Talia Hibbert is so sexy and funny and tackles important and heavy feelings with care and kindness.
THE INTIMACY EXPERIMENT by Rosie Danan is a book that I hold close to my heart. It's about healing and the strength that comes from being our most vulnerable selves. It's a meditation on the power of love.
What can readers expect from you next? 
I'm currently working on a romance based on an old job I had. I'm not sure how much I can say (I'm not trying to be coy on purpose, I promise) but it involves characters who hire a third party to set them up on dates with other singles. It has tropes like opposites attract, fake dating, and close proximity. And it has a lot of baking references.
Rapid Fire Random Questions
Dragons or unicorns: Unicorns! (To be honest, my answer is actually dragons because FIRE and FLYING but my daughter is obsessed with unicorns so it's safer to just tow the family line).
Five people you'd invite to your book club (dead, alive, fictional, etc.!): Michelle Obama (because um she's MICHELLE OBAMA), Jane Austen (the woman was ahead of her time!), Alex Claremont-Diaz from Casey McQuinston's Red, White, and Royal Blue (he's funny and brilliant!), Sherry Thomas (she created Charlotte Holmes and my historical love, Lord Ingram). And last but not least my one true love, always and forever, Harry Styles (I was too old to get into 1D when they first came on the scene but when Harry released his first solo album it was love at first…hearing. I'm kind of gone for that man).  
Some of your auto-buy authors: Sherry Thomas, Helen Hoang, Maggie Stiefvater, Leigh Bardugo, Talia Hibbert, Rosie Danan, Meryl Wilsner (honestly there's so many more :S I have an auto-buy problem)
Favorite flower: Hydrangeas! They're so big and bountiful. I carried them at my wedding.
Earliest celebrity crush: Probably Jonathon Taylor Thomas. Love you JTT!
Random interesting fact you like to tell people: I don't drink coffee! I hate the taste and smell of it. I have tried to get on the coffee train on multiple occasions – I am a writer after all and the lore goes that we drink coffee by the gallon – but I can't get into it and stick to my tea and water.
Hobbies you have (aside from reading and writing): This is going to sound like a "basic" answer but I love going to the gym! I go early mornings, five days a week (when COVID protocols allow and always safely) and take weekends off. By Sunday I start to get into a funk because I haven't been for two days and I'm always so excited to go to bed Sunday night because it means in the morning I'll be back at the gym. It's such a great way for me to start my day and I am lucky to have found a community of people I really like.
Dream vacation: Hiking through the Scottish Highlands, the Hebridean Islands, and northern Scotland, Orkney, and Shetland. Visiting Edinburgh and Glasgow. Spending as much time as possible in Scotland with my husband. We've been twice before but we keep going back. It's my favourite place in the whole world.
Sweet or salty snacks: It really depends on the day, and I don't mean I change my mind on a whim: on weeknights, I gravitate toward sweet but on the weekend I'm all about salty snacks.
You have a totally free afternoon – no deadlines, no obligations, no Twitter notifications!  What do you do?: Another basic answer but probably go to the gym! Like I said, I love it and it's one of the best ways for me to deal with my anxiety. I can spend as little as an hour there and feel like I've accomplished something while still having the most fun with my friends.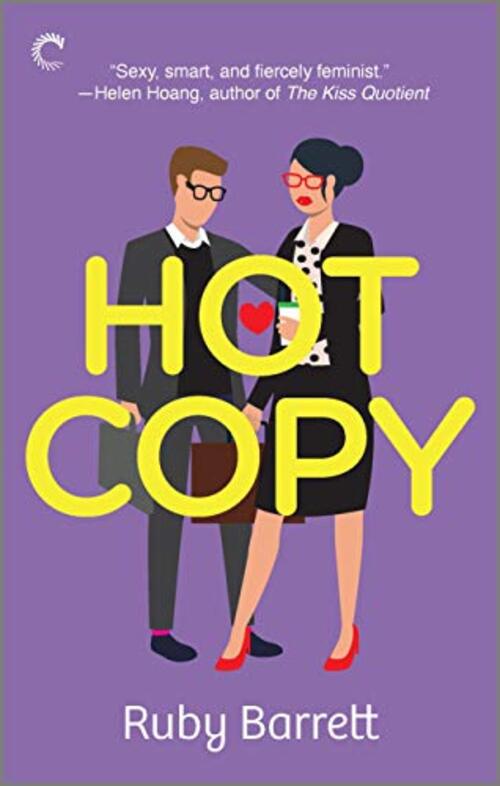 "An intoxicating blend of wholesome sweetness and tear-off-your-clothes steam…Ruby Barrett's writing leaves me breathless." –Rosie Danan, author of The Roommate
"Sexy, smart, and fiercely feminist." –Helen Hoang, author of The Kiss Quotient and The Bride Test.
A meet-cute gone wrong is the start of a surprising courtship in this fresh, modern take on the workplace romance from debut author Ruby Barrett
Corinne Blunt knows what people think of her—she's an icy, unapproachable executive. It's the price she's had to pay to get to the top. But there's knowing you have a reputation in the office, and there's hearing your new intern laugh when someone calls you "Blunt the C*nt" in the elevator on his first day.
She'd hoped to finally find an ally in Wesley Chambers, but she's not about to let him off the hook for joining the office boys' club. Taking refuge in the professional boundaries between them, she relegates Wes to assistant work—which would do the trick, if he weren't so eager to prove he's a decent human being.
Wes is sincerely apologetic, insisting it was a misunderstanding, and to her surprise, Corinne believes him. Being forced to work together was one thing, but long hours at the office with what turns out to be a kind, thoughtful man soon has their business relationship turning personal, and things get complicated—fast. Could this be something more serious than either of them dared to hope for? Or is their relationship just playing into the harmful power dynamics Corinne's had to endure her entire career?
Romance Contemporary [Carina Press, On Sale: April 13, 2021, e-Book, ISBN: 9780369703101 / eISBN: 9780369703101]
Ruby Barrett's romances center women who demand to be loved as they are and the good-natured, vulnerable men who earn their hearts.
When she's not writing about love in its many forms, she's reading. And when she's not doing either of those things you can find her chasing her tiny queen (read: daughter), doing (digital) marketing, drinking tea (never coffee), wearing pants (that aren't jeans), (re) watching The Office, or exploring museums (in other cities).
She lives in Ottawa, Canada with her aforementioned tiny queen, and her husband (who she kisses a lot).
***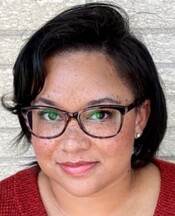 Danielle Jackson Dresser is a contemporary romance author (her debut novel with Berkley will be out in 2022!), avid reader, lackluster-yet-mighty crafter, and accomplished TV binge-watcher.
Once upon a time, she was a publisher publicist and continues to cultivate her love of books and reading by chatting with the best authors in the business as the Editorial Manager of Fresh Fiction and co-host of the Fresh Fiction podcast. Danielle is one of the Boozy Book Broads, a monthly author chat show streamed live on YouTube. She also moderates panels, interviews authors, and hosts a book club at Love's Sweet Arrow, the romance-focused independent bookstore.
Danielle lives in Chicagoland with her very own romance hero husband, darling daughter, and two tempestuous cats. Follow her on Twitter and Instagram, @dj_dresser.