There are a lot of fiction books out there with angels. So how was I to stand out in the pack?
Have you ever read a novel that claims to be about angels, but it's really just plain ole' everyday humans with wings stuck to their backs? I've encountered plenty of those.
When I set out to write The Books of Raziel series, I knew one thing: my angels and demons had to be different. Really different.
My book series is gothic fantasy, so the setting became the key to how my angels would be portrayed. Everything about them had to be otherworldly and at least mildly unsettling. Real angels throughout religious history have typically inspired people with fear despite their beauty. That was a key detail I wanted to weave into my own work.
The angels and demons in ARCHON, COVENANT, and ANGELUS have very human emotions and feelings, but they are also above us. They work on their own set of morals. They can be cruel and capricious by our human standards. And the usual notions of good and evil don't apply. Many of the angels in these books are weighed down by their own sins. There are more than a few demons with dreams and pains. But more than that, their appearance also had to be striking.
In the world of Raziel and his race, some angels have more than two wings. Some have eyes all over their wings. Many have feathery hair like birds, large hypnotically beautiful eyes, and a type of human attractiveness so striking it can melt the brain. They are the epitome of perfection so perfect, it's frightening.
What are my real beliefs on angels? Well, that doesn't really translate to my work. Real angels, they say, don't have bodies at all.
But that's not quite as much fun. And maybe only half as enchanting.
What do you think?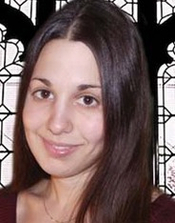 Sabrina Benulis is an author, the wife of an awesome husband, and the owner of an adorable and spoiled cockatiel. She lives in Northeastern PA where her hobbies consist of anime, cake eating, and taking pics of backyard wildlife. Catch her reading interior design magazines when the opportunity arises.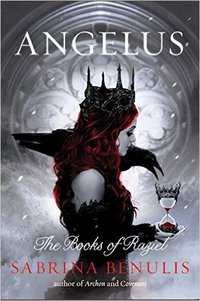 The heart-pounding conclusion to the Books of Raziel trilogy, a gothic supernatural tale about a girl who discovers that she holds the keys to both Heaven and Hell—and that angels, demons, and all the creatures in between who will stop at nothing to possess her and control the power she holds.
The war begun by three powerful angel siblings—Raziel, Lucifel, and Israfel—has divided the kingdoms of both Heaven and Hell, and the destruction is spilling over into the human world.
The last hope for a crumbling world is the Archon—the human Angela Mathers who has the power to control the supernatural universe. Angela alone can successfully oppose Lucifel and open Raziel's Book, to use its power for good. But to do so would mean murdering her best friend, a sacrifice Angela refuses to contemplate.
Angela sits on the throne of Hell, fulfilling a prophecy of ruin. But ruin does not always mean destruction—sometimes it means revolution. Time is running out for both Angela and the universe, and former enemies are eager to see her fail. As she enters the Angelus duel for the crown of Heaven, she can only pray that she'll see her friends again.