I write contemporary romances. To be exact, I write lighthearted contemporary romances with a humorous edge. Yes, there's always a serious thread tucked inside my plot, but most readers know me for my humor and sarcasm. But about a year-and-a-half ago I had this image that wouldn't escape me. I kept picturing these kids—a younger boy, a slightly older girl—living in this abandoned house I remembered from my years growing up on the Arkansas/Oklahoma border.
About halfway between the Arkansas border and Tulsa, there is this house on the south side of the highway. It's a beautiful house…now. But when I was younger it sat empty and unfinished, staying that way for a decade, maybe two. Unused rusty cranes and bulldozers flanked each side and became covered in cobwebs. Mounds of fresh dirt slowly sprouted weeds…eventually trees. Even though the house had the potential to be gorgeous, everything about it used to scare me. Every time we drove past—which generally averaged to be two or three times a year—I would stare at it. Hold my breath. Think up creepy little scenarios about what might be occurring in that gigantic, deteriorating house. I never forgot those stories.
And so I kept picturing these kids living inside this house. And the strange part was that I went to bed one night thinking about nothing out of the ordinary and then woke up the next morning with the image of these broken, homeless kids who just wanted to be loved and understood by someone. Maybe I dreamed about them, maybe I didn't. But they were there and they weren't leaving. Not that day or the next or the rest of the month.
I told my agent about that image and explained the plot in detail. She told me I was crazy for veering away from the norm, but then she told me to write it anyway. So I did.
THE END OF THE WORLD was born from that image and set inside that house. It's the story of two broken and abandoned foster kids that no one seems to want—not relatives, not neighbors, not friends, not anyone. But then they find each other, and in each other they find their person—that one person that understands you and wants you and loves you no matter what you might've done in your past or what you still may face in your future. We would all be so lucky to find that one person, we would all be so lucky to be that accepted. But more than that, this is the story of what happens when nothing—not circumstance or background or mistreatment or misfortune—can prevent you from knowing that you are loved. That you can overcome. That life may hand you a giant deck of very heavy cards, but it doesn't mean you're stuck holding onto them. And it certainly doesn't mean that you can't throw them on the ground, stomp on them, and walk away free.
THE END OF THE WORLD isn't lighthearted or even all that funny, but it is romantic. And it's the story of my heart…the one I needed to tell.
Giveaway
What is a dream you've had about a place? Would it be light-hearted? Or do you think up stories about the people or events that may have transpired at the place? We're giving away a copy of THE END OF THE WORLD and a $10.00 Starbucks card. So tell us below.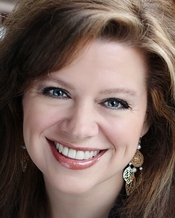 Author Amy Matayo is an excellent speaker, mathematician, seamstress, chef…and liar. She's decent at writing books but not much else. Then again, the book thing makes her marginally cool and a whole lot intimidating.
Not really. Not even her kids are afraid of her.
She graduated with barely passing grades from John Brown University with a degree in Journalism. But she's proud of that degree and all the ways she hasn't put it to good use.
She laughs often, cries easily, feels deeply, and loves hard. She lives in Arkansas with her husband and four kids and is working on her next novel.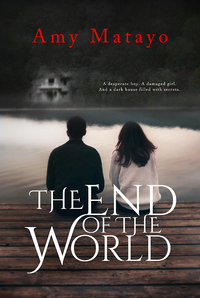 A desperate boy. A damaged girl. And a dark house filled with secrets.
For Cameron Tate, being shuffled from foster home to foster home is just a normal way of life. Until the year he turns fourteen. That's when he's sent to the home of seventeen-year-old Shaye McCormick—a fellow foster kid counting the days until she's released from the system.
For good reason. It doesn't take long for Cameron to learn that Shaye is shackled to the worst kind of pain…living in a home where nothing seems right. And now he's joined her with no way out. Their only refuge is a lake, a quiet spot at the edge of the property where they can sit together for a few moments at the end of each day. Alone with their thoughts. Away from prying eyes.
At the lake they become friends. At the lake they begin to talk. At the lake Cameron vows that no matter how deep their secrets are buried, he'll make it his mission to heal Shaye from a past that makes living in the present nearly impossible. Even if it takes until the end of time to do it.