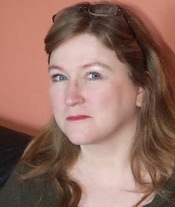 I must admit, I sure would. I absolutely hate taking my car in for repair—I freely admit I'm not the most knowledgeable about what goes on underneath the engine, but even if I was an expert on a car's inner workings, I know I'd be made to feel lacking when facing what has got to be one of the last male bastions out there—at least in my town. The garage.
In fact, it was my experience of taking my car in for a service at my local garage that gave me the idea of UNDER THE HOOD –a garage owned by three women mechanics. I hung around, waiting to hand over the keys, just inside a workshop papered with calendars of half-naked women, while a group of guys drank coffee and talked, perfectly well aware of me but taking their time. Because I was female. When they finally came to consult, before I'd opened my mouth, they just didn't take me seriously.
I imagined how different it could be. How great it could be to ask questions of the mechanics, without feeling like a complete idiot. A few months later, I had the idea to create a garage in my mind (and on the page) that would cater predominantly to women. The mechanics would be female, and instead of belittling their clients, they'd appreciate them—take them seriously—and provide a service. In my fictional garage there are three co-owners, all trained mechanics and all handling different aspects of the business. UNDER THE HOOD, the first book in the series introduced the main mechanic, Alice, who spends her day in greasy overalls and is fiercely capable, but still enjoys being a woman. LOVE FOR BEGINNERS, the second book in the series, is Mel's story. She manages the place, and when they're short-staffed is forced to employ a temporary male mechanic—Alice's brother, which certainly puts the cat among the pigeons!
The final book in the series will be Betty's story, and is due out later this year. All of the books have the UNDER THE HOOD garage at their cores, and the more I write, the more I wish that my little town had such a garage—I'd definitely use it!
To comment on Sally Clements's blog please click here.