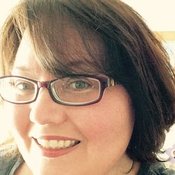 I should probably sub-title this post 'My Favorite Heroine(s)', but then I might leave one off the list and she might leave the pages of her books to haunt me through the night…
There have been several heroines I've identified with over my lifetime, but two that are very special to me — that I sometimes still feel are part of me.
This first is Laura Ingalls Wilder. When I was little I loved those books. I didn't have sisters, I wasn't the middle child, but I did grow up on a farm in the middle of nowhere with a bunch of animals and lots of places to explore. Our local PBS station was re-running all of the Little House episodes the summer I turned 9 and I was in heaven. For an hour every day I got to watch Laura get into all kinds of trouble — and I quickly realized she had some good ideas. Nothing to do on a hot day? Why not wander down to the creek (we had 3 of them) and fish? Too rainy to go outside? Why not explore a haunted house (or my basement) to see what I could find? Not too hot, not too rainy but I still didn't have a plan for the day? Why not wander across the field to my best friend's house (she was also my cousin and one of my best friends to this day) to see what she had cooking.
As I grew up, I realized that what Laura wrote and what Michael Landon thought up for the series were two very different things…but Laura is still one of my all time favorite heroines.
My second heroine? Samantha Jellicoe from the Suzanne Enoch series (Flirting with Danger, Billionaires Prefer Blondes…the list goes on). Why do I like Samantha? For some of the same reasons I loved Laura as a kid. Samantha is smart, Samantha knows what she wants and Samantha then goes after what she wants. She might be scared (of falling in love with Richard, for example…or of losing her best friend Stoney) but she doesn't let that fear turn her away from the person she is quite happy to be – an art thief, a security expert and a person who puts her friends' well-being above her own.
Now, Sam isn't exactly a saint. I mean, hello! Art thief inna-hoowwse. But rather than her flaws making her an anti-heroine, they make her more of one. She has a code and she doesn't break that code for anyone – not even Richard, who she loves unconditionally.
Why are Laura and Sam two of my favorite heroines? Spunk, honor, heart… Both Laura and Sam have a sense of adventure I'd love to have, both of them would do just about anything for a friend and both of them refuse to let other people or situations hold them back. Surely I'm not the only girl to cry when Laura gave away Bunny the horse so that Ma could get a stove for Christmas?
Who is your favorite fictional heroine (yeah, you can have more than one)? What is it about that person that speaks to you?