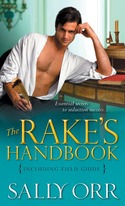 I'm delighted to be at Fresh Fiction today and share an excerpt from my debut historical romance: THE RAKE'S HANDBOOK: Including Field Guide. It's the first book in The Rake's Handbook series about the men who wrote and published the handbook.
After a friend challenged me to write a novel, the question I faced was what type of book should I write: mystery, romance, history, something with aliens or tentacles? When I decided to write a historical romance, a friend helped me get an idea of the breath of the genre by suggesting several famous romances. One of those books was FREDERICA by Georgette Heyer. I love that book. I laughed and giggled and laughed. Right then I decided to try and write books as entertaining and charming as FREDERICA. The love story is the most important ingredient in a romance, but I hope laughter will play a major role in all of my books too.
Do any of your favorite romances make you laugh, chuckle, or giggle?
"You really are a rake," she whispered, the sight and feel of their joined hands warming her cheeks. "A proper gentleman would never hold a lady thus. I have been warned about your charms. Perhaps I too should write everything down. Pen a handbook to instruct my widowed sisters what to expect upon attempted seduction and how to fight it."
"Factual or satirical?"
She bit her lower lip to stop an indelicate reply.
"I could write that handbook too."
His boast made her smile. "I seem to have found another trait of a rake."
"Humph. I'd be delighted to show you all of my traits. Perhaps start with chapter one?" The determination in his voice indicated he was quite willing to comply.
"Please do, sir," she replied in a facetious tone, tugging her hand free. "But I can already tell that I'll stop reading your book after the table of contents. You know, all of those funny pages in the front of the book numbered v and i."
He chuckled softly, then stared at her until he captured her gaze. "My handbook starts with fine eyes." He reached up and swept back a ringlet that had fallen over her eye and carefully tucked the curl under her bonnet.
Her heartbeat raced.
"The eyes are followed by a notable vee." His gaze lowered to the upper edge of her bodice and lingered in the center.
"Oh my, if that's the table of contents, I don't dare read chapter one."
"I'd be pleased to read you all of the chapters. There are a total of . . ." He glanced at her leisurely, from the top of her leghorn bonnet down to her sensible half boots. His focus returned up to her neck—almost. His chest broadened as he inhaled. "Ten."
"Ten."
He gave her a smoldering look from under heavy lashes. "Ten in volume one," he continued in a silky baritone. "Let's start with chapter one."
About the Author
Sally Orr worked for thirty years in medical research, specializing in the discovery of gene function. After joining an English history message board, she posted many, many examples of absolute tomfoolery. As a result, a cyber-friend challenged her to write a novel. Since she is a hopeless Anglophile, it's not surprising that her first book is a Regency-era romance. Sally lives with her husband in San Diego, surrounded by too many nonfiction books and not enough old English cars.