Top Five Activities for Your Inner Daredevil – It's all about baby steps! Aubrey led a very sheltered life and is just now starting to go out and experience all the things she was always too scared to try. I have to admit, I am not a daredevil either, but these are all on my 2016 list of things to do!
Zip-line. There are zip line parks all over the place and have lines for beginners as well as true thrill seekers. You don't have to zip over the Grand Canyon to get your feet wet here!
Indoor sky diving. This one looks like so much fun! Indoor Skydiving can give you the experience of flying without the fear of jumping from a plane or falling out of the sky. By stepping into a vertical wind tunnel, you can break the bonds of gravity and body fly. And you're only maybe eight feet off the ground!
Join the circus! No, not literally, but sign up for aerial trapeze or yoga classes! Who hasn't watched a trapeze artist and thought…wow! Now you can learn how to do it (with the added benefit of safety harnesses!) and in no time you'll be flying through the air with the greatest of ease…
Parasailing. This one can be a little wild, but it is a recreational kiting activity where a person is towed behind a vehicle (usually a boat) while attached to a specially designed canopy wing that reminds one of a parachute, known as a parasail wing. Sailing over the ocean. Who knew?
Go Kart Racing. It may not be very wild and you're on a fairly small course, but boy will you have fun! Capable of speeds over 45MPH, these karts are unquestionably the best adrenaline rush you can have without the high costs of pro-racing. You may not be ready for NASCAR, but it's still a thrill!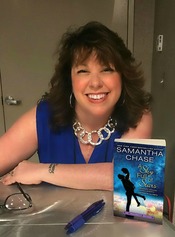 New York Times and USA Today Bestseller/contemporary romance writer Samantha Chase released her debut novel, Jordan's Return, in November 2011. Although she waited until she was in her 40's to publish for the first time, writing has been a lifelong passion. Her motivation to take that step was her students: teaching creative writing to elementary age students all the way up through high school and encouraging those students to follow their writing dreams gave Samantha the confidence to take that step as well.
When she's not working on a new story, she spends her time reading contemporary romances, playing way too many games of Scrabble or Solitaire on Facebook and spending time with her husband of 25 years and their two sons in North Carolina.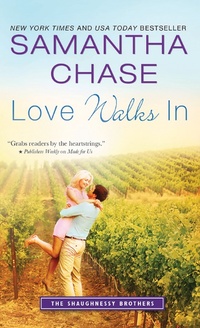 Book #2 in New York Times and USA Today bestselling author
Samantha Chase's dazzling new series:
The Shaughnessy Brothers are back
He lives by a schedule
Aubrey Burke is on the run from an about-to-be-disastrous
mistake when resort owner Hugh Shaughnessy catches her
climbing through his office window. Until Aubrey tumbled
into his life, Hugh had relied on work and discipline to
safeguard a heart damaged by family tragedy.
Now his careful world will never be the same.
She lives for the moment
Hugh's approach to life and love is the opposite of
Aubrey's, but she soon finds herself falling hard for the
handsome hotel mogul. There's a darker reason behind her
"live for today" attitude than Hugh could possibly know,
but
for the first time Aubrey dares to hope this man's love
might make it worth taking a chance on the future.