Welcome to Fresh Fiction, Samantha! Please tell us about yourself and your new book, HE STARTED IT.
Thank you so much! My new book, HE STARTED IT, is about three siblings (and two spouses) who have to go on a road trip in order to get an inheritance from their grandfather. Along the way, they have to deal with old grudges, family secrets, and a lot of scores to settle.
This is a family road trip novel gone wrong–three siblings with strained relationships have to travel across the country per their grandfather's will in order to receive a hefty inheritance. The route they are taking is the same road trip they took years ago with their grandfather, and they each have their own reasons for despising that trip. What is it about familial relationships, particularly sibling relationships, that you find fascinating?
Sibling relationships are really complicated. If they grow up in the same house, they have a shared history during their formative years–something that can't be repeated later in life. Siblings know your past, and you know theirs. And typically, they know exactly how to push each other's buttons. Better than anyone else, in my experience.
That makes siblings a fascinating topic for a book, especially a thriller!
Beth, Portia, and Eddie are all hiding secrets from one another, and this forced proximity brings the tension between them to a head. Without revealing too much, what do you think keeping secrets from each other does to their overall psyches and the tone of the book?
My hope is that it adds to the tension in the book. The Morgan siblings are going on a road trip they went on as kids, with their grandfather, and the story alternates between the first road trip and the current one. As more of the story is revealed, more of their secrets come to light.
Beth's husband and Eddie's wife are also along for the ride. While the book is from Beth's sketchy perspective, what do you think these two side characters could offer from an outsider's perspective into this dysfunctional family?
For the most part, the spouses are clueless about the Morgan family past. It makes communicating in the car a bit more difficult for Beth, Portia, and Eddie, because there are many things they don't talk about in front of the spouses, but they are simmering right below the surface. It also makes non-verbal cues really important, as the siblings have to communicate without saying anything.
Do you have a family road trip story to share? Hopefully not so. . . eventful. . . as the one you wrote in HE STARTED IT!
No, most of my road trips have been with friends, not family, so they've been very good! I think family road trips can be more troublesome. Sometimes it's really hard to be stuck in a car with people you already live with–or have a history with, like the siblings.
It was recently announced that your first book, MY LOVELY WIFE, was optioned by Nicole Kidman's production team and Amazon Studios acquired it. What an amazing team of talent behind adapting your book! What has this experience been like for you so far? Any fun tidbits you can share?
Actually, I think everything I know is already out there! Obviously, due to COVID-19, Hollywood has shut down all production. This was announced right before everything started, so I don't have any further information. I would love to see it as a movie, though! I'm really hoping it happens.
Right now, I think we can all use some book recommendations! What have you recently read that you really enjoyed?
There are some amazing books coming out this summer and later in the fall that I've really enjoyed:
A Stranger in the Lake by Kimberly Belle
Don't Look for Me by Wendy Walker
For the Best by Vanessa Lillie
The Swap by Robyn Harding
Behind the Red Door by Megan Collins
The First to Lie by Hank Phillippi Ryan
Sister Dear by Hannah Mary McKinnon
To Tell You the Truth by Gilly Macmillan    
What can readers expect from you next?
I'm working on my next book now, and it will be another thriller. That's all I can say right now.
Rapid Fire Random Questions
Favorite animal: Giraffe
Coffee or tea: Coffee
Favorite book to re-read: The Partner by John Grisham
Beach or mountains: Beach
When you were younger, what did you want to be when you grew up?: Actress
Dream vacation: Being on a private island
Aside from reading and writing, what are your hobbies?: Karate, video games, hanging out at coffee shops.
Five people you'd invite to your book club (dead, alive, fictional, etc.!): I would actually invite five book bloggers. There's no one more passionate about books and talking about them, and I think a group of bloggers would make the best book club
Favorite movie: Wall Street
You have a totally free afternoon – no deadlines, no obligations, no Twitter notifications!  What do you do?: Sleep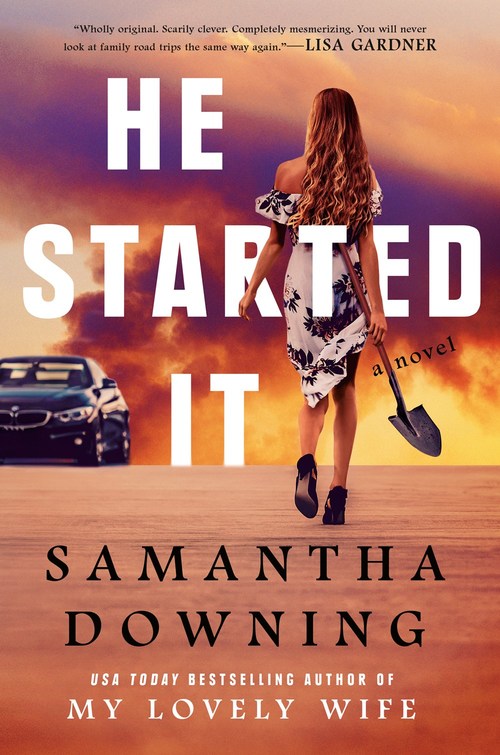 From the twisted mind behind mega hit My Lovely Wife comes the story of a family—not unlike your own—just with a few more violent tendencies thrown in….
Beth, Portia, and Eddie Morgan haven't all been together in years. And for very good reasons—we'll get to those later. But when their wealthy grandfather dies and leaves a cryptic final message in his wake, the siblings and their respective partners must come together for a cross-country road trip to fulfill his final wish and—more importantly—secure their inheritance.
But time with your family can be tough. It is for everyone.
It's even harder when you're all keeping secrets and trying to forget a memory, a missing person, an act of revenge, the man in the black truck who won't stop following your car—and especially when at least one of you is a killer and there's a body in the trunk. Just to name a few reasons.
But money is a powerful motivator. It is for everyone.
Thriller Psychological | Thriller Serial Killer | Thriller Paranormal – Supernatural [Berkley, On Sale: July 21, 2020, Hardcover / e-Book, ISBN: 9780451491756 / eISBN: 9780451491770]