FROM CHAPTER EIGHT: Real or Surreal
Nicolas grabbed a glass of sparkling wine off one of the servers' trays, the movement bringing me back to the present. At over six feet tall, he towered over me, intimidating. His perfectly disheveled chestnut hair blew in the breeze, as if he'd just rolled out of the sack with the blond. His eyes bored into mine, dark blue with a devilish twinkle. His trimmed beard highlighted a chiseled jawline. By the way his chin lifted, he knew he was good-looking and he appreciated being looked at. But I didn't like the way he was looking at me—like a meal he wanted to devour.
He raised his glass and said, "I'm thoroughly enchanted to meet the world's most beautiful cooking face."
Wrong thing to say. My spine went rigid. "Believe me, I can carry my own pots and pans. Merci beaucoup."
"But you look so sweet and delicate," he said, eyeing me up and down.
I don't know if it was my imagination working in overdrive, but his eyes seemed to hold a certain lascivious quality. Whether it was rude or not, I turned on my heel to walk away. "It was lovely to meet you. I have to mingle with the other guests."
Before I could scurry off, Nicolas's hand clasped my wrist. "I've been wanting to speak with you, but held off until we'd seen—and tasted—what you can do. I was quite impressed with your meals and the château experience."
"Now, don't go falling in love with her," said the blond with a twitter. She gave me the once-over. "We both know the way to your heart is through your stomach." She winked. "He has an insatiable appetite."
I just stood there supremely confused and slightly pissed off.
"Sophie," said Nicolas. "I want to invite you to cook at an event I'm hosting. You've certainly proven your worth."
"Where is this event and when?" I asked, blinking rapidly. He put the "creep" in "creepster," the way he stared at me, not breaking eye contact.
"Paris, at the Musée d'Orsay, in mid-September," he responded. "The Museum of Modern Art in New York is loaning Vincent van Gogh's Starry Night to the museum, and I'm planning a gala for Paris's elite to unveil this marvelous painting before the general public even glances one eye on it." He paused. "The event is called Sous les étoiles."
Under the stars.
I almost fainted.
My dreams.
"I'd like more female representation," Nicolas continued. "You'd be cooking alongside my stepmother, Amélie Durand. Perhaps you've heard of her restaurant in Paris?"
Heard of Durand Paris? I'd studied it. Cyberstalked it. Dreamed of meeting her one day. She was one of the nine or so female chefs in France to gain three, yes three, Michelin stars. My jaw dropped and my hands flew to my mouth.
"I think she's heard of her," said the model with a little twitter, her bronze dress blowing in the breeze revealing perfect, mile-long legs.
I couldn't find my thoughts. I stood there for a moment, babbling like an idiot, my first impression of Nicolas evaporating like a puddle of water in a hot desert. "Oh my god," I said. "Amélie is one of my cooking idols. Aside from my grand-mère, she was one of the reasons I wanted to become a chef. She's an inspiration to female chefs. I have every one of her cookbooks." I paused. "When I was in New York, I used to dream about being one of the only female chefs running a three-starred restaurant. But she did it. And not only does she run Durand Paris, she owns it."
"No, actually, my father does." Nicolas shrugged and sneered ever so slightly. "Anyway, I'm assuming you need some time to think about my offer, but I'll need an answer within a week, along with a proposed plat principal and four hors d'oeuvres. There will be a private sit-down dinner for one hundred and fifty guests and a more public offering for four hundred—an apéro dînatoire."
I didn't say a word. I couldn't. My mouth and my brain wouldn't work together.
Nicolas glanced at my unsteady hands. "You can bring along one sous chef, the rest of the kitchen will be staffed by students and former students from Le Cordon Bleu. Can you handle that?"
His offer rendered me speechless. To cook alongside one of my cooking idols? To escape the never-ending pressures of the château for a few days? Of course I could handle it. The question was how? How could I pull this off when people needed me here in Champvert? I'd have to do the one the thing I was most uncomfortable with—ask for help. I could get over this weakness. I wanted to do this. This was my decision.
"I'll send you my ideas as soon as I formulate them. Thank you so much for this opportunity," I said, lifting my shoulders proudly. "Merci."
"Non, merci to you, Sophie." Nicolas swapped les bises with me, his kisses landing on my cheeks. "Your manager, Jane, has my contact information."
Nicolas eyed his extravagant watch and then slapped the model on the ass. "We have to go. The plane is waiting. We're off to wine country. I own a château there." He paused, lifting his chin. "Welcome to the family."
I don't know if I imagined this, but his tone carried a Mafia-like threat, and I blanched as he and his model sauntered up the steps.
I remained immobile, wondering what had just happened. It didn't seem real.
Honestly, I didn't know what I was feeling. Perhaps shock.
From SOPHIE VALROUX'S PARIS STARS by Samantha Verant. Copyright © 2021 by Samantha Verant. Reprinted by permission of Berkley, an imprint of Penguin Random House.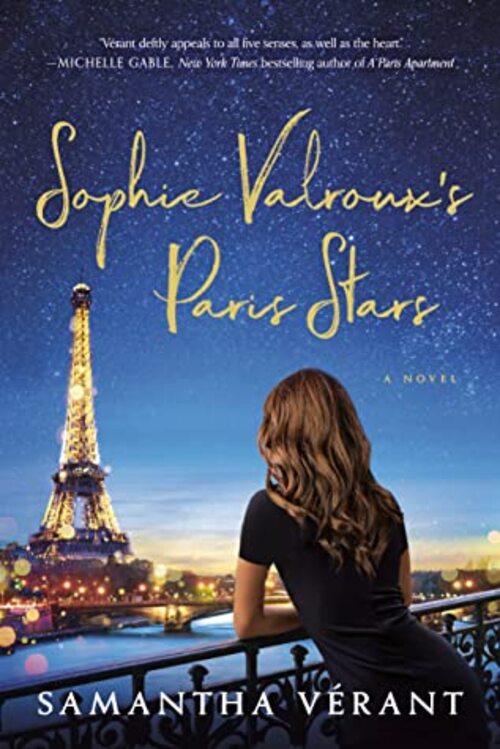 In this delectable novel, a chef on the rise fuels her passion for cooking while enduring the hardest challenges she's ever faced after a debilitating injury.
Everybody wants a piece of grand chef Sophie Valroux. With her once-destroyed reputation fully recovered and then some, Sophie is making her mark in the culinary world. She's running the restaurants of Château de Champvert, the beautiful estate that she inherited from her grandmother. She and her fiancé, Rémi, are closer than ever, and she's even bonding with his daughter Lola. Everything should be perfect.
Yet, Sophie still feels something in her heart is missing.
When she's invited to cook at an exclusive event her culinary idol is attending, she thinks this could be the thing to catapult her to greater heights, maybe even bring her one step closer to her one and only dream of achieving the stars—Michelin stars.
But fate has other plans for Sophie. After she accepts to cook for the Parisian elite, her world crumbles. She suffers a fall and loses her senses of smell and taste. Certain that her career will vanish if people find out, she keeps this secret to herself, not even telling Rémi. She fakes it all: the menus for every meal, the taste of fresh figs, the juicy cherries in the orchard. All she has to do is get through life—and the event—tasteless without missing a single step. Fake it 'til you make it…right?
Women's Fiction [Berkley, On Sale: October 19, 2021, Paperback / e-Book, ISBN: 9780593097755 / eISBN: 9780593097755]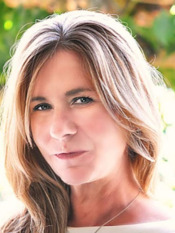 Samantha Verant is a travel addict, a self-professed oenophile, and a determined, if occasionally unconventional, at home French chef. She lives in southwestern France, where she's married to a sexy French rocket scientist she met in 1989 (but ignored for twenty years), a stepmom to two incredible kids, and the adoptive mother to a ridiculously adorable French cat. When she's not trekking from Provence to the Pyrénées or embracing her inner Julia Child, Sam is making her best effort to relearn those dreaded conjugations.