Saturday I should have stayed home and cleaned my house especially since I'm leaving next Sunday for my first RWA (need I say how excited I am about this?). Did I play good domestic goddess and see to the needs of my family, no I didn't!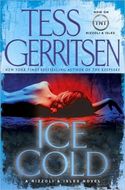 What did I do instead? I attended a book signing for Tess Gerritsen and Lisa Gardner. I arrived at the bookstore a tad later than I had really wanted to, and was worried about parking and how long the lines would be. I was pleasantly surprised to find easy parking, and shocked to see that the crowd was nowhere near what I had anticipated. Good for me, but what would the authors think?
Both Tess and Lisa gave short speeches about their books in general and then their newest releases specifically. I don't know about the other people in attendance, but it made me want to run home and read right away! I'm sure I say this a lot but both authors were really entertaining, and personable, and if I wasn't already a fan I would be just from listening to them speak!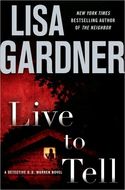 After the signing those of us in attendance from the DFW Tea Readers group went for a snack. What is better than a chocolate cupcake, cold milk, and great conversation? How about ending the night in an intimate dinner with Tess and Lisa, and getting to learn more about their writing process, what interested them in becoming writers, and what they might be writing in the future.
Now, I get to mark two more favorite authors off my I want to meet list. I know I've asked before, but it's been awhile, and I'm sure many of us have discovered new authors, and if not have at least perhaps glommed the backlists of favorite authors. Who would you like to meet? Curious minds need to know!
Until next week happy page turning.
P.S. next week Becky is blogging for me, as I'll be heading to RWA. Look for updates from those of us representing Fresh Fiction throughout the week. If there's something special you want to know about RWA leave a comment and I'll do my best to check it out for you!
Sandi Shilhanek
DFW Tea Readers
Readers 'n 'ritas… celebrating literary obsessions
PS: Leave a comment and you may win a book!