Prologue
Ocean Boy glided through the day in gradients of gray and green; occasional glittering light broke through the liquid world when his two-foot dorsal fin, notched and battle-scarred, cut the surface for a quarter hour, unaware he was a two-thousand pound apex predator marvel. At gloaming, he rode the liquid slopes to deeper, deepest depths, specialized blood vessels keeping Ocean Boy's body temperature higher than the cold water
pressing his organs.
The hunt was on. Night vision was activated. His black eyes rolled back to fibrous muscle as his jaws snapped the meaty squid, clamped rows of sharp teeth, his torpedo body impervious to struggling arms and suckers, to spilled ink blacking the already black depths.
Sated, he headed northwest. Forty-three miles a day he averaged, intent on a destination his brain had mapped at birth, a magnetic and magnificent tug toward innate hunger for fatty seal and sea lion, for adding weight, for adding years, for adding fear.
At purple dawn, Ocean Boy's dorsal fin broke the southern sea surface. The scent of blood increased his speed.
***
Chapter One
Safe from the tempest, Alexa Glock dripped across the cement floor to the ticket counter. She scanned the price board: round trip Bluff to Stewart Island–$85.
"Stroppy, eh?" the agent said.
Alexa nodded, looking through the window at the pelting rain, slapping waves, and gusts that shook the building. The passenger ferry, tethered to the dock, challenged its restraints with each assault. It was dwarfed by a long, lean oil tanker one pier over. Alexa imagined the tanker breaking loose, crushing the ferry.
Mary, the one friend Alexa had made in her eight months in New Zealand, had called the whipping winds of Foveaux Strait hau-mate, Maori for "death wind."
Got that right.
"I need a one-way ticket." She hiked the crime kit strap securely up onto her shoulder and released the handle of her sodden suitcase, flexing her cramped fingers.
"Ferry is delayed." The agent, a wizened woman with sharp eyes, accepted Alexa's credit card. "No return, eh?"
The thought of no return induced a flicker of fear. "I don't know how long I'll be staying." She took the ticket and scanned the lounge. Her fellow passengers–locals, tourists, hikers–stared glumly out the window or at their phones. Alexa settled on a bench near a Kiwi Experience flyer. Stewart Island was a hot spot for the iconic birds. Another flyer advertised shark cage diving: "See Great Whites Up Close!"
Mary had planned to dive with sharks. "Come with me," she had cajoled. "Mangotaniwha. The great white shark. Our guardian."
Alexa had laughed. "Yeah, right."
But now Mary was dead. She had died in a car wreck two months ago. Alexa mourned her new friend. And simmered with anger, too. Someone else leaving her.
A woman surrounded by a pile of shopping bags pushed herself up from the bench and came to where the flyers hung. She leaned in, frowning, and tore one down. "Rubbish," she said,
crumpling it.
Kiwi Experience hung alone.
A tall man in gum boots and thick fisherman's sweater distracted Alexa. He shouted into his cell. "If they want it, they'll have to come get it." His halo of grizzled curls was a mini-storm, and he trailed the scent of salt and sea.
Struggling out of her raincoat, Alexa canvassed for coffee. No go. A caffeine desert. She had arrived late last night at the Vista Hotel and left it–and the breakfast buffet she had paid for–at dawn to catch the ferry. It had been a wild ride since yesterday when her boss at the Forensic Service Center in Auckland had popped into her cubicle. "Get packing. You've got your first away case. Stewart Island."
She had flipped a folder closed. "That's down south, right?"
New Zealand was divided into two islands. Since moving here from North Carolina, she hadn't left the more populous North Island. Dan, her boss, explained that there was a third island. "Thirty kilometers off the tip of the South Island. Fly into Invercargill, bus to Bluff, ferry across Foveaux."
Dan Goddard, chief forensic examiner, had hired Alexa as a roving forensic two weeks ago. The six-month odontology fellowship that had lured her to Auckland was over, and she wasn't ready to leave the southern hemisphere. No one was waiting for her back home. She had completed a contract case in Rotorua–Detective Inspector Bruce Horne and his glacial eyes flashed in her mind–and then applied for a job at Forensic Service Center. Local police called FSC when they needed assistance, and she would travel to those places.
"What's the case?"
"Hikers discovered a decomposed body." Dan's eyes behind bookish glasses sparked with energy.
"Any idea who it is?"
"Ten months ago, Robert King, forty-four, from Christchurch, disappeared deer hunting. Never returned to the hut." Dan handed her a picture.
A fit-looking man held a dead deer by the antlers. His proud eyes stared directly at the camera. His hair—what little remained—formed a dark brown crown.
"That's King. The three blokes he was with looked for hours, then called it in. Massive searches, even recently with live tracking equipment. No sign. No body. Until now."
"Has the family been notified?"
"We need positive ID first. Get there ASAP. And. . ."
She waited, studying her boss, who wore red tennis shoes and untucked polos.
". . .he has a bullet hole through the right zygomatic. The local ranger doesn't think it's self-inflicted."
Alexa fingered her cheekbone in the chilly waiting room. Out the window, the storm continued its vise grip on the harbor. Early December was the beginning of summer in the southern hemisphere, crazy as that was to an American, but the weather hadn't gotten the memo. She checked the time: almost nine. Sergeant Kipper Wallace of the Stewart Island Police Department was expecting her. First case of her new job, and she'd be late.
Dentals would be the quickest way to identify the remains. She remembered what Professor McBride at the dental school had said. "Forensic odontology has the potential to bring the
forlorn to justice."
Robert King awaited justice.
She texted Sergeant Wallace, but the message bounced back undelivered.
Wind slammed the entrance door against the wall, making her drop the phone. A man and woman in matching high-vis rain gear, pulling suitcases, blew in as she retrieved it from under the bench. Damn. The screen had cracked. She wiped the phone on her jeans and watched the couple at the counter. The man asked if the ferry was delayed. Americans, Alexa could hear.
"For now. Not to worry."
"We have a meeting at noon," the woman said, shaking her hood off to reveal blond tresses.
"Aye," the ticket agent said. "Might be a tad late. Round trip?"
The couple pouted like preschoolers. Alexa watched with mild interest as they arranged themselves and their belongings on the remaining empty bench and then sat back to back, huffed and sighed, and pulled out their phones.
To pass time in a more constructive way than judging the Americans, Alexa considered the missing hunter. She retrieved his dental records from her suitcase and studied his X-rays. The top film, a periapical, showed upper teeth from crown to roots snaking below the gum line. A chill danced up Alexa's spine. If King had not shot himself, who was the root of such evil?
(C) Sara E. Johnson, Poisoned Pen Press, 2020. Reprinted with permission from the publisher. 
Alexa Glock #2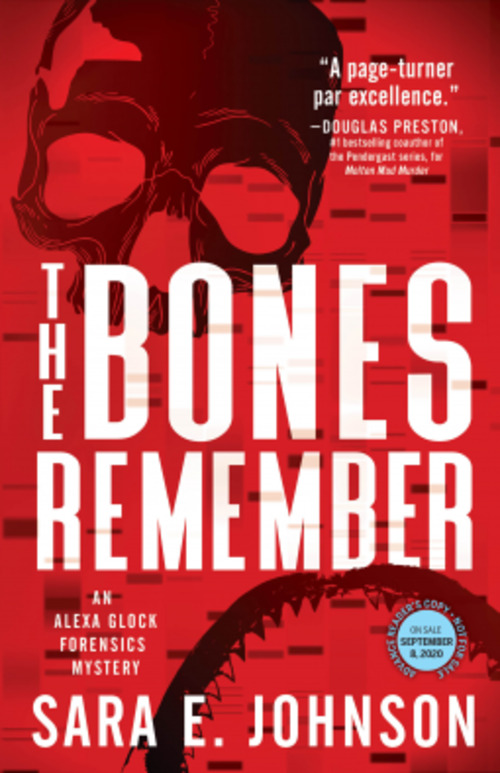 Lips may lie, but teeth never do
At first, Alexa Glock's initial case as a traveling forensic investigator seems straightforward–her expertise in teeth helps her identify the skeletal remains of a hunter found on the remote Stewart Island in New Zealand. But when she realizes the bullet lodged in his skull was not self-inflicted, and then a second, shark-ravaged body washes up on Ringaringa Beach, it's clear that something dangerous is lurking in the beautiful waters surrounding the island.
The disturbing sight seems to confirm what locals have hashed out in the pub: shark cage-diving, lucrative for owners and popular with tourists, has changed the great white sharks' behavior, turning them into man-eaters. Tensions between cagers and locals mount as Alexa dives into the harrowing case. While measuring bite patterns, she makes a shocking discovery that just might lead her to who–or what–is behind both deaths.
Mystery [Poisoned Pen Press, On Sale: September 8, 2020, Paperback / e-Book, ISBN: 9781464213359 / eISBN: 9781464213373]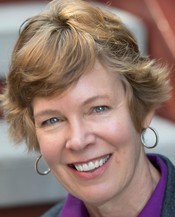 Sara E. Johnson worked as a middle-school reading specialist and local newspaper contributor before her husband lured her to New Zealand for a year. Her first novel, Molten Mud Murder, was the result. She lives in Durham, North Carolina.