The Fall Recipe Potluck continues today with another delectable recipe and awesome new book to learn more about. Don't forget to check the blog every day this week for more fun and opportunities to win books!
You can see the previous post here:
Day 1: SECOND CHANCE ON CYPRESS LANE by Reese Ryan
***
When I wrote THE SECRET FRENCH RECIPES OF SOPHIE VALROUX, I'd stay awake at night, envisioning recipes and tasting the flavors. In the morning, I'd wake up hungry and I'd run to the store to gather the ingredients and then test whatever I'd come up with, not knowing how it would turn out. Thankfully, this recipe for a roasted squash soup did. And it was delicious! You can get fancy like chef Sophie and add in the lobster and parmesan crisps, but this soup is also warm, hearty, and nourishing all on its own.
Veloute de Potimarron* with Flambeed Lobster Tails and a Parmesan Crisp
Serves 8 to 10 for an entree (small bowl) or 4 to 6 for a main course
Prep Time: 30 to 45 minutes
Cook Time: 1.5 hours
Equipment: parchment paper, baking sheet, large pot, cheese grater, kitchen scissors, food processor or immersion blender, large frying pan, long kitchen matches, spatula
Ingredients for the Veloute
2 medium-sized potimarron (Hokkaido squash) or butternut squash*
Extra-virgin olive oil
Salt (fleur de sel, sea, or kosher)
Fresh ground pepper
4 teaspoons cinnamon
1 medium leek, sliced into thin rounds*
1 onion, peeled and diced
2 celery stalks, diced
2 carrots, peeled and diced
2 garlic cloves, peeled, de-germed, and finely minced
5 cups homemade chicken broth or canned chicken or vegetable stock
1 to 2 teaspoons ground cumin
1 tablespoon paprika
1 tablespoon ground turmeric
3 healthy pinches herbes de Provence
Juice of 1 lemon
Sprigs of lavender or rosemary for garnish
Creme fraiche or sour cream (optional**)
Chopped chives (optional**)
Ingredients for the Lobster Tails
4 langoustes (spiny/Caribbean lobsters) thawed–approximately 4 oz. each
Juice of 1 to 2 freshly squeezed oranges
2 to 3 tablespoons finely minced ginger
Fresh ground pepper
Extra-virgin olive oil
1 to 2 knobs of butter (about 1 to 2 tablespoons each)
1/4 cup Armagnac or cognac
Ingredients for the Parmesan Crisp
7 ounces Parmesan cheese, a nice chunk
Technique
Preheat oven to 400 degrees F.
Using a sharp knife, cut the squash in half. Deseed, then cut the squash into large chunks. Place on a parchment-lined baking sheet, skin side down. Drizzle with olive oil. Lightly salt and pepper. Sprinkle with cinnamon. Bake for 25 minutes.
While the squash is cooking, heat 2 tablespoons olive oil in a large pot over medium-high heat. Add leeks, onion, celery, carrot, and garlic, cooking until vegetables are soft, about ten minutes. Add the broth, cumin, paprika, turmeric, and herbes de Provence. Bring to a boil, cover, and reduce heat to simmer.
When the squash is ready, set aside and let cool.
It's time to make the Parmesan crisps while the oven is hot. Hand grate the Parmesan using a grater. Each crisp requires 1 1/2 to 2 tablespoons of cheese, totaling 10 rounds. Bake on a parchment-lined baking sheet for around 7 minutes, until golden. Remove from the oven and set aside.
Using kitchen scissors, cut off the lobster shells. Gingerly remove the meat of the lobster from the shell, aiming to remove it in one piece. Place the tails in a bowl and add the juice of the oranges and the ginger. Mix well, cover in plastic wrap, and set the bowl in the refrigerator until ready to cook.
When the squash is cool enough to handle, peel off the skin and chop the squash into 1-inch to 2-inch cubes. (You should have about 5 to 6 cups.) Add the squash to the pot of vegetables and broth. Simmer for another 15 to 20 minutes. Purée in batches with a food processor or all at once with an immersion blender until creamy. Season with the juice of the lemon and salt and pepper to taste. Keep warm.
Add a dash of olive oil to a large pan along with a knob or two of butter. Set the heat to medium-high. Place the lobster tails in the pan and fry until the meat is white, flipping to cook both sides. After the tails are cooked to perfection, turn off the heat on the stove and, very important, the evacuation system, if using. It's time to flambee. Pour the Armagnac over the tails and quickly light a long kitchen match, dipping it into the alcohol. If the flames rise too high, grab a pot cover, and snuff the flame out. Please note: flambee at your own risk. If you have long hair, tie it back out of the way.
Cut the lobster tails into bite-sized pieces. Pour the soup into bowls. Add a few morsels of lobster, about four to six pieces a person. Using a spatula, lift up the Parmesan crisps. Garnish the soup with one Parmesan crisp, and fresh herbs like lavender, thyme, or rosemary. Serve immediately.
Bon appetit!
Chef Sophie's Notes:
To clean leeks, slice off the dark green end, trimming to the part where the color is pale green or white. Cut off the roots. Slice the stalk lengthwise, not cutting through it. Run leeks under cold water. Set aside until ready to chop and use.
This soup can be served on its own. Garnish with a dollop of creme fraiche (or sour cream), chopped chives, and fresh ground pepper.
—
COMMENT TO WIN: What is your favorite style of cuisine? Leave a comment and you'll be entered to win a copy of THE SECRET FRENCH RECIPES OF SOPHIE VALROUX by Samantha Verant (US and Canada only). Bonne chance! 
—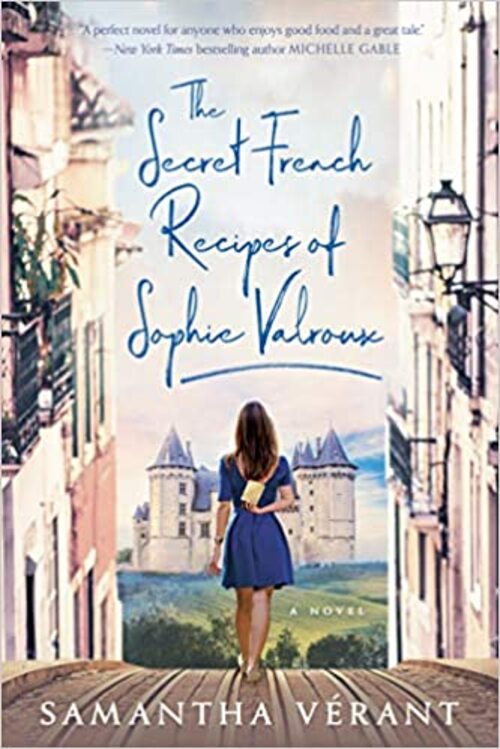 A disgraced chef rediscovers her passion for food and her roots in this stunning novel rich in culture and full of delectable recipes.
French-born American chef Sophie Valroux had one dream: to be part of the 1% of female chefs running a Michelin-starred restaurant. From spending summers with her grandmother, who taught her the power of cooking and food, to attending the Culinary Institute of America, Sophie finds herself on the cusp of getting everything she's dreamed of.
Until her career goes up in flames.
Sabotaged by a fellow chef, Sophie is fired, leaving her reputation ruined and confidence shaken. To add fuel to the fire, Sophie learns that her grandmother has suffered a stroke and takes the red-eye to France. There, Sophie discovers the simple home she remembers from her childhood is now a luxurious château, complete with two restaurants and a vineyard. As Sophie tries to reestablish herself in the kitchen, she comes to understand the lengths people will go to for success and love, and how dreams can change.
Women's Fiction [Berkley, On Sale: September 8, 2020, Trade Size / e-Book, ISBN: 9781984806994 / eISBN: 9780593097731]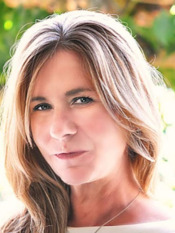 Samantha Verant is a travel addict, a self-professed oenophile, and a determined, if occasionally unconventional, at home French chef. She lives in southwestern France, where she's married to a sexy French rocket scientist she met in 1989 (but ignored for twenty years), a stepmom to two incredible kids, and the adoptive mother to a ridiculously adorable French cat. When she's not trekking from Provence to the Pyrenees or embracing her inner Julia Child, Sam is making her best effort to relearn those dreaded conjugations.