Since I am not a vampire, I had to enlist the help of the hero and heroine from "The Good, the Bad, and the Vampire". Trixie LaRoux is a punk rock badass who was turned in 1980 in NYC. Turned in the 1950's, Dakota Shelton is a good old boy from Texas and he feels more than a little out of place with Trixie's city slicker coven. So here's the good, the bad, and the fabulous of being a vamp…as told from Trixie and Dakota's perspective.
Trixie LaRoux
The Good— No wrinkles: I may not be a fashonista or anything but looking like I'm in my twenties—forever—doesn't suck. A girl likes to look nice.
The Bad—No suntans: In my human life, I wasn't a big beach-goer or anything but it was nice to have the option. I mean, I can go to the beach but it, like, has to be a night. It's cool but…I kinda miss the warmth of the sun on my face.
The Fabulous—Resilience and Strength: My body and mind are tougher as a vamp than they ever were when I was human. Sometimes I wonder if it's because I'm an immortal…or if it's because of my immortal family…and my man. My coven kicks ass and my bloodmate is one hot cowboy. Giddy up.
Dakota Shelton
The Good: Taking Down the Bad Guys: In my world, human or vamp, there's always been a clear line between right and wrong. As a sentry for the Presidium, I get to put down the bad guys. There are no gray areas when I'm on patrol and that's exactly how I like it.
The Bad: Most of Human Family is Gone:
Outliving most of the people I loved has been rough. For a long time, I didn't think I'd ever have anythin' like that again.
The Fabulous: Trixie: She gave me a new family and ain't that what life is all about? Lovin' and bein' loved? Don't matter if they're your blood or not. Family comes from the heart—even if they aren't the beatin' kind.
How about you? What would your list look like?
Giveaway
Put your list of the Good, the Bad and the absolutely fabulous in the comments below to be entered to win a bundle of the first 3 books (VAMPIRE TROUBLE, TALL, DARK AND VAMPIRE, & VAMPIRES NEVER CRY WOLF).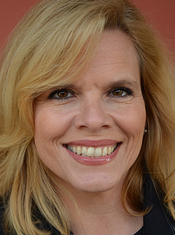 Sara is a graduate of Marist College, with a B.A. Degree in English Literature & Theater. Her initial career path after college was as a professional actress. Some of her television credits include, A&E Biography, Guiding Light, Another World, As the World Turns and Rescue Me.
In 2013 Sara's novel UNTAMED won two PRISM awards–Dark Paranormal and Best of the Best. Sara has been a lover of both the paranormal and romance novels for years. Her sci-fi/fantasy/romance obsession began years ago with the TV Series STAR TREK and an enormous crush on Captain Kirk. That sci-fi obsession soon evolved into the love of all types of fantasy/paranormal; vampires, ghosts, werewolves, and of course shape shifters.
She also writes spicier contemporary romance under the name Willow James, so that her mother won't be totally mortified by her choice of career.
Sara is married to her college sweetheart, Will. They live in New York with their 4 boys. For a full list of Sara's books and reading order, please visit her website.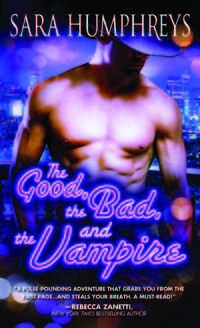 Beloved author Sara Humphreys' acclaimed paranormal romance series continues with sweltering attraction between two vampires who have all the time in the world to satisfy their desires…
He wants eternity?
Dakota Shelton is a vampire cowboy with a penchant for cinnamon lollipops and Johnny Cash. Though highly skilled and deadly dangerous to his enemies, he's still a Texas good ol' boy at heart. And he has that heart set on wooing Trixie LaRoux-the most badass punk rock chick in town-the old-fashioned way.
Over her undead body…
Trixie is tough as nails and sharp as a silver stake-the last thing she wants is a man to sit on a porch and not grow old with. So it'll take going to hell and back fighting a new threat to vampires before she admits Dakota's courtship makes her blood hum. Turns out chivalry's not dead after all.
To comment on Sara Humphreys's blog please click here.