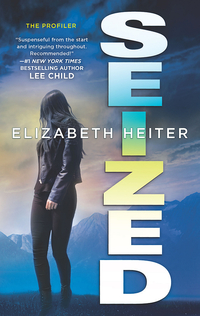 Danger is all around her
What should have been a routine investigation for FBI profiler Evelyn Baine turns ominous when she's kidnapped by a dangerous cult of survivalists. As her worst nightmares become a reality, she begins to question what she's seeing. Because the longer she's inside their compound, the more she realizes this group is not what it seems to be.
The next terrorist threat is right beside her
As the FBI's Hostage Rescue Team closes in, Evelyn suspects she's stumbled onto an emerging terrorist threat —and a cult leader who has a score to settle with the FBI. If Hostage Rescue breaches the compound, Evelyn's dead for sure. If they don't, the cult may unleash a surprise attack that could leave the whole country shattered.
"Suspenseful from the start and intriguing throughout. Recommended!"
– #1 New York Times bestselling author Lee Child on SEIZED
"Elizabeth Heiter does her research, and it shows in this superb FBI thriller. With a ripped-from-the-headlines plot and excellent characterization, SEIZED is a true winner. Don't miss it."
-J.T. Ellison, New York Times bestselling author of WHAT LIES BEHIND
Evelyn Baine of The Profiler series is "one of the most amazing characters created in print"
– Fresh Fiction
Excerpt from SEIZED:
She didn't see anyone at all. A nervous shiver crept up Evelyn's spine.

"Usually they meet me at the gate," Martinez said, her tone wary.

"How often have you come here?" And how clearly had she advertised her suspicions?

"Just three times."

That was enough, Evelyn figured. But where was everyone?

"Maybe BAU was right about the Kool-Aid," Martinez joked. Her voice held no humor.

She parked close to the compound, took out her cell phone and started to call someone. She had her door open and was hopping out of the vehicle before Evelyn could suggest they wait.

Swearing, Evelyn followed. Even if Martinez had made her suspicions obvious, she knew the people better than Evelyn did. They'd talked peacefully with her in the past, so theoretically they wouldn't overreact to having her back.

Regardless, Evelyn didn't like it. Not the open gate, not the stillness of the place, not Martinez's stubborn insistence that there was danger here.

Cold air stung her throat as soon as she slammed the car door behind her. Either because it was later now, or because of their elevation, it felt another twenty degrees cooler up here. In the Montana wilderness, she needed more than a wool suit and a pair of low heels. She'd taken barely five steps when her fingers started to throb from the cold.

Still, she unbuttoned her suit coat for quicker access to the SIG Sauer P226 strapped at her hip.

Martinez followed the set of thick tire tracks that ran off the hard-packed trail and into the looser dirt. As she stepped around the corner of the building, she called out, "Hello?"

Evelyn picked up her pace to follow when she heard Martinez exclaim, "Hey, I know you!"

Then Martinez walked around the corner again, this time backward, with her hands up and held out to her sides.

Evelyn darted for her weapon, but before she could unholster it, a man came into view.

He was nothing more than a big blur of angry features and camo, because all she could focus on was the modified AK-47 aimed directly at Martinez.
About AVENGED:
AVENGED is a free short story in The Profiler series that takes place between VANISHED and SEIZED. You can find out more at AVENGED
Love and vengeance
FBI profiler Evelyn Baine and fellow agent Kyle McKenzie are—secretly—on vacation together, visiting an island off the coast of Georgia. Evelyn has recently solved a notorious cold case, so she considers their holiday a reward of sorts. More than that, it's a cautious acknowledgment of her growing feelings for Kyle.
One day a body washes up on the beach, a body that's been disfigured. The killer has carved the word "pervert" into the victim's stomach. A second murder, with the victim labeled a "killer" appears soon after. The police don't agree when Evelyn tells them the murders look like the work of a vigilante trying to avenge…something.
Evelyn and Kyle find their own lives at risk as they move closer to the truth.
Elizabeth Heiter on Tour:
Elizabeth will be in California, Arizona and Illinois for stops in her SEIZED book tour. For more information, visit elizabethheiter.com