In the US, today is Thanksgiving. A national holiday known for feasting on turkey (or not), being with family (or not), watching the Cowboys lose (or, sigh, sadly not). The official day before the start of Christmas shopping madness, otherwise known as Black Friday. So, of course it is also the time for stress. From family, from indulging too much in rich foods, from anxiety about the economy, to, well, just stress. So, what a better stress reliever besides a good long walk…why, a book of course!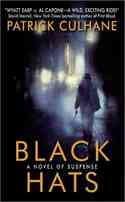 My recent reading kick involves the discovery of Max Alan Collins. I knew him as the author of the graphic novel the movie ROAD TO PERDITION was based but recently I've discovered his many forays into other works including the movie — "The Last Lullaby," then the books and stories TLL was based on — the Quarry books. So I asked Pat to find as many books as she could by Collins and I was off. It's a joy to discover the depth of MAC. He ranges from a garage rock band to comic strips to graphic novels to video games to a slew of novelizations to his own series of mysteries: Heller, Quarry and the Brandy Borne series written with his wife Barbara Alan. Then the Wyatt Earp in the 20th century saving a foolish young son of an old friend. Don't you just love it when you uncover a new author with a huge backlist? It's like being young again and running across a great book in the library. Then finding out you have a treasure trove of books to uncover. All goes well until you find out the author died 20 years before and there is a limit to the books she wrote. Okay, so I still haven't forgive Elswyth Thane. So sue me!
Anyway, reading to relieve the stress is my topic for today. I know that when I need a good outlet I like to read space operas or thrillers. It's the fast paced story, a fast read, unrelenting action. So much I can skip over the inconsistencies and not mind too many minor lapses of logic.
So while the turkey is roasting or digesting, what do you read?
Sara Reyes
DFW Tea Readers
Join us for our Readers Gathering in November 2009 — Readers 'n 'ritas