I'd love to hear about your wildest weekend away with your friends. Where did you go, what did you do, what silly things happen, and does somebody need bail money? LOL just kidding. My time away with friends are usually twofold. The rowdiest times are usually with my friends when we are conferences, we have the absolute best times! Dancing, partying, eating, drinking, laughing, just being silly and having a blast. A few years ago in NYC, a bunch of us were headed to lunch and came across a fire station. One of the firemen was changing, so of course, I had to get his photo and then wrangled everyone up for a photo op.
Conferences are such a great way to see my friends that are scattered across the globe when we all congregate in one place.
For when I go away with my girlfriends, a weekend away at a house, cottage, or an overnight stay at a hotel, where we all meet up and have fun. Sometimes just a night in with a glass of wine and nibblies or simply going out for dinner is such a great way to reconnect.
I realize how important girlfriends were to me after my divorce in 2004. I'd been married 22 years (I got married young at 20). I have devoted everything to my marriage. And obviously my sons, who are very important to me – which is evident by my postings on social media. But after the divorce, I found myself suddenly alone and realized I had to regroup and reach out to friends, develop new ones, cherish the older ones. Another thing I learned was the girlfriends have staying power. Regardless of what happens in life, your friends will be there. Last year I found myself single again after almost 14 years. But I'd stuck by my determination to maintain my independence and friends. Again, my friends stood by me. Some people have many friends, and others just have a few. There's nothing wrong with either. The important thing is to have a friend of your heart. Someone that will help you through tough times.
I'd love to hear about your best friend stories. Feel free to comment below or find me on Facebook and talk to me there, I love chatting with readers! And hey, girls need to stick together!
And that's what the GIRLS WEEKEND AWAY series is all about. Girl sticking together, Through thick and thin. Supporting each other. Having fun, holding their hair back when they puke. These are the 'Oh honey no.' friends we all need. If you haven't read the series I really do hope that you give it a try.
To celebrate the finale of GIRLS WEEKEND AWAY series, I'm having a big contest. How would you like a chance to win a Kindle and a whole bunch of books by some of my author friends? Click on over to my blog for details and the entry form HERE My wish is that you enjoy Bonni, Celia, Ava, and Fredi's adventures.
Oh! Right now, WHAT HAPPENS IN VEGAS is #free in US and Canada, so go and 1-click before you forget! https://amzn.to/2IiHgth
Girls Weekend Away Book #4
*When the cynic…*
Fredi doesn't believe in love. She might be a successful bridal gown designer but that's just business. Sure, she's watched her three best girlfriends fall head over heels with the men of their dreams but she's certain that's not in the cards for her. That doesn't mean that she's not interested in some fun with a handsome movie star––one who just happens to be her assigned date for her best friend's wedding in Monaco.
*Meets the movie star…*
Zayn's used to women falling at his feet so he's utterly captivated by Fredi's quick wit and her refusal to be impressed by him. Their chemistry is off the charts and their connection is something unexpected.
*Sparks are about to fly…*
With only a few days before Fredi disappears back to her life, Zayn is determined to convince her that she can trust him with the one thing she swore to never give anyone–her heart.
Romance Contemporary [Entangled: Amara, On Sale: April 15, 2019, e-Book, ISBN: 9781640638327 / ]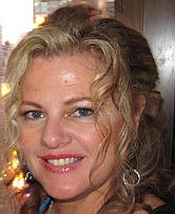 Shana Gray writes contemporary romance and women's fiction that just might make you laugh. With 30 books behind her, some translated into multiple languages, she's always eyeing the next storyline. She lives in a small town in Ontario, Canada, is a mom of two grown sons, a brand new daughter-in-law, and is her black cat's human. When she's not writing or at her day job, she can be found daydreaming about life, usually with a glass of wine or cocktail in hand and making travel plans to far off lands to feed her wanderlust. Her newest series – Girl's Weekend Away – is out now.