The holidays are here, and everyone is bustling and hustling around getting ready for the big day. Why not take a little time to yourself and enjoy one of the new cozy mysteries available for December? Or even better, buy one or a few for great gifts for your reading family and friends.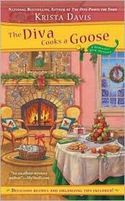 The Diva Cooks a Goose
Krista Davis (A Domestic Diva Mystery #4)
Berkley (Prime Crime), $7.99
A Scrooge steals presents right from under Sophie Winston's family Christmas tree. Then her sister-in-law's father show's up with a diva girlfriend just a month after his separation. More than one person is thinking of committing a merry murder—until it actually happens! With many under suspicion for the deadly deed, can Sophie find the murderer and restore the Christmas spirit before it's too late?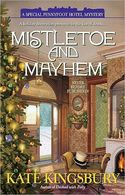 Mistletoe and Mayhem
Kate Kingsbury (A Special Pennyfoot Hotel Mystery)
Berkley Trade; $14.00
This holiday season there'll be murder under the mistletoe at the Pennyfoot Hotel… As friends, family, and guests gather at the Pennyfoot Hotel to share the joys of the season, Cecily Sinclair Baxter and her staff are hustling and bustling more than ever. Cecily's friend Madeline arrives with her new baby and adds a kissing bough to the decorations. Cecily believes that the holiday couldn't get off to a better start.
But after a footman and a new maid are seen kissing under the bough and then turn up dead afterwards, the downstairs staff is convinced a serial killer is among them…perhaps the mysterious guest known only as J. Mortimer. When Madeline's baby disappears, Cecily desperately tries to find the child. If she doesn't catch this killer in time, everyone's cheer will quickly turn to fear.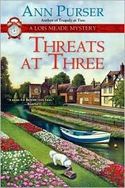 Threats at Three
Ann Purser
(A Lois Meade Mystery #11)
Berkley; $23.95
Lois Meade has worked through all the days of the week, turning up clues and scrubbing up both messes and murderers in the village of Long Farnden. But crime is a persistent stain. When a dead body is found in a canal, Detective Cowgill believes the murder is connected to a suspicious fire and a heated dispute over saving the local village hall. Time to turn to the ever reliable Lois Meade to sort out the culprits and pick up the loose ends before their village hall turns into a funeral hall.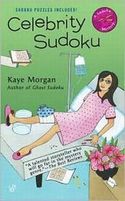 Celebrity Sudoku
Kaye Morgan
(A Sudoku Mystery #6)
Berkley Prime Crime, $6.99
Small-town Sudoku expert Liza Kelly flies to Los Angeles to appear on TV. But when a celebrity is found dead, she has a far more serious puzzle to solve.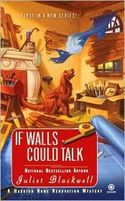 If Walls Could Talk
Juliet Blackwell
(A Haunted Home Renovation Mystery #1)
Obsidian; $6.99
Since she took over her father's construction business, Mel Turner's made quite a name for herself remodeling historic houses in the San Francisco Bay Area. But now her reputation may be on the line.
At her newest renovation project, a run-down Pacific Heights mansion, Mel is visited by the ghost of a colleague who recently met a bad end with power tools. Mel hopes that by tracking down the killer, she can rid herself of the ghostly presence of the murdered man.
Mel's only clue is an odd box she discovers inside a wall at the job site. If she can make sense of its mysterious contents, she might be able to nail a killer—before she herself becomes the next construction casualty.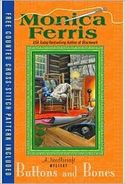 Buttons and Bones
By Monica Ferris
(A Needlecraft Mystery #14)
Berkley, $24.95
Owner of the Crewel World needlework shop and part-time sleuth Betsy Devonshire heads for the Minnesota north woods to renovate an old cabin. But beneath the awful linoleum is something even uglier—the skeleton of a Nazi. Betsy's investigation yields the site of a former German POW camp, a mysterious crocheted rug, and an intricately designed pattern of clues to a decades-old crime.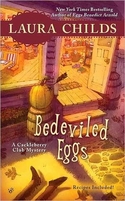 Bedeviled Eggs
Laura Childs
(A Cackleberry Club Mystery #3)
Berkley Prime Crime; $7.99
The ladies at the Cackleberry Club café are busy preparing for Halloween. But someone's jumped the gun on the tricks. As mayoral candidate Chuck Peebler leaves the café, he gets struck with a crossbow arrow and is killed instantly. And when another murder occurs on the historical society's Quilt Trail, the Cackleberry Club needs to sniff out the bad egg—before he strikes again.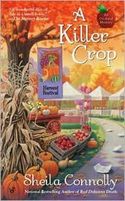 A Killer Crop
Sheila Connolly
(An Orchard Mystery #4)
Berkley Prime Crime; $7.99
After an English professor—and old friend of her mother—is found dead in a cider house, orchard owner Meg Corey starts to wonder: Could her own mother have committed murder?
2010 has been a stellar year for cozy mysteries with themes that covered everything from baking to renovating to solving puzzles as well as mysteries. If you enjoy interesting stories with fascinating premises and charming settings, then you can't go wrong with a cozy!
Be sure to come back by December 15th for my interview with author Sally Goldenbaum, author of "A Holiday Yarn, A Seaside Knitting Mystery".
Happy Holidays, Everyone!
---
Sharon Chance has been a freelance entertainment journalist for the past fourteen years. As a regular contributor to the Wichita Falls Times Record News, she has written well over 1,600 articles covering everything from concert and movie reviews to museum openings to interviewing some of the top musicians performing today, including members of Bon Jovi and Guns and Roses.
But her true love lies in the world of books. A voracious reader from a young age, Sharon began reviewing books at the urging of her sister-in-law, who was a big fan of the Oprah Winfrey Book Club. What began as a simple fun attempt at sharing her views of books she enjoyed has developed into a work of passion for Sharon. In addition to being a senior book reviewer for the Times Record News, Sharon is also a regular guest contributor for the Las Vegas Review Journal's Book Nook, as well as having written for several other publications.
A distant relative of the great Edgar Allan Poe, Sharon has a fondness for mysteries, especially those of the cozy kind. In her new column, Sharon's Cozy Corner, Sharon hopes to bring news of the latest in the cozy mystery genre, as well as insightful interviews with the authors who write them.