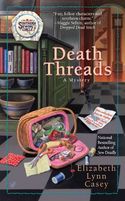 Sharon's Cozy Corner
All about the cozy mysteries: interviews, reviews, books
I guess it's true what they say about April Showers bringing May Flowers! The roses in my garden are blooming like crazy, with some as big as my hand. My pergola garden calls to me with its comfy swing and sweet smelling blooms – so I heed the call and traipse out there with a cold glass of tea and a cozy mystery tucked under my arm. Nothing finer than springtime! Hope your spring is going well too!
And to celebrate the ongoing beautiful weather, here are a few new mysteries to keep the cozy mystery fan occupied for those sweet rare days!
Author Elizabeth Lynn Casey continues her stories of the lives and activities of the good folks of Sweet Briar, South Carolina in her second Southern Sewing Circle Mystery, DEATH THREADS.
Casey deftly crafts a thrilling mystery along with a charming story of friendship and small town life to create a fun, fast-paced novel that will keep cozy mystery lovers thoroughly entertained. Casey's characters are unique and endearing – the shy but handsome schoolteacher Milo who is sweet on Tori, the feisty Leona Elkin, Tori's self appointed Southern manners and charm teacher, Leona's loveable sister Margaret Louise, and the sassy, bright Tori Sinclair herself – all folks you would want to meet and become close friends with.
Casey also includes helpful sewing tips and a pattern for a cute fabric gift bag project that is mentioned throughout the story.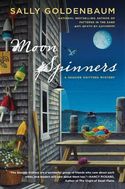 I kinda jumped the gun mentioning MOON SPINNERS: A Seaside Knitting Mystery by Sally Goldenbaum last month, so I thought it deserved a second mention –
Lobsters, knitting and murder can be found among the pages of this delightful novel. The gals of the Seaside Knitters are taking a break from their stitching to help their friend Gracie open her new restaurant, The Lazy Lobster and Soup Café. But when Gracie's rich aunt Sophie is killed in a freak car accident, and Gracie's mother Julianne is arrested for her sister's death, well you know the knitters are going to get involved in solving the mystery of who killed Sophie.
The third book in the Seaside Knitting Mystery series, MOON SPINNERS is as quirky and delightful as its characters. Goldenbaum includes a cute pattern for a knitted Fish Hat with her story.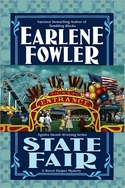 Earlene Fowler brings back her popular character Benni Harper for a fourteenth appearance in her latest book, STATE FAIR: A Benni Harper Mystery.
Benni and her husband, Police Chief Gabe Ortiz, are attending the annual San Celina County Mid-State Fair when a valuable African-American quilt is stolen from an exhibit Benni's folk art museum is sponsoring. At first the theft seems a part of the protest against the fair's first black manager, Levi Clark. But when a body is discovered at another exhibit, Benni puts her skills as a pretty good sleuth to good use as she tries to figure out who was causing all the chaos at the fair.
Along with a great mystery, Fowler includes a bit of history of quilting and folklore, and a healthy dash of humor between Benni's grandmother and grant-aunt, to make STATE FAIR another blue ribbon winner!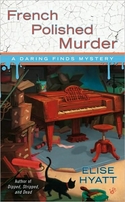 In FRENCH POLISHED MURDER: A Daring Finds Mystery by Elise Hyatt, furniture refinisher Candyce "Dyce" Dane is really excited about her latest project, restoring a beautiful antique piano. But when she finds an old letter inside from a woman who's been missing for decades, Dyce knows that she won't stop until she has figured out where the woman has disappeared to, much to the chagrin of her boyfriend, policeman Cas Wolfe. But when she stirs up a hornets nest of secrets, Dyce soon finds that she may be the one being worked over instead of the piano.
FRENCH POLISHED MURDER is Elise Hyatt's second book in this series, and it is a smartly clever mystery that will keep readers guessing until the very last page. Hyatt also includes several tips for Do-It-Yourself French-polishing project.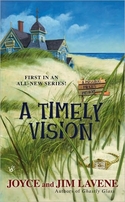 Popular husband and wife mystery writing team Jim and Joyce Lavene, authors of the "Peggy Lee Garden Mysteries," the "Renaissance Faire Mysteries," and the "Sharyn Howard Mysteries," have a new mystery series that features Dae O'Donnell, a woman with a gift for locating lost things and attracting murder.
The debut book, A TIMELY VISION: A Missing Pieces Mystery," finds Dae, the Mayor of Duck, North Carolina and owner of the thrift store, Missing Pieces, searching for a missing watch belonging to Miss Mildred, the town matriarch. But when their search leads to a murder, Dae must find the real killer before Miss Mildred is hauled off to jail! Maybe with the help of newcomer and retired FBI agent Kevin Brickman, Dae can piece the puzzle together in time.
Once again the Lavenes have crafted a well-written, lively mystery that is sure to join their other popular series as a sought-after title.
When cats, cats and more cats begin showing up on Jillian Hart's farm, she becomes curious. When a milk cow is stolen from another farm, she begins to wonder if the two events are releated. And when she discovers a giant illegally run cat farm, as well as the body of Hubert Van Cleet, a local college professor, Jillian finds herself hip-deep into another murder investigation.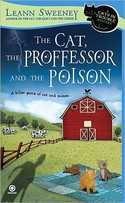 In Leann Sweeney's second book of her "A Cat's In Trouble Mysteries," THE CAT, THE PROFESSOR AND THE POISON, she continues the story of Jillian Hart and her best friend Deputy Candace Carson as they work together to solve yet another murder in their sleepy little South Carolina town. Combining a love for quilting and a love for cats, Sweeney's character of Jillian is feisty and full of down-to-earth sassiness. This is a cute story, and I look for this series to gain in popularity as the volumes keep coming!
You've heard of television spin-offs, well now there is a cozy mystery spin-off. Ann Purser, who is the author of the popular English-based "Lois Meade Mysteries" series, has created a new series featuring the beloved cantankerous character of Ivy Beasley.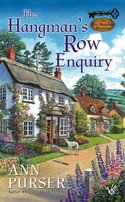 THE HANGMAN'S ROW ENQUIRY: An Ivy Beasley Mystery, Ivy has moved into an assisted living facility and livens the joint up with her amateur sleuthing projects. She recruits her cousin Dierdre and fellow resident Gus to open an investigative agency, and their first case involves an elderly neighbor of Gus' who had been stabbed with a bread knife. With Ivy and her team on the job, well, let's just say, there is bound to be a few arguments and a lot of fun along the way.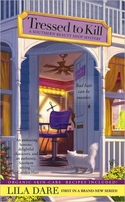 In TRESSED TO KILL: A Southern Beauty Shop Mystery, debut author Lila Dare taps into the sassy and brassy attributes of the Southern belles of St. Elizabeth, and these gals don't let a little thing like murder stop them from looking good.
Life in a small Southern town like St. Elizabeth, Georgia can be slow and lazy as a summer breeze, but it can also be as hot and exciting as a summer storm when a murderer is on the loose!
Grace Tenhune has returned home to work in her mother's beauty shop, just when the town diva Constance Dubois is threatening to close Violetta's down. All over a tiny little thing like bright orange highlights. But when Constance is found stabbed to death, the police seem to think Grace's momma is the culprit.
Well, Grace ain't having none of that, and with the help of her co-workers at the salon, and handsome Georgia Bureau of Investigation detective John Dillon, she soon begins to trim the list of suspects like a good shag haircut.
Lila Dare's TRESSED TO KILL is a full of Southern charm and spunk, and will be a delight for cozy mystery fans to enjoy. I'll be interviewing Lila on the 15th of this month, so be sure to stop back by to learn more about this fabulous new author!
Well, there you have it – my recommendations for the month of May. Have a grand time reading, and remember to stop and smell the roses along the way.
Until next month, cozy reading, ya'll!
---
Sharon Chance has been a freelance entertainment journalist for the past fourteen years. As a regular contributor to the Wichita Falls Times Record News, she has written well over 1,600 articles covering everything from concert and movie reviews to museum openings to interviewing some of the top musicians performing today, including members of Bon Jovi and Guns and Roses.
But her true love lies in the world of books. A voracious reader from a young age, Sharon began reviewing books at the urging of her sister-in-law, who was a big fan of the Oprah Winfrey Book Club. What began as a simple fun attempt at sharing her views of books she enjoyed has developed into a work of passion for Sharon. In addition to being a senior book reviewer for the Times Record News, Sharon is also a regular guest contributor for the Las Vegas Review Journal's Book Nook, as well as having written for several other publications.
A distant relative of the great Edgar Allan Poe, Sharon has a fondness for mysteries, especially those of the cozy kind. In her new column, Sharon's Cozy Corner, Sharon hopes to bring news of the latest in the cozy mystery genre, as well as insightful interviews with the authors who write them.